Spicy Buffalo Bites Ideal Protein Recipe
Revivify Lean Clinic
In honor of Eat Chicken month, here is a delightful favorite that you can enjoy with zero guilt!  We hope that you enjoy this zesty Spicy Buffalo Bites Ideal Protein Recipe, brought to you by Revivify Lean Clinic in Beaumont.  We are an official Ideal Protein Clinic conveniently located in Southeast Texas.
How Spicy do you want your Spicy Buffalo Bites Ideal Protein Recipe to be?  That's up to you!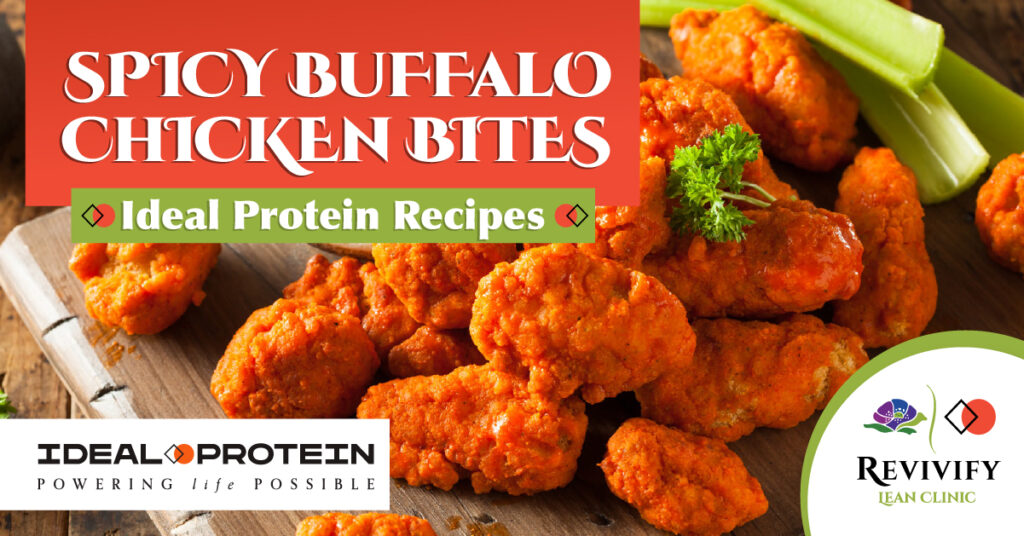 What you'll need!
Ingredients
1½ lb boneless, skinless Chicken Breast
1½ tbsp. (24g) Olive Oil – divided
For the Buffalo Seasoning
½ tbsp. Smoked Paprika
½ tbsp. Chili Powder
1 tsp. Garlic Powder
1 tsp. Onion Powder
1 tsp. Dry Mustard
1 tsp. Kosher Salt
½ tsp. Black Pepper
½ tsp. Cayenne Pepper
How to Make it!
Cut the chicken into bite-size pieces and fully coat in 1 tbsp. of olive oil.
Mix the spices together and add to the chicken. Stir to evenly coat the chicken.
Heat up a large skillet over medium heat with the remaining olive oil. Once hot, add the chicken and evenly spread around the skillet.
Cook for 5-6 minutes, keep stirring often, until the chicken is cooked through.
Transfer chicken bites to a plate to rest a few minutes.
Serve and enjoy.
Getting healthy and reaching your weight goals should never deprive you of good-tasting food. At Revivify Medical Spa's Ideal Protein Weight Loss Clinic, we can help you reach your ideal weight in a safe, healthy, and delicious way.
Contact us today to schedule an appointment and start living your best life.
For more information or begin the journey towards achieving your weight loss goals for good, call us at 409-203-6692.