Ideal Protein Strawberry Cheesecake Smoothie
Satisfy your sweet cravings without derailing your Ideal Protein journey! Try our delectable Strawberry Cheesecake Smoothie—it's a guilt-free indulgence that'll keep you on track toward your wellness goals.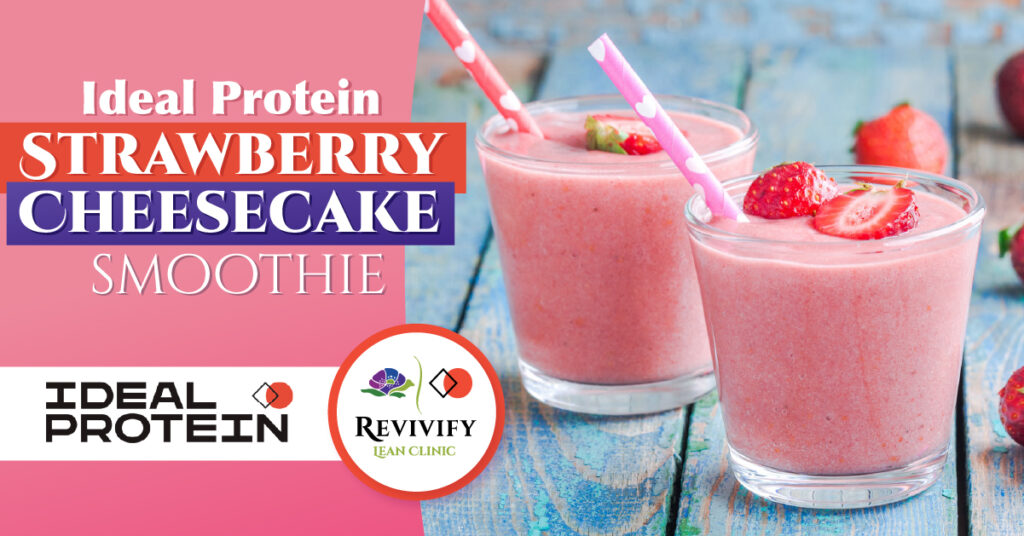 Ingredients:
Ideal Protein Strawberry Shake Mix
1 cup unsweetened almond milk
1/4 cup plain, unsweetened Greek yogurt
1/4 cup crushed ice
1/4 teaspoon pure vanilla extract
1 packet Ideal Protein Caramel Sauce
Instructions:
In a blender, combine the Ideal Protein Strawberry Shake Mix, unsweetened almond milk, plain Greek yogurt, crushed ice, and pure vanilla extract.
Blend until smooth and creamy.
Pour the smoothie into a glass.
Drizzle the Ideal Protein Caramel Sauce over the top for that sweet cheesecake flavor.
Garnish with a fresh strawberry if desired.
Enjoy your guilt-free Ideal Protein Strawberry Cheesecake Smoothie as a dessert or a sweet snack!
This delightful smoothie satisfies your sweet tooth while helping you stay aligned with your Ideal Protein goals. Share this sweet treat with fellow Ideal Protein enthusiasts and enjoy the journey to a healthier, leaner you!
Getting healthy and reaching your weight goals should never deprive you of good-tasting food. At Revivify Medical Spa's Ideal Protein Weight Loss Clinic, we can help you reach your ideal weight in a safe, healthy, and delicious way.
Contact us today to schedule an appointment and start living your best life.
For more information or to begin the journey towards achieving your weight loss goals for good, call us at 409-347-7976.