Ideal Protein Thanksgiving Turkey & Veggie Medley
This Thanksgiving recipe is designed to be Ideal Protein approved, keeping your health and weight management goals in mind. It features a delicious and lean turkey breast paired with a medley of roasted vegetables and a flavorful, protein-packed gravy. This meal is satisfying, nutritious, and perfect for a Thanksgiving celebration at Revivify Lean Clinic
How to Make the Ideal Protein Thanksgiving Turkey & Veggie Medley
Ingredients:
For the Turkey:
4 turkey breast fillets
1 tablespoon olive oil
1 teaspoon dried thyme
1 teaspoon dried rosemary
Salt and pepper to taste
For the Roasted Veggie Medley:
2 cups cauliflower florets
2 cups broccoli florets
2 cups green beans, trimmed
2 cups diced bell peppers (assorted colors)
2 cloves garlic, minced
2 tablespoons olive oil
Salt and pepper to taste
For the Gravy:
2 cups Ideal Protein chicken or vegetable broth
2 tablespoons Ideal Protein vegetable chili mix
1/4 teaspoon dried sage
Salt and pepper to taste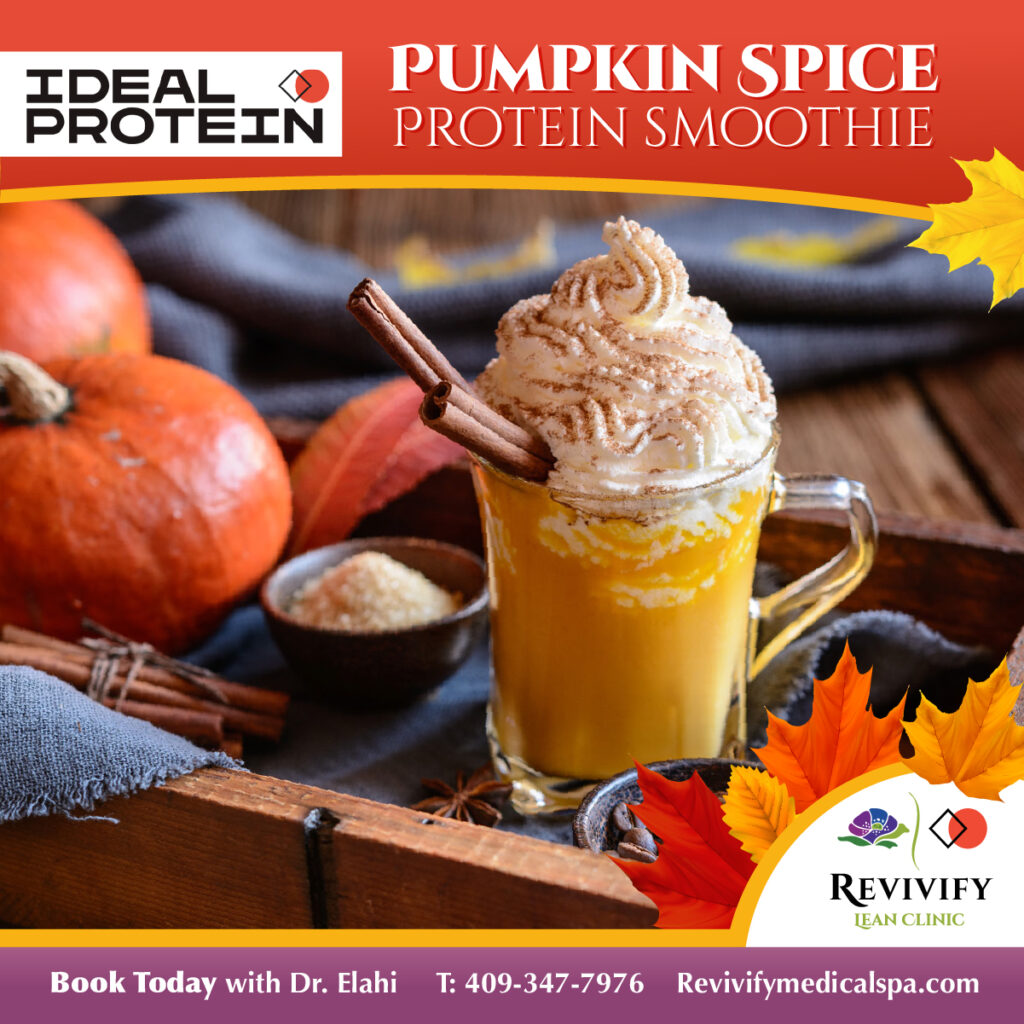 Instructions:
Preheat your oven to 400°F (200°C).
In a small bowl, mix the olive oil, dried thyme, dried rosemary, salt, and pepper. Rub this mixture over the turkey breast fillets and place them on a baking sheet lined with parchment paper.
In a large mixing bowl, combine the cauliflower, broccoli, green beans, and bell peppers. Drizzle with olive oil and season with salt, pepper, and minced garlic. Toss the vegetables to coat them evenly.
Spread the seasoned vegetables on a separate baking sheet and place both the turkey and the vegetables in the preheated oven. Roast the turkey for about 20-25 minutes or until it reaches an internal temperature of 165°F (74°C). Roast the vegetables for approximately 20-25 minutes or until they are tender and slightly caramelized.
While the turkey and vegetables are roasting, prepare the gravy. In a small saucepan, whisk together the Ideal Protein broth, vegetable chili mix, dried sage, salt, and pepper. Simmer over low heat, stirring frequently, until the gravy thickens to your desired consistency.
Once the turkey and vegetables are done, remove them from the oven and let them rest for a few minutes.
Serve the turkey breast fillets alongside the roasted veggie medley. Drizzle the warm gravy over the turkey, and enjoy your Ideal Protein Thanksgiving Turkey & Veggie Medley!
This Thanksgiving recipe not only satisfies your taste buds but also aligns with your dietary goals. It's a wholesome and nutritious way to celebrate the holiday at Revivify Lean Clinic while staying on track with your Ideal Protein program.
This is not the end of it, you can't believe what we have in store for you after our Ideal Protein Thanksgiving Turkey & Veggie Medley.  Follow us to check it out.
For more information or to begin the journey towards achieving your weight loss goals for good, call us at 409-347-7976.