Impotence Solutions – Best Treatments to Overcome ED
Real impotence solutions are available.  This National Impotency Awareness Month, we would like to help transform many lives in a very positive manner.  First of all, it's very common and second of all, there is hope! Male impotence o erectile dysfunction is one of the most common forms of sexual dysfunction in men so it's very common to have individuals looking for impotence solutions.
However, because of the stigma associated with male sexual dysfunction, many shy away from seeking readily available treatment due to feeling embarrassed and anxious about the condition.
We want to raise awareness of this common condition and encourage anyone affected to seek treatment during this month. It's time to reclaim your sexual life!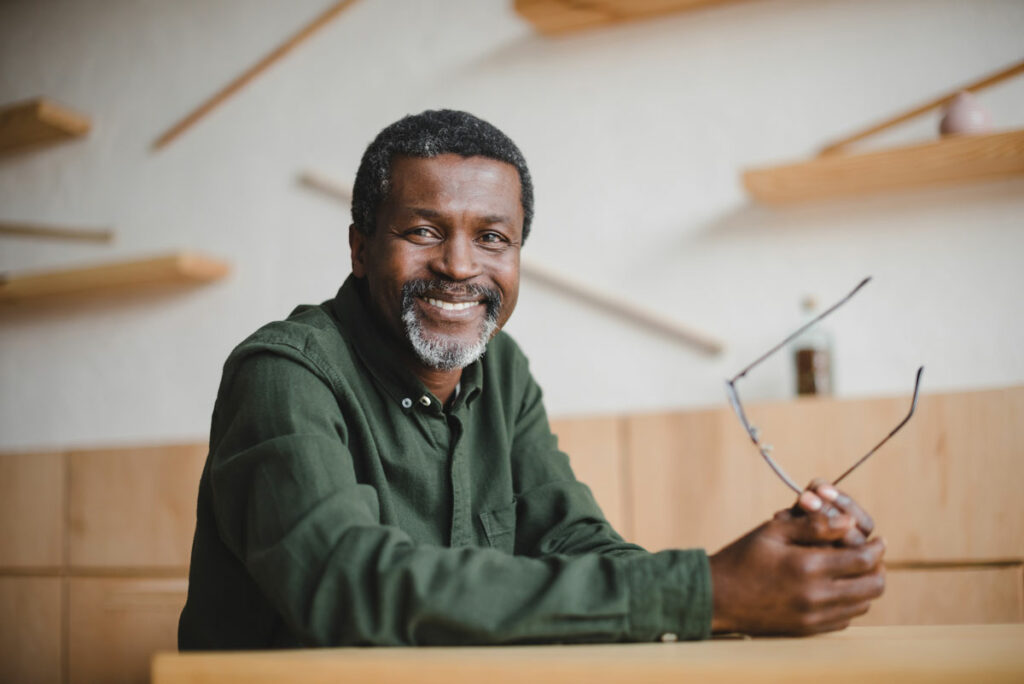 What Is Sexual Dysfunction in Males?
Male Sexual dysfunction involves a series of physical problems that make it difficult to attain sexual satisfaction.
The most common sexual dysfunctions in men include:
Erectile dysfunction (recurring difficulty achieving or maintaining an erection)

Premature ejaculation (reaching orgasm too quickly)

Low libido (reduced interest in sex)

Peyronie's disease (scar tissue on the penis that causes it to curve resulting in painful erections)
Who Gets Erectile Dysfunction?
Experts agree that ED can affect men of all ages. Although the risk of developing it increases with age, a study found that more men under the age of 40 are now developing the condition.
Causes of Male Impotence
Before we get into the impotence solutions, let's get to know about the causes. During sexual arousal, the muscles in your penis relax, and more blood flows in your genital area increases. The excess blood fills two chambers called corpora cavernosa that run along the length of the penis, resulting in an erection.
When blood flow is insufficient, the penis won't become fully erect, or maintaining the erection becomes more of a challenge.
Several risk factors increase your chances of developing male impotence:
Age (men over 40 have a higher risk of developing ED)

Obesity (Men who are overweight are more prone to suffer from erectile dysfunction)

Smoking

Cardiovascular disease

Low testosterone
Is it Treatable?
Absolutely.
Impotence in men is highly treatable. You've probably heard of oral medications that can help you get and maintain an erection. While these medications can be effective, they are not suitable for everyone and have a significant drawback; you must take them before having sex, which not only inhibits spontaneity but can also add to the stress you may already have. 
Thankfully there are other effective and more permanent treatment options. From adopting a healthier lifestyle and maintaining an adequate weight, restoring hormonal balance through hormone replacement, and innovative minimally invasive techniques.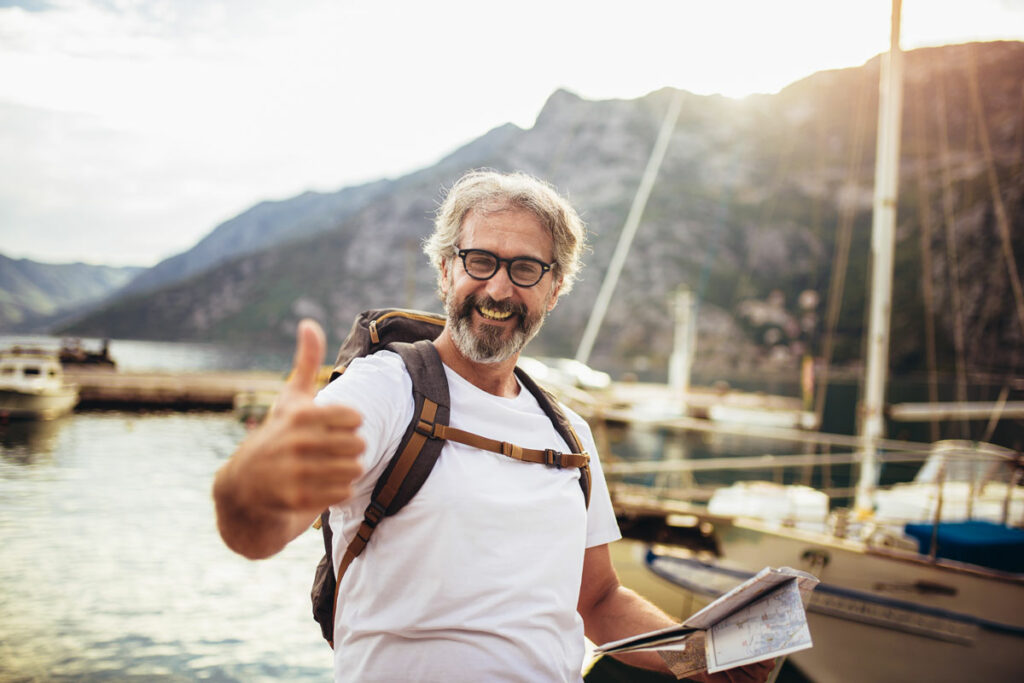 Best Treatments to Overcome Impotence
At Revivify Medical Spa, we offer the most innovative and safe male intimate health treatments.
P-Shot® 
The P-Shot® or Priapus Shot® is a fast, painless, and highly effective treatment to enhance your sexual drive, sensitivity, performance, and function.
The P-Shot® uses Platelet-Rich-Plasma (PRP) extracted from your blood. The growth factors in the plasma help restore and rejuvenate tissue within the penis, helping to restore its youthful form.
Advantages of the P-Shot®
It's Fast and Convenient – the procedure takes approximately 45 minutes

Virtually Painless – We use a local anesthetic to minimize any discomfort during the procedure

It's a non-surgical procedure with little or no downtime

Safe and Natural – because it uses your plasma, there are no adverse side effects and no chance of rejection

Results are immediately noticeable – you will have stronger erections, increased sensitivity, and it can even help improve the girth and size of your penis as well as help correct curvature
Low-Intensity Shockwave Therapy
Using 300 low-intensity shockwaves strategically placed in 5 different areas along the penis, we can increase blood flow to the penis for stronger erections.
Sessions for low-intensity shockwave therapy typically last 20 minutes and are entirely painless; each wave feels like a light tap. In addition, there is no downtime so that you can return to your daily activities immediately after treatment.
BioTE® Bioidentical Hormone Pellet Therapy
After 35, your testosterone production decreases by as much as 5% per year. Low testosterone levels are a common cause of erectile dysfunction.
By restoring your hormone levels, you can regain your lost libido, improve genital sensitivity, and achieve stronger erections.
BioTE® Hormone Pellets are a Health Science Breakthrough Technology based upon 34 years of documented research to ensure our patient's safety and standard of care.
Benefits of BioTE® Hormone Replacement Therapy
We use bioidentical hormones, so there is no chance of rejection

It's safe and effective

It can help lower the risk for certain cancers

Affordable – the pellets are inserted under your skin and can last for up to four months
It's time to regain control of your sexual life. You don't need to suffer in silence. Schedule an appointment to learn more about which treatment is best for you.
Revivify's FLASH SALE on ED Treatments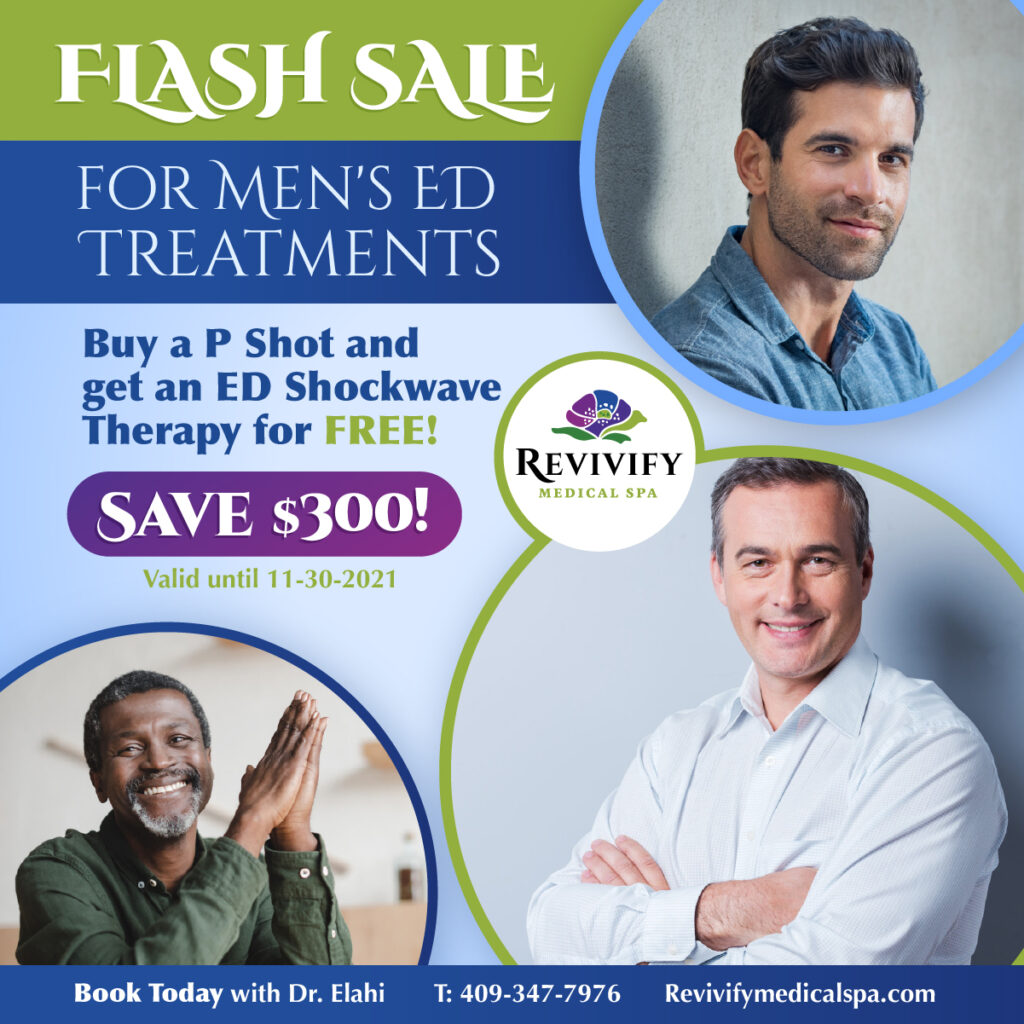 FLASH SALE for Men's ED Treatments – Save $300!
Buy a P Shot and get an ED Shockwave Therapy for FREE!
Valid until 11-30-2021
Special Terms & Conditions
All standard terms and conditions apply
Promotions are not retrospective.
In order to claim a special, you must purchase the offer upfront.
Promotions cannot be combined.
We reserve the right to modify or terminate a special at any time.
The expiration date is November 30, 2021.