Summer Splash Medical Spa Specials
Take a refreshing dive into our Summer Splash Medical Spa Specials!  At Revivify Medical Spa we love to help our patients shine brighter than the sun year round.  After all, beauty comes in all shapes, sizes, colors, ages, and ethnicities.  Let us help you be your own kinds of beautiful!  Check out our Summer Splash Medical Spa Specials and contact us for a personalized consultation.
At Revivify Medical Spa in Beaumont, Texas, we make cutting-edge, luxurious medical spa treatments affordable. We offer equal or better medical-grade treatments to those found at the top Houston medical spas. No need to drive long distances! Revivify Medical Spa is the highest-rated, most trusted medical spa in Southeast Texas.
Face Tight and Bright Package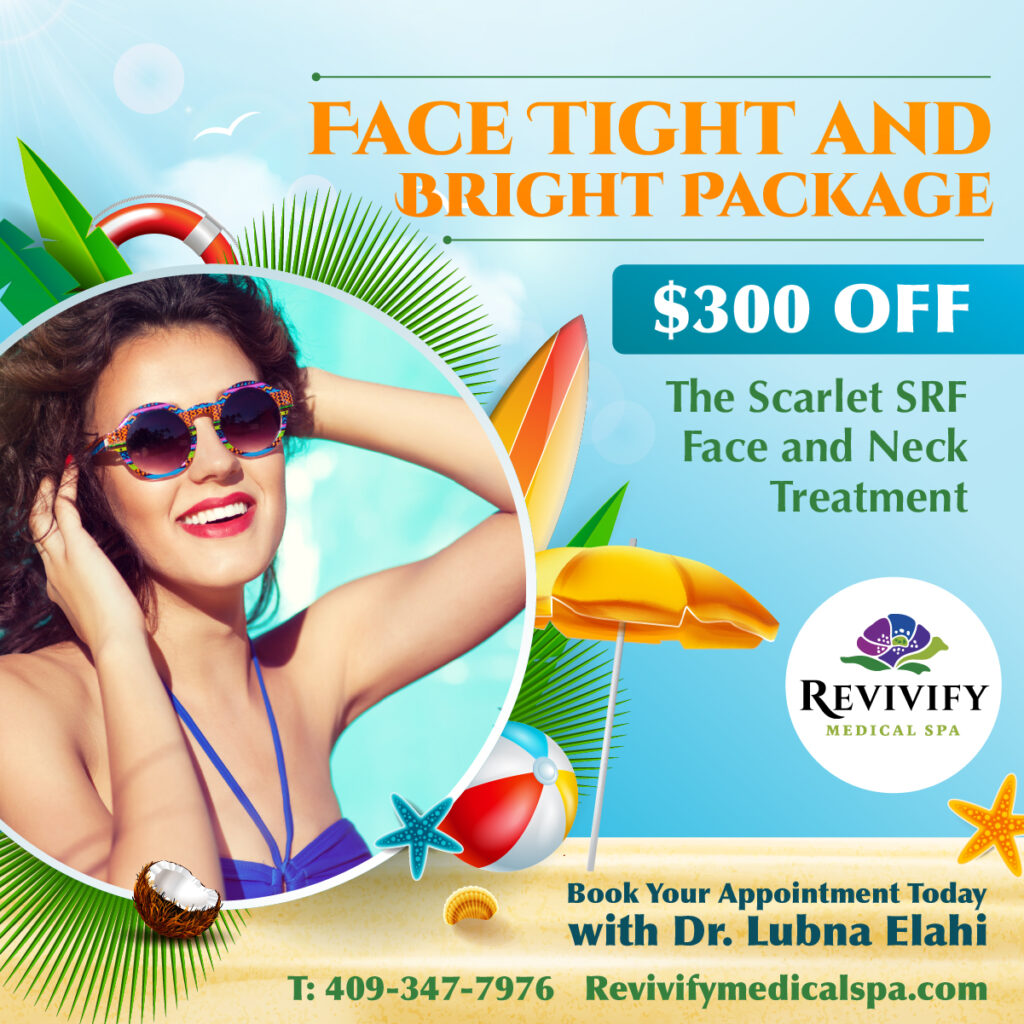 Get $300 OFF the Scarlet SRF Face and Neck Treatment.
Scarlet SRF treatments deliver thermal radiofrequency energy to the deepest layers of the skin via microneedles.  The Scarlet SRF technology, simultaneously promote collagen growth and facilitate noticeable skin rejuvenation with little to no downtime.  Tighten and improve the texture and appearance of your skin today!
SAVE $300!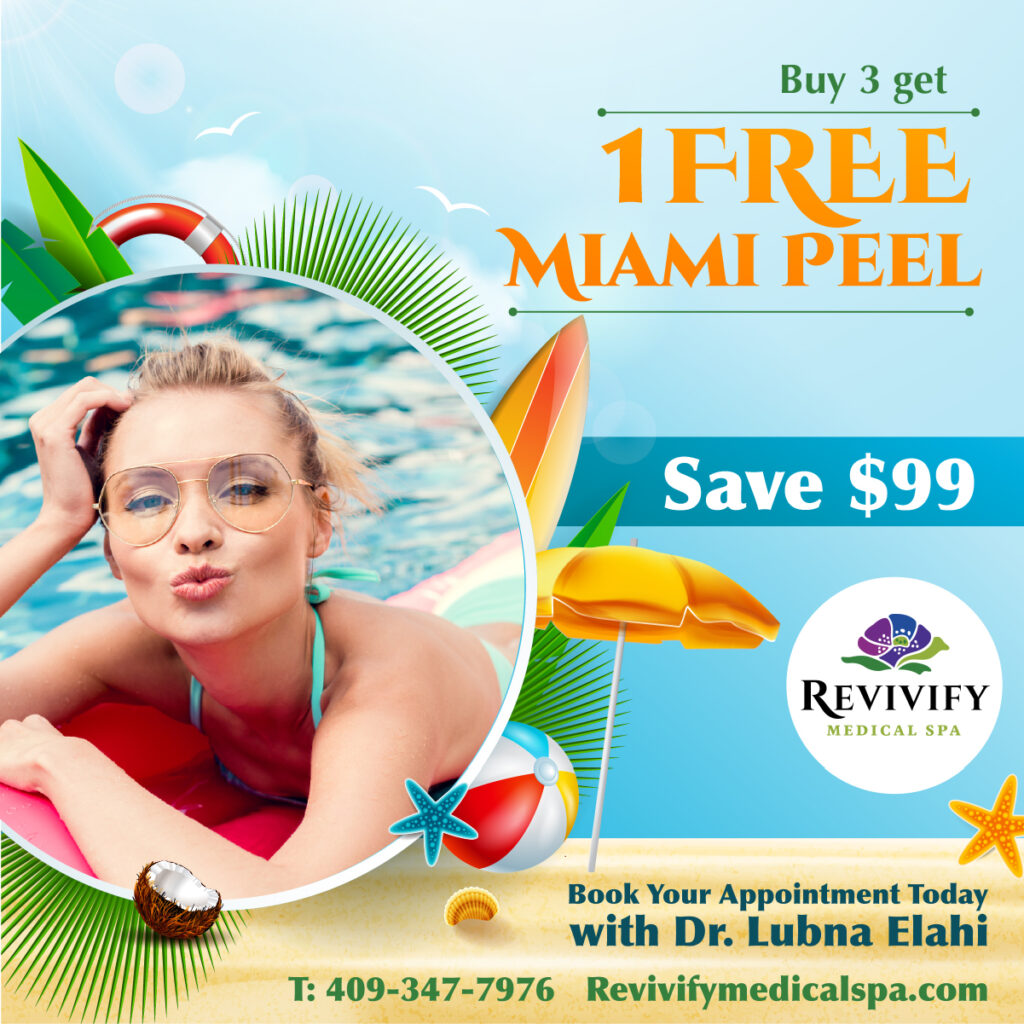 Buy a package of 3 Miami Peel treatments and get 1 FREE!
The Miami Peel® Helps Peel Back Years of Skin Damage! The chemical formula contains salicylic acid 30%, ascorbic acid (vitamin C), green tea extract and other antioxidants. The treatment helps remove dead skin cells, diminishes the appearance of pores, and helps lighten and even the skin tone.
SAVE $99!
Fresh Summer Face Special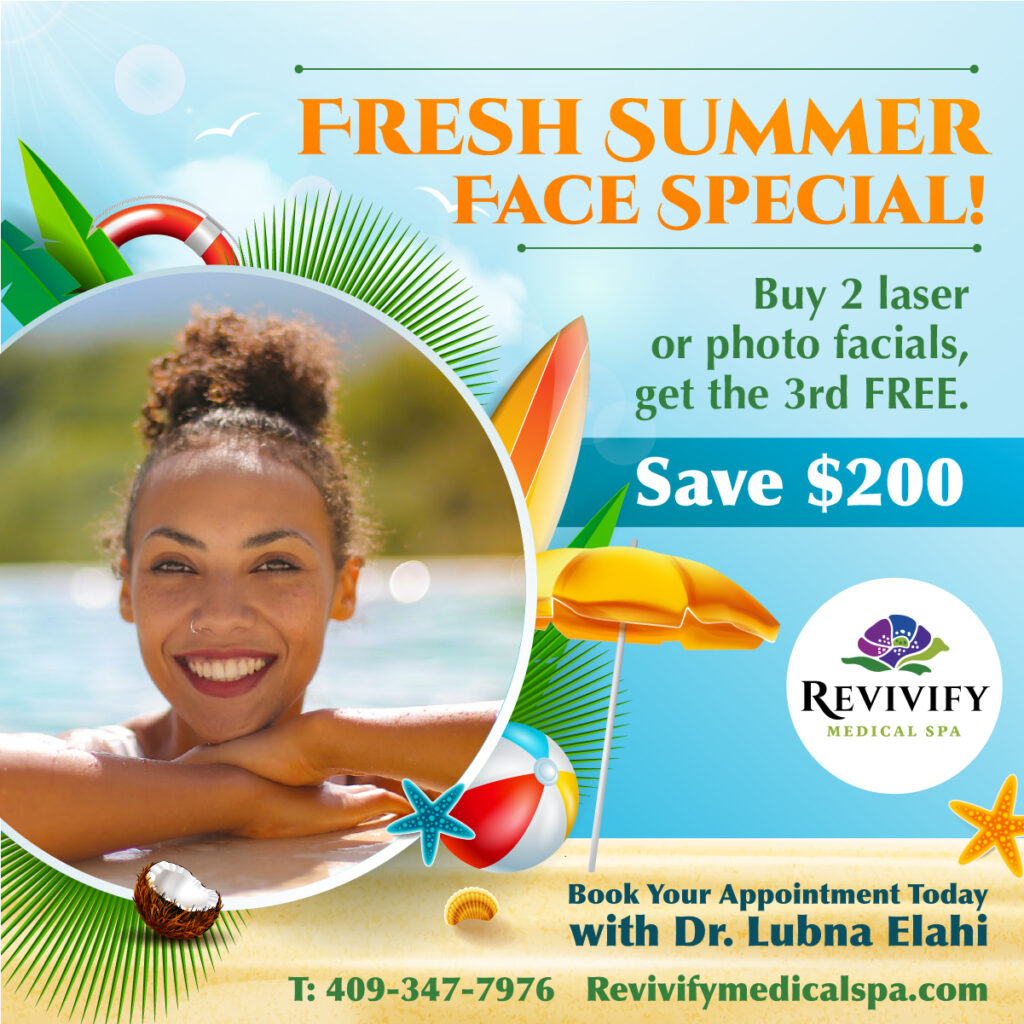 Buy 2 Laser or Photo Facials & get the 3rd FREE!
IPL™ photo-rejuvenation is the latest in modern dermatology. During this 30-minute procedure, intense pulses of light (IPL™) are used to penetrate deep into the skin. The IPL™ photo-rejuvenation treatment causes the collagen and blood vessels below the epidermis to constrict, resulting in diminished redness and age-related lines and wrinkles.
SAVE $200!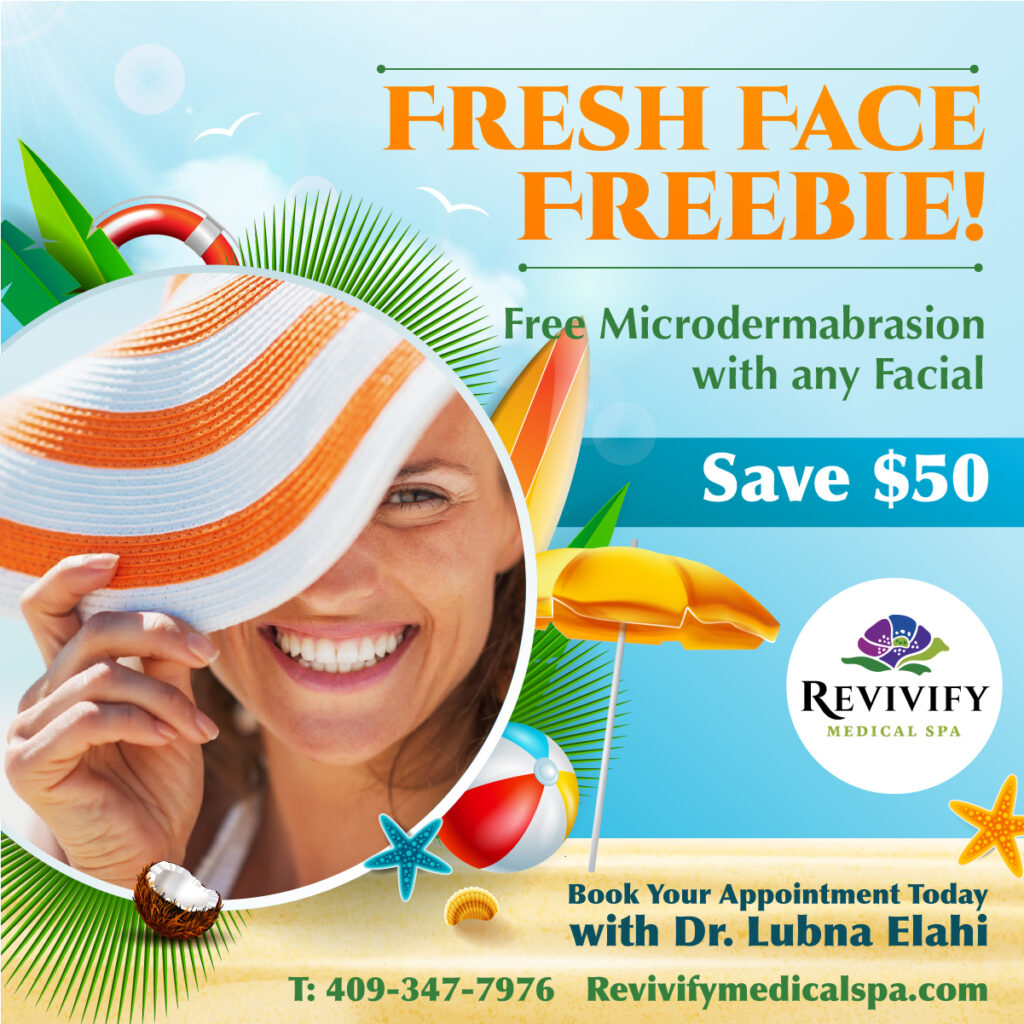 Enjoy a Free Microdermabrasion with any Facial!
Microdermabrasion is the best way to exfoliate deep enough so that we remove the dead skin cells yet gentle enough that you do not hurt your skin.
SAVE $50!
Non- Surgical Fat Reduction Sale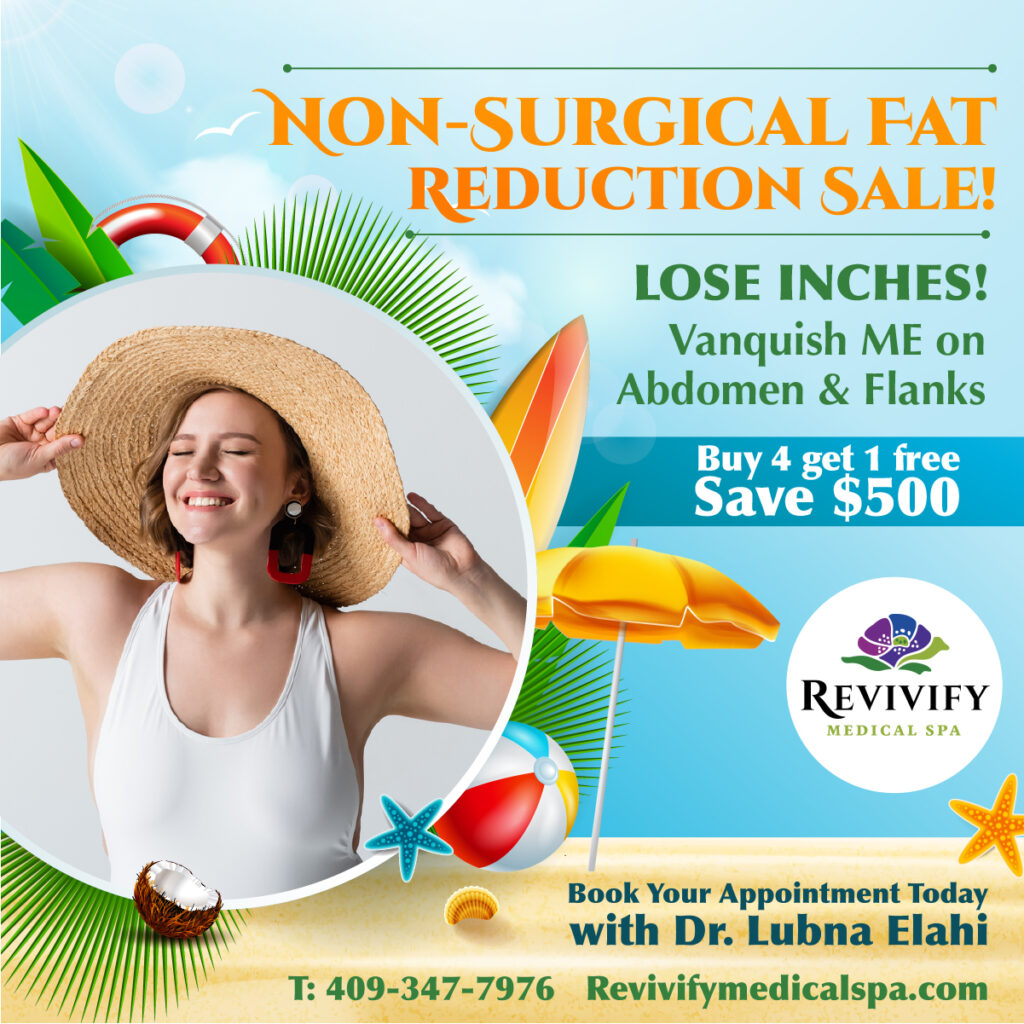 Lose Inches! Vanquish ME on Abdomen & Flanks. Buy 4 get 1 Free!
The VanquishMe fat removal allows you to lose inches without going under the knife. This technology "vanquishes" fat cells or permanently destroys and expels from the body.
SAVE $500!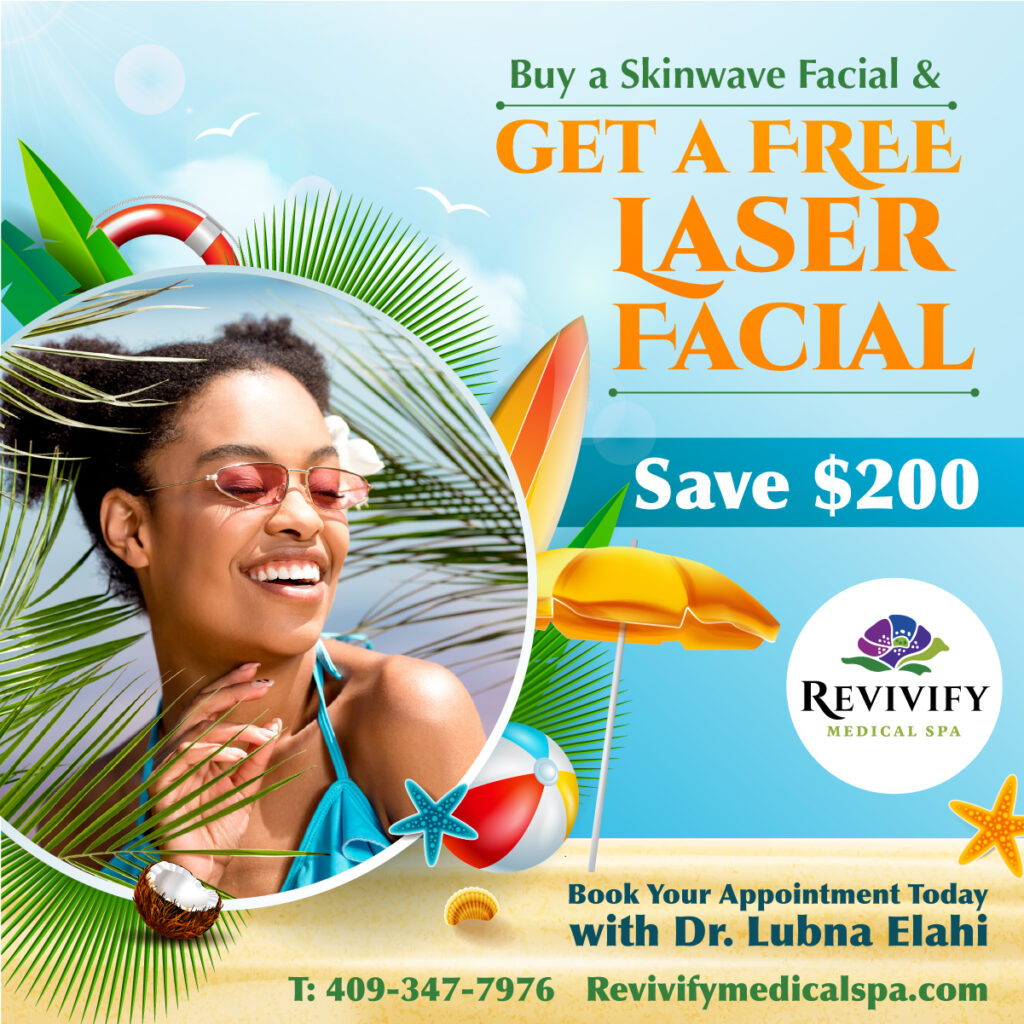 Buy a Skinwave Facial & Get a FREE Laser Facial!
Move over, Hydra Facial, you've been upstaged by Skinwave Facial! Skinwave is the most advanced medical-grade exfoliating, hydrating, and anti-aging non-invasive facial treatment offered today.
This revolutionary Skinwave facial technology involves a Five-Step System:
Step 1. Deep Cleanse
Step 2. Detoxify
Step 3. Hydrate
Step 4. Plump
Step 5. Massage
SAVE $200!
Board Certified Aesthetic Medicine Family Physician
I will make your visit Comfortable, Affordable, and Memorable.
Special Terms & Conditions
All standard terms and conditions apply
Promotions are not retrospective.
In order to claim a special, you must purchase the offer upfront.
Promotions cannot be combined.
We reserve the right to modify or terminate a special at any time.
The expiration date is August 31, 2021.