Get your glow on with our Gold Membership! This membership features your selection of a premium treatment each month, along with exclusive member-only discounts on your favorite treatments and products!
Only $189/Month
No refunds after 30 days
12-Month Commitment Required
$9-Unit Botox
$9-Unit Xeomin
Skinny Shot
15% Off Skincare
15% Off Laser Facial
15% Off Body Contouring Package
Includes your choice of one of the following treatments each month
Microdermabrasion Facial

Honey Enzyme Facial

Dermaplaning with Facial

Miami Peel

Laser Facial

Underarms Laser Hair Removal

Brazilian Laser Hair Removal

Lower Legs Laser Hair Removal

Bikini Line Laser Hair Removal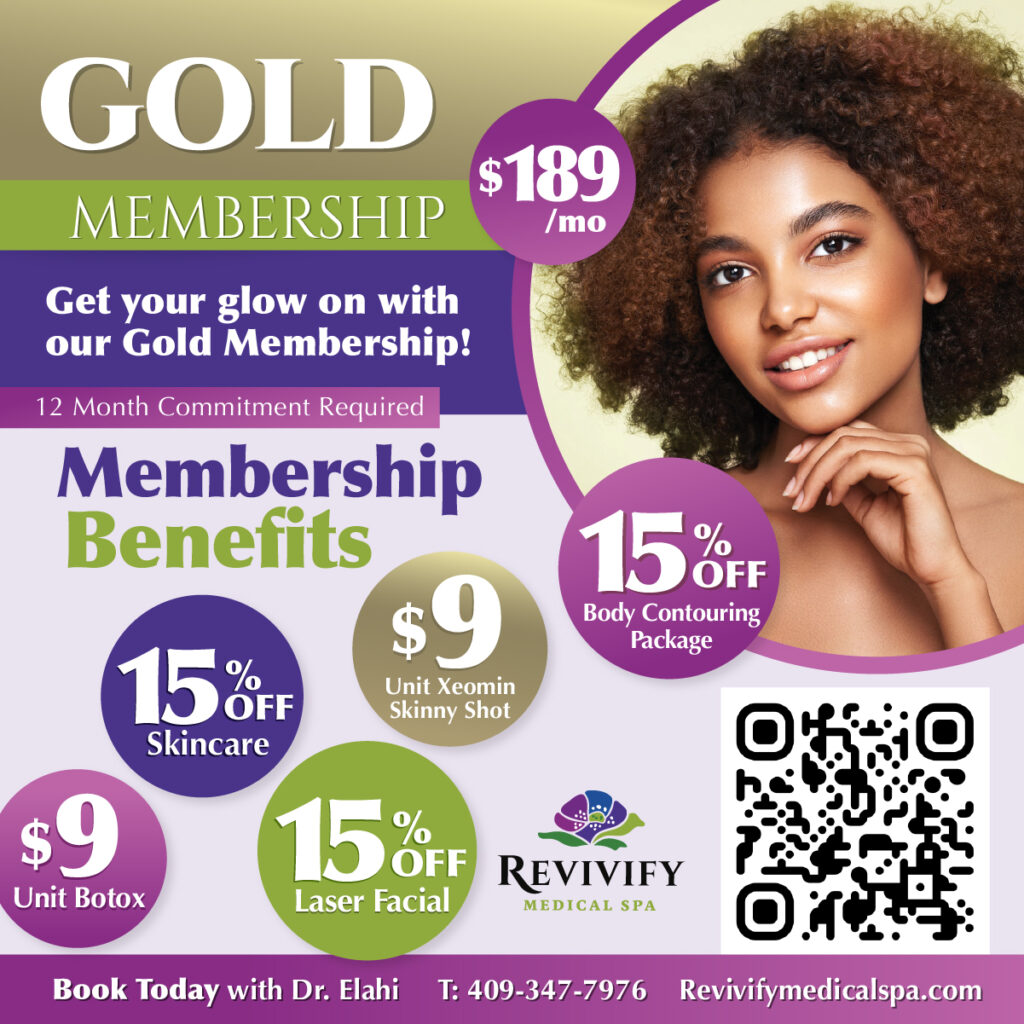 Dermaplaning
This skin rejuvenation treatment involves using a surgical scalpel to gently scrape away dead skin cells and peach fuzz from your skin's surface. This treatment brightens and evens out your skin tone leaving it smooth and better able to absorb skincare products.
Microdermabrasion
Microdermabrasion gently removes the top layer of dead and damaged skin to even out skin tone, brighten dull skin and reduce the appearance of acne, fine lines, and wrinkles. In addition to improved skin texture, Microdermabrasion also makes your skincare products more effective by increasing your skin's ability to absorb nutrients.
Laser Hair Removal
Laser Hair Removal uses focused light energy to damage or destroy hair follicles, resulting in reduced hair growth or even permanent hair removal.
At Revivify Medical Spa in Beaumont, Texas, we offer MEDICAL GRADE AESTHETICS AND REGENERATIVE MEDICINE AT the most reasonable prices.
"I strive to help my clients reach their desired goals through personalized guidance, relentless work, compassion and understanding."
Dr. Lubna Elahi