NOW YOU HAVE A CHOICE,
AND IT'S PURE GOLD.
New Innovative Procedure to Treat Hair Restoration or the REVIVIFY LIQUID GOLD
Before we get into whare are the best treatments for Hair Restoration, we will cover the frequent most questions that we receive at Revivify Medical Spa:
WHY AM I EXPERIENCING HAIR LOSS?

WHEN DOES THIS NORMALLY OCCUR?

WHAT ARE MY OPTIONS IN HAIR RESTORATION TREATMENTS?
WHY AM I EXPERIENCING
Hair Loss?
Get to Know the Most Common Reasons for Hair Loss
There is permanent or temporary hair loss. Permanent hair loss is when a hair falls out and instead or growing a new one in its place, the hair follicle dies and scar tissue replaces the new hair growth.  In cases of hormonal related hair loss or chemotherapy, the hair will normally grow back once the condition is over.
Medical Conditions: Thyroid Disease and Autoimmune Disease
Nutrition Disorders: anemia, protein or vitamin deficiency
Hormonal: Pregnancy or Menopause
Severe Stress or Telogen Effluvium
Lesions to the Scalp
GET TO KNOW HAIR RESTORATION TREATMENT:
"LIQUID GOLD"
Introducing the Most Advanced Hair Restoration Treatment.
Hair treatment therapy is used in hair restoration for natural-looking results for both men and women. It is a state-of-the-art, non-surgical, totally natural, alternative medical procedure used for the treatment of hair loss or hair thinning.  The Treatment for hair loss treatment applies the most advanced discoveries in science and medicine to produce amazing results.  No, this is not out of a sci-fi movie, this is real technology available right now!
Hair restoration is an injectable treatment that uses the patient's own blood put through a state-of-the-art centrifuge technology that extracts the "good cells" or stem cells.  The resulting product is a vial of healthy cells taken from your own blood, now a yellow fluid or "Liquid Gold".  Basically, we are replacing the old dead cells with new ones that will revive previously dead hair follicles to produce new hair!
BEST OF ALL: HAIR THERAPY IS VERY AFFORDABLE!
Before and After Pictures!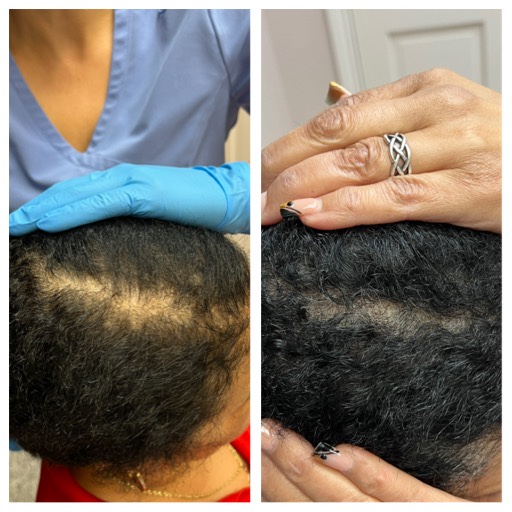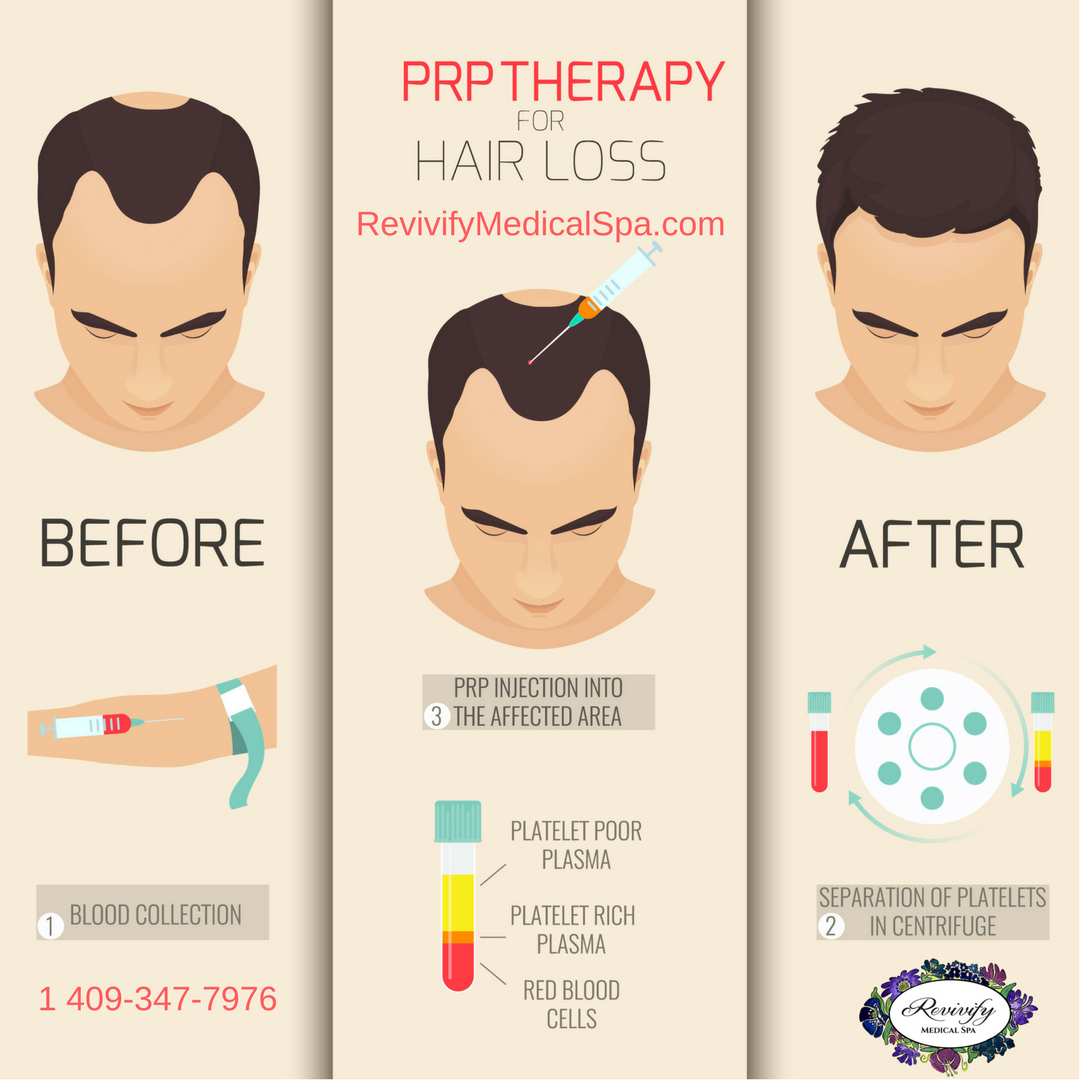 HOW IT WORKS
PRP HAIR RESTORATION works as easy as 1-2-3!
The PRP Hair Regrowth is an injectable thinning hair treatment which uses the patient's own blood to make PRP ( platelet rich plasma) which contains active growth factors which can promote hair growth.
Unlike other treatments which involve surgery such as hair transplants or the PRP injection for hair loss is NON-INVASIVE. With a thin needle, your own Platelet-Rich Plasma (PRP) is injected into the scalp. Then, the growth factors in your blood cells do their job and hair growth is naturally stimulated. PRP hair growth treatment can also be used in conjunction with hair vitamins and the results are very promising. Helping to restore one's confidence, the end result is a fuller, healthier looking head of hair.
There are other treatments for hair restoration available, among the most well know are hair transplants and pharmaceutical treatments. Hair transplants are not only very expensive; they may look unnatural and adverse side effects such as infected hair follicles, itching; numbness and in some cases, hair loss. With the over the counter treatments, among the possible side effects are unwanted facial hair growth in women and impotence in men.
In reality, the number of treatments depends on the severity of the hair loss or thinning hair. It usually takes 4 treatments every month then maintenance every 3-4 months.
As this revolutionary hair loss treatment for men and women uses the own patient's blood, it is safe for all adult ages, sexes, and types of hair. Contact us for a free consultation to find out if PRP Hair Restoration is right for you!
IT'S THE BEST OPTION!
PRP HAIR RESTORATION is natural, safe, effective and affordable!
At Revivify Medical Spa, we pride ourselves in providing the most cutting edge Hair Restoration treatments for hair loss and hair thinning right here in Southeast Texas.
ALL NATURAL:   Is an all-natural product, has no side effects, and there is no chance of rejection.
NON-SURGICAL & NO DOWNTIME:  This is an out-patient, minimally invasive procedure with no down time. You will be back to your normal daily routine the same day.
AMAZING RESULTS: Although the duration of the treatment depends on the severity of the alopecia, on average, 1 treatment per month for 4 months is all it takes to see amazing results. If the condition is severe, a patient may need a few more treatments every 3-4 months.
BEST OF ALL, IT'S AFFORDABLE! We offer the Best Prices for the Most Innovative Treatments. Payment Plans are Available as well! Scroll Below to get your FREE Consultation today!