TOENAIL FUNGUS LASER TREATMENT
Show Those Toes a Little Love
What is Toenail Fungus?
Toenail fungus is an infection caused by several different kinds of fungi and sometimes yeast. It can create a change in coloring and thickness of the affected nail and sometimes it can cause pain.
What Causes Toenail Fungus?
Dermatophytes are the fungi most commonly responsible for causing this condition. They are specialized organisms that live off keratin which is the main component of nails and skin.
HOW DO I KNOW IF I HAVE IT? HOW DO I GET RID OF IT?
Symptoms and Treament of Toenail Fungus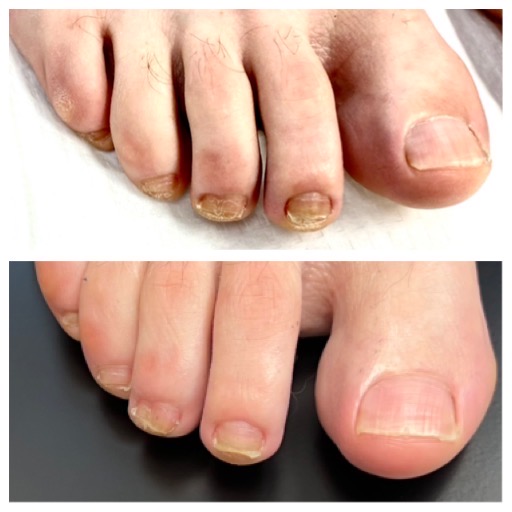 WHY CHOOSE TOENAIL FUNGUS LASER TREATMENT?

The fungi responsible for toenail infections, are hardy organisms and are extremely difficult to eradicate. Traditional treatments include the use of topical creams and ointments which are not very effective.
Prescription oral antifungal medications provide better results but have many adverse side effects. They must be taken for at least 6-12 weeks, and are known to cause a rash, diarrhea, and in some cases liver damage.
Laser treatments, on the other hand, are useful in eliminating nail infections and restoring clear nails without any of the adverse side effects of oral antifungal medications.
How Does Laser Treatment Work for Toenail Fungus?
The treatment involves running the laser over your toenails, the exposed nail bed, and the surrounding tissue. During treatment, the laser penetrates the infected tissue, treating the fungus, as well as any mold, and bacteria, without causing damage to the healthy tissue.
Laser treatment for toenail fungus is not painful, you may feel a warming sensation or an occasional pinprick.
There is no downtime, so you can return to your normal activity immediately after the treatment
The first treatment session will last between 20-30 minutes. Subsequent sessions tend to last 15-20 minutes and are spread out 1 month apart.
While laser treatment can effectively eliminate your toenail fungus infections, it will not prevent a new toenail fungus infection from occurring.
TOENAIL FUNGUS TREATMENT BEFORE AND AFTER
REAL PEOPLE HAPPY TO SHARE THEIR RESULTS!
ZAP THAT PROBLEM OFF YOUR TOES!
You can get your Toenail Fungus Laser Treatment right here in Beaumont, Texas!
WANT TO KNOW IF YOU ARE A GOOD CANDIDATE FOR GETTING A TOENAIL FUNGUS LASER TREATMENT?
You can finally get rid of that toenail fungus at Revivify Medical Spa The Best Quality Medical Grade Treatments at the Best Prices. BOOK YOUR PERSONALIZED CONSULTATION TODAY!
IN BEAUMONT CALL: 1 409 347-7976  EMAIL:
Hello@Revivifymedicalspa.com