PDO Threads, Non-Surgical Facelift & Neck Lift
Results You Dreamed of Without Surgery
Introducing the Non-surgical Facelift: The Most Discreet, Effective and Affordable Aesthetic Procedure to Look Years Younger.  Get to know about the treatment that revolutionized aging.  Find out what it is, how it's done and if it's right for you.
What is The NON-SURGICAL FACELIFT?
The Instant "Lunchtime Facelift"
The Nonsurgical Facelift and Neck Lift procedure is also known as the instant facelift, PDO thread lift, lunchtime facelift or mini facelift. It is a safe, natural, non-surgical procedure that corrects the loose and sagging skin and wrinkles that occur with aging and weight loss. The procedure does not involve any cutting or incisions to lift the loose skin, instead, it employs absorbable PDO sutures that are weaved beneath the skin to mesh or lift and smooth it leaving natural results. The PDO sutures will be naturally absorbed by your body and replaced by collagen and elastin. The results are firmer, tighter, smoother, younger-looking face and skin!
Amazing Facial Rejuvenation Corrects the Full Face and Neck:
Sagging Neck

Midface sagging skin and wrinkles

Lower face sagging skin and wrinkles
NON-SURGICAL PDO THREADS FACELIFT BEFORE & AFTER GALLERY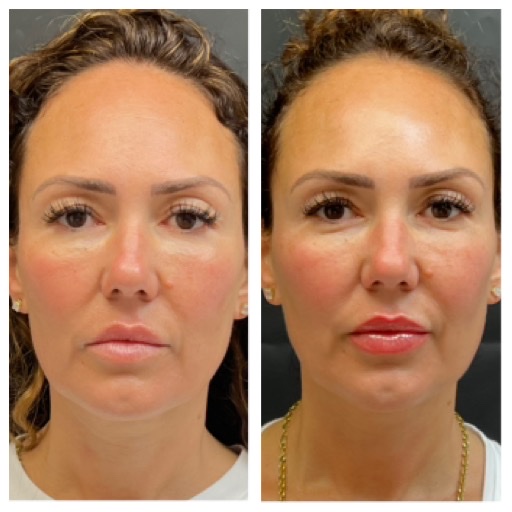 At Revivify Medical Spa in Beaumont, Texas, we offer MEDICAL GRADE AESTHETICS AND REGENERATIVE MEDICINE AT the most reasonable prices.
Why the PDO THREAD LIFT is an excellent option

We make it easy to look years younger!
SAFE. PDO threads used in our thread lift is so safe that they are used in delicate procedures such as open-heart surgery. In addition, they do not post the risks of anesthesia complications.
NO SCARRING. These magical sutures are completely absorbed by the body and leave no scarring behind.
VIRTUALLY PAIN-FREE. The areas to be treated will be numbed with topical as well as a local anesthetic.
NON-SURGICAL, NON-INVASIVE & NO DOWNTIME. There are zero cuts or incisions, only injections. The Lunchtime Facelift procedure may be done in approximately 1 – 2 hours and are usually managed with acetaminophen and/or ibuprofen.
LOOK 10 YEARS YOUNGER! This incredible face treatment allows you to look ten years younger in just 1 – 2 hours!
LASTING RESULTS. Enjoy a youthfully reshaped face for up to two years with good skin care.
80% LESS EXPENSIVE THAN A TRADITIONAL FACELIFT! The lunchtime instant facelift with PDO threads is very affordable in comparison to surgical skin tightening procedures. Get the results you dream about without hurting your wallet!
"I strive to help my clients reach their desired goals through personalized guidance, relentless work, compassion and understanding."
Dr. Lubna Elahi
WHO IS A GOOD CANDIDATE FOR A NON-SURGICAL FACELIFT?

As we age, our skin loses the natural plump and tight "baby face" look as the skin begins to sag and lose volume. The result is a "square effect" that is most noticeable in the neck and jowl area. In the past, the only option to reshape the face was through neck lift and facelift plastic surgery. Now, with the revolutionary technology of PDO threads absorbable sutures, you no longer need to go under the knife to get the amazing facial rejuvenation you yearn for!
WANT TO KNOW IF YOU ARE A GOOD CANDIDATE FOR GETTING A PDO THREAD LIFT?
Contact us with your questions today!