Healthy Delicious Barbecue Recipes, Just In Time for Summer!
Did you know July is National Grilling Month?
Barbecuing is an American pass time, and who doesn't enjoy a good cookout? Just the thought of firing up the grill is enough to make our mouths water.
Grilling is a very healthy way to cook as long as you have the right recipe.  Today, we've got two barbecue recipes for you that we're sure will become family favorites.
If you are working hard to achieve your weight goals with our Ideal Protein method, it will please you to know that you don't have to give up on your favorite grilled foods; all you need is a few simple healthy tweaks, and you can enjoy the best BBQ of your life.
In honor of National BBQ Month, we want to share some of our favorite Barbecue Recipes.
Two Barbecue Recipes Just in Time for Memorial Day Weekend!
Grilled Skirt Steak with Chimichurri Barbecue Recipe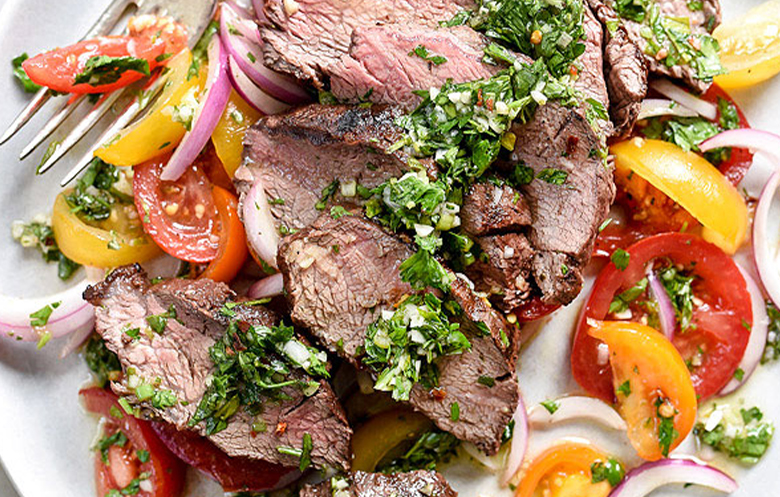 Author: Foodie Crush
This Argentinian-inspired dish is a real treat, one of my favorite barbecue recipes!  A garlic marinade-infused grilled skirt steak topped with garlic and herb chimichurri sauce tossed with fresh cut tomatoes and red onions.
Prep Time 10 minutes
Cook Time 10 minutes
Marinating Time 4 hours
Total Time 4 hours 20 minutes
Servings 6
Calories 654 kcal
Ingredients
For the Skirt Steak
2 pounds skirt steak
6 garlic cloves chopped
1 tablespoon kosher salt
2 tablespoons fresh oregano leaves
1/2 cup red wine vinegar
2/3 cup olive oil
4 cups sliced ripe tomatoes
1/2 red onion thinly sliced
For the Chimichurri Sauce
1 cup fresh Italian parsley leaves
1/4 cup fresh oregano leaves
3 green onions
3 garlic cloves
1/2 teaspoon red pepper flakes
1/2 cup olive oil
1/4 cup red wine vinegar
3 tablespoons fresh lemon juice
Kosher salt
Instructions
Place the meat in a plastic gallon freezer bag and add the garlic, salt, oregano, vinegar, and olive oil. Seal the bag and massage the ingredients together and into the meat. Marinate in the refrigerator for at least 4 hours up to overnight.

To make the chimichurri sauce: Finely mince the parsley, oregano, green onions, and garlic. Combine them in a medium bowl with the red pepper flakes, olive oil, vinegar, and lemon juice. Mix well and season with the kosher salt and add more to taste. Make a day ahead and store in the refrigerator until ready to serve.

Preheat the grill to high. Pull the steaks and allow them to rest at room temperature for about 30 minutes. Pull the steaks from the marinade and place them on the hot grill. Baste the steaks with the remaining marinade and grill for 3-5 minutes on each side for medium-rare, or until steaks come to 125 degrees F.

Transfer to a plate or cutting board and rest for 10 minutes.
While the meat is resting, place the tomatoes and onion in a medium-sized bowl and add two heaping tablespoons of the chimichurri sauce. Gently toss to coat and transfer to a serving platter.
Slice the steak across the grain and pile it on top of the tomato salad. Drizzle with generous amounts of the chimichurri sauce, and enjoy!
In the mood for a more Mediterranean flavor? We got you covered!
Grilled Lamb Chops with Salsa Verde Barbecue Recipe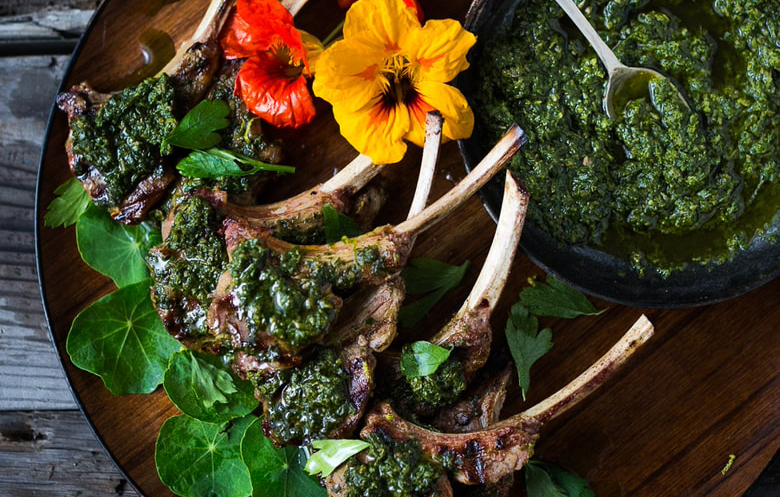 Author: Sylvia Fountaine
Prep Time: 15
Cook Time: 15
Total Time: 30 minutes
Yield: 4-6
Description
Simple, flavorful grilled lamb chops, topped with the most delectable Italian style Salsa Verde ( Herb Caper Sauce), perfect for the summer entertaining- either as an appetizer or main course. Try it and it will sure to be one of your favorite all-time barbecue recipes. Full flavored and so easy!
Ingredients
8–12 lamb chops, frenched, cut down to a single chop.
Olive oil for brushing
salt and pepper to taste
Italian Style Salsa Verde:
1 cup Italian parsley you can substitute part with fresh mint
1 tablespoon fresh rosemary
1 fat garlic clove
2 teaspoons lemon zest
1 anchovy ( optional)
⅛ cup  lemon juice
⅓ cup olive oil
2 tablespoons capers
2 teaspoons caper "liquid."
Salt and pepper to taste
Instructions
Preheat grill to med-high heat.

Brush lamb chops with olive oil and season with salt and pepper.
Make Italian salsa Verde: place herbs, garlic, lemon zest, and optional anchovy in a food processor. Pulse repeatedly until uniformly chopped. Add lemon juice, olive oil, and caper liquid. Pulse to combine ( but do not make this smooth).

 

Place in a bowl and stir in the capers. Add salt and pepper to taste.
When the grill is hot, sear the chops for a few minutes on each side. You want good grill marks while leaving them slightly rare on the inside, so a hot grill is essential.

 

When cooked to the desired temperature, plate and serve with Italian Salsa Verde spooned over the top.
Getting healthy and reaching your weight goals should never deprive you of good-tasting food. At Revivify Medical Spa's Ideal Protein Weight Loss Clinic, we can help you reach your ideal weight in a safe, healthy, and delicious way.
Contact us today to schedule an appointment and start living your best life.
For more information or begin the journey towards achieving your weight loss goals for good, call us at 409-203-6692.