Revive & Thrive November Specials
Revivify Medical Spa presents the Revive & Thrive November Specials, your gateway to a rejuvenated and revitalized holiday season. As a premier medical spa, we understand the significance of feeling your best as the festivities approach. Our specials are meticulously crafted to offer a range of treatments designed to invigorate your body and spirit, ensuring you glow inside out during this celebratory time. Indulge in our specialized therapies tailored to re-energize, refresh, and prepare you for the joyous season ahead. Experience the power of transformation at Revivify Medical Spa.  Hurry as our specials expire on November 17, 2023.
These specials were created to help get you ahead of the rest in looking your best during the end-of-year holidays. We'll make sure that you look your best! So, without delay, explore Southeast Texas' finest November Medical Spa specials and fall in love with Autumn all over again!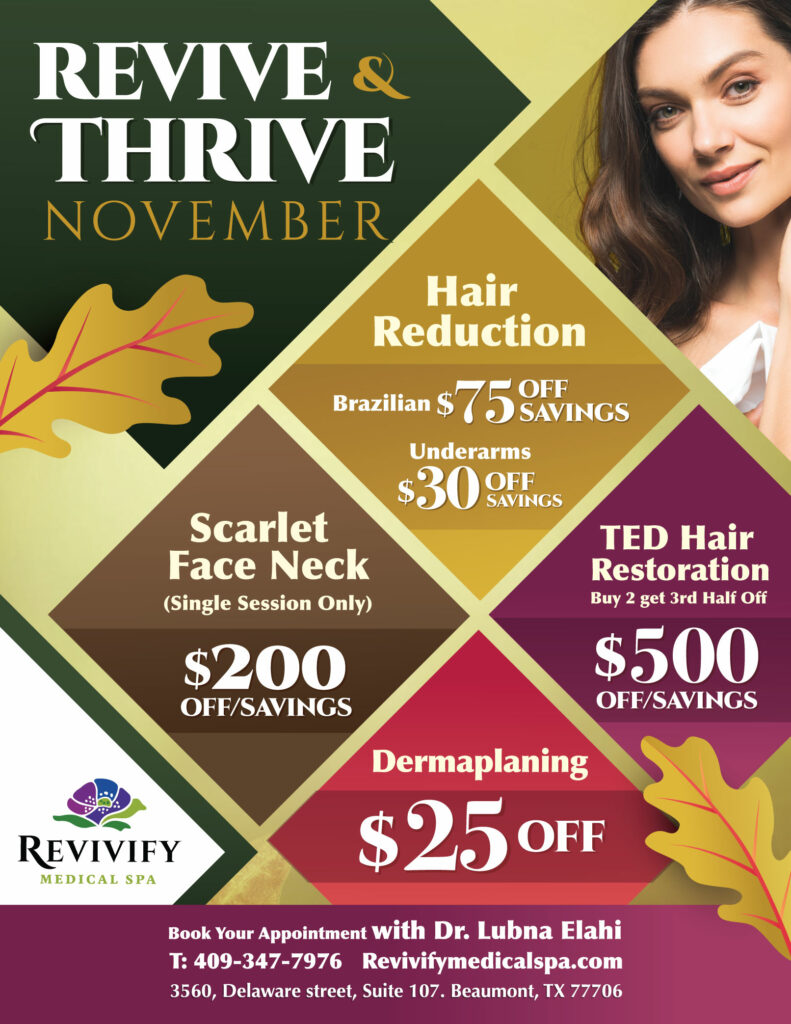 Revive & Thrive November Specials
Scarlet Face Neck Special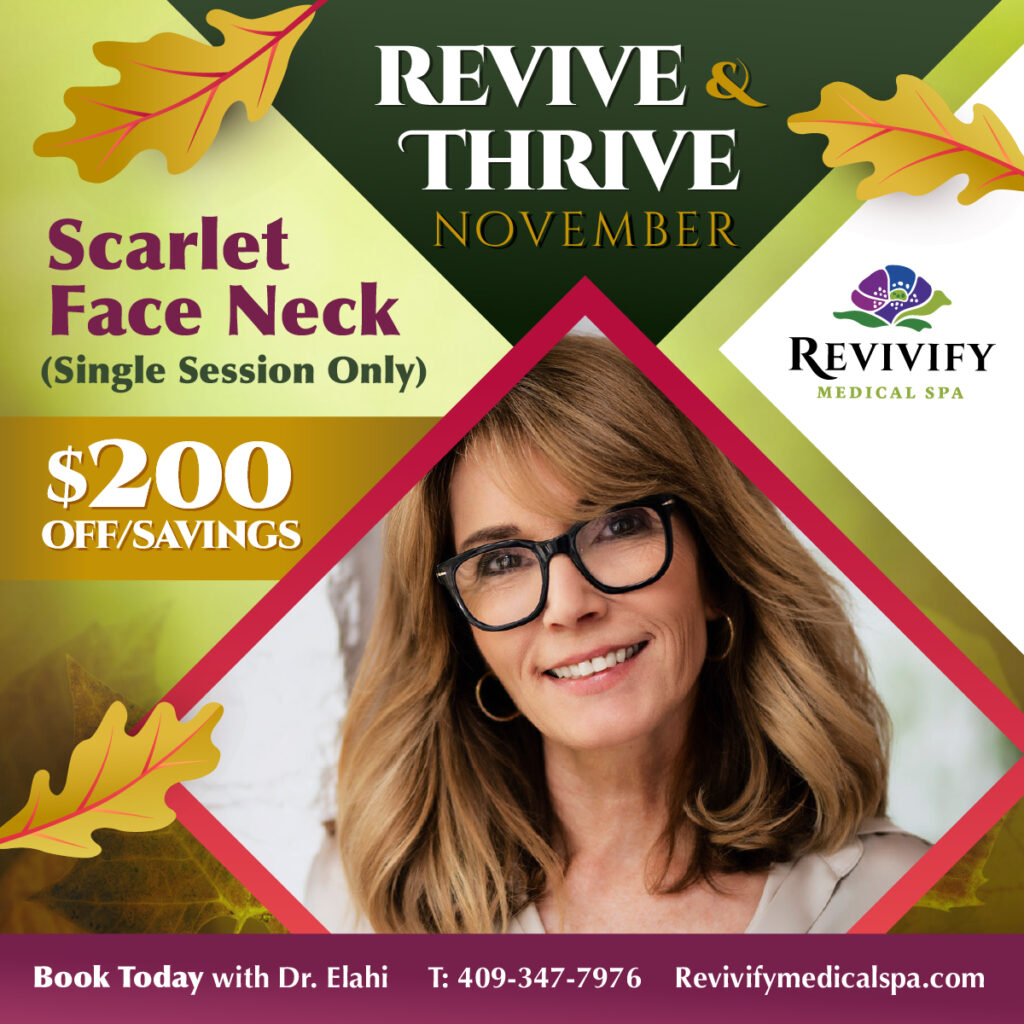 Scarlet Face Neck (Single Session Only) – $200.00 off/savings:
Our Scarlet treatment is a revolutionary procedure designed to revitalize your face and neck, promoting collagen production and enhancing skin elasticity. This non-invasive process helps reduce fine lines, wrinkles, and acne scars, resulting in a smoother, more youthful complexion. During November, experience this transformative session at an exclusive discount of $200.00 off, a remarkable opportunity to renew your skin for the holiday season.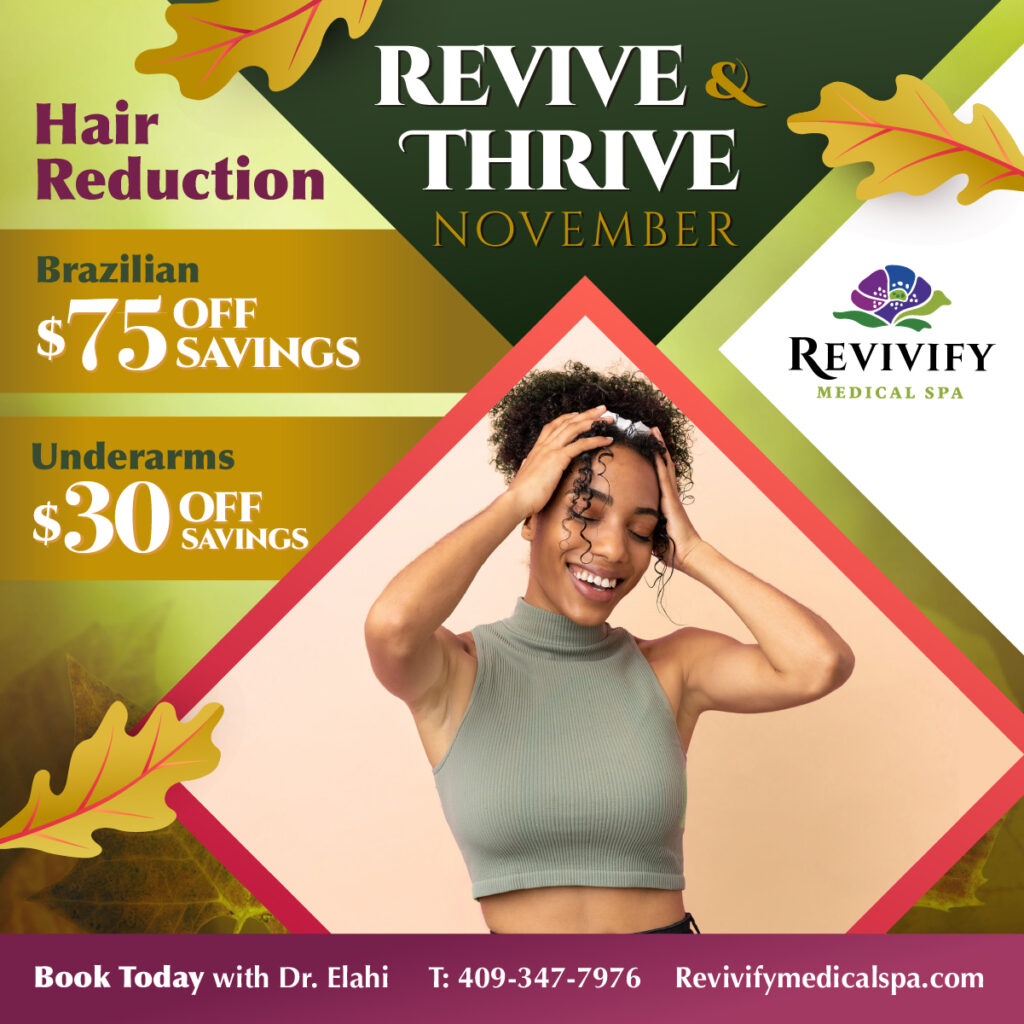 Hair Reduction – Brazilian $75.00 off/savings and Underarms $30.00 off/savings: Unveil the beauty of smooth, hair-free skin with our advanced hair reduction treatments. For the Brazilian and Underarms areas, revel in savings of $75.00 and $30.00 respectively. Our cutting-edge painless technology ensures a comfortable and effective reduction in unwanted hair, allowing you to feel confident and carefree as you prepare for the festivities.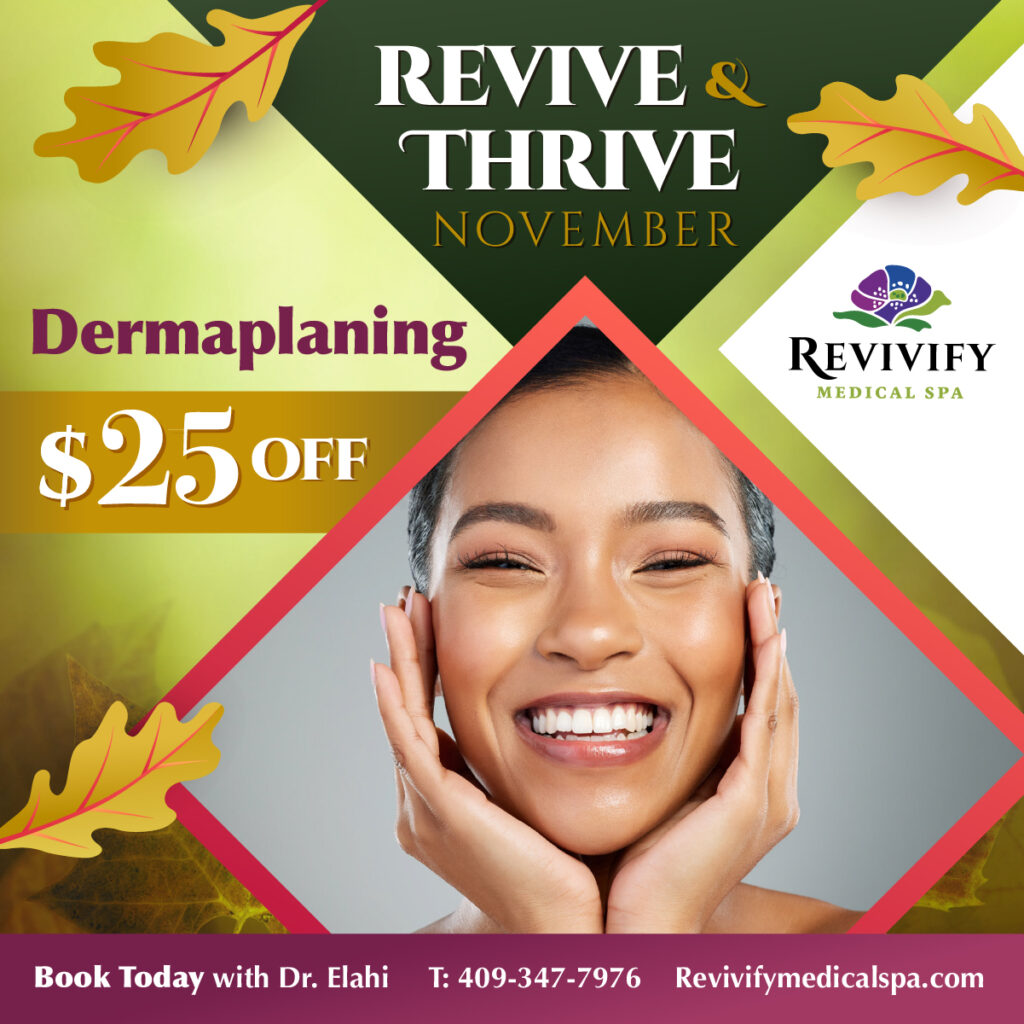 Dermaplaning $25.00 off: Enjoy the Dermaplaning treatment, a gentle exfoliation method that eliminates dead skin cells and fine vellus hair, revealing a radiant complexion. Throughout November, experience this rejuvenating treatment with a $25.00 discount, offering you the opportunity to achieve a refreshed and glowing look for the holidays.
TED Hair Restoration Special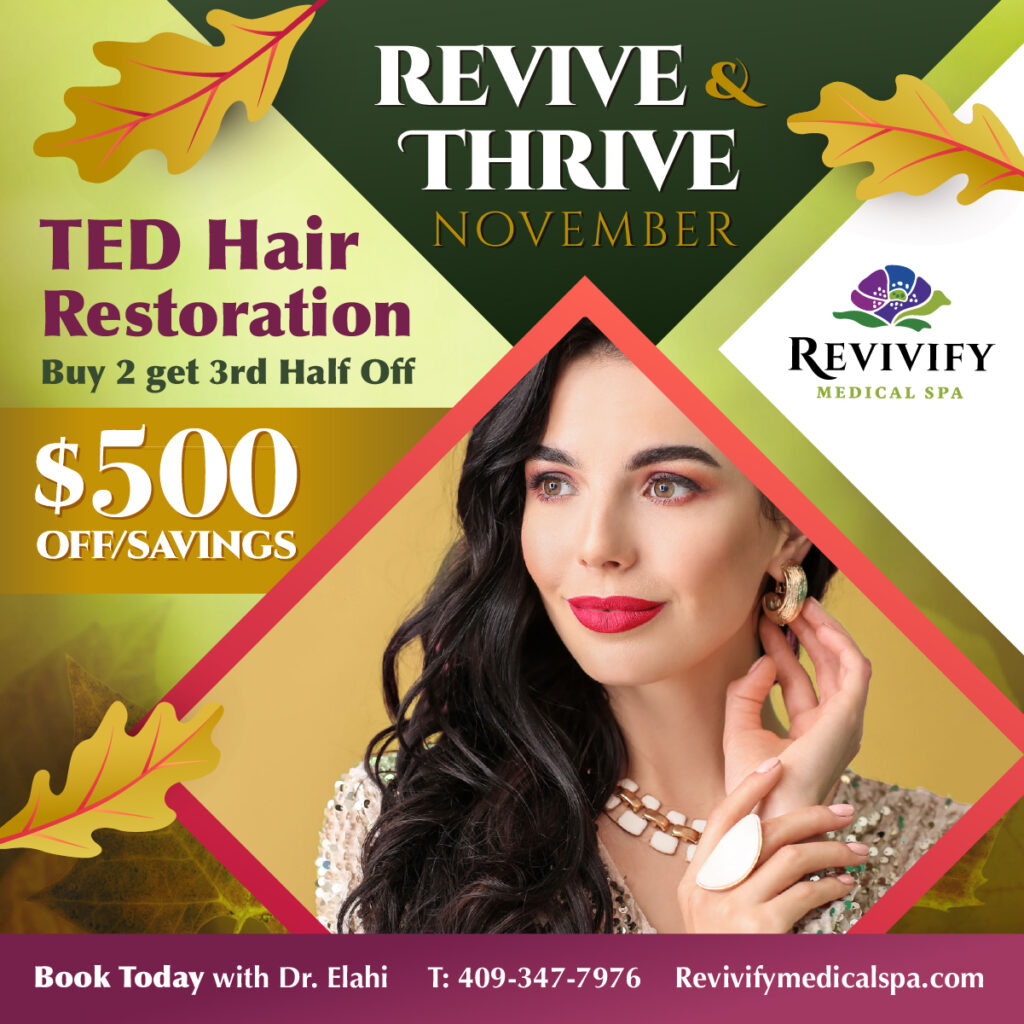 TED Hair Restoration Buy 2 get 3rd half off/$500.00 savings: The TED Hair Restoration treatment is a transformative solution for those seeking fuller, healthier hair. Take advantage of our special offer this November – purchase two sessions and receive the third at half price, resulting in an incredible $500.00 in savings. This revolutionary procedure stimulates hair growth and rejuvenates your scalp, providing a revitalizing boost just in time for the holiday season.
Make sure you contact us to take advantage of our Revive & Thrive November Specials!  At Revivify Medical Spa, we are here to help you look and feel your best from the inside out.  It is our mission to make cutting-edge, luxurious medical spa treatments affordable.  We offer equal or better medical-grade treatments to those found at the top Houston medical spas.  No need to drive long distances!  Revivify Medical Spa is the highest-rated, most trusted medical spa in Southeast Texas.
Board Certified Aesthetic Medicine Family Physician
I will make your visit Comfortable, Affordable, and Memorable.
Special Terms & Conditions
All standard terms and conditions apply
Promotions are not retrospective.
In order to claim a special, you must purchase the offer upfront.
Promotions cannot be combined.
We reserve the right to modify or terminate a special at any time.
The expiration date is November 17, 2023.