Celebrate National Soup Month with These Delicious Keto Soup Recipes
January is National Soup month; few things warm our heart and soul like a delicious soup. Soups are generally healthy, nutritious, complete meals that are also convenient and easy to make.  We're sure that these delicious keto soup recipes will ensure way past January as they are healthy and guilt-free!
Whether you prefer clear soup or chunky, spicy, or maybe a bit sweet, hot, or cold, soups make for a great lunch or dinner dish.
At Revivify Medical Spa, we help our clients reach their ideal weight and improve their health. We are an Ideal Protein Clinic, which means we follow a weight loss program based on a ketogenic diet that is carefully designed by professionals to help patients set and achieve their goals and teach them how to maintain their results.
Keto soups fit right into our meal plans, so we leave you with three keto soup recipes that are not only healthy but super tasty and easy to make! At Revivify Lean Clinic we hope to ensure that our patients enjoy while they are losing weight.  We hope that these delicious keto soup recipes not only become favorites but also provide some insight as to what we can do for you through our Ideal Protein Weight Loss program.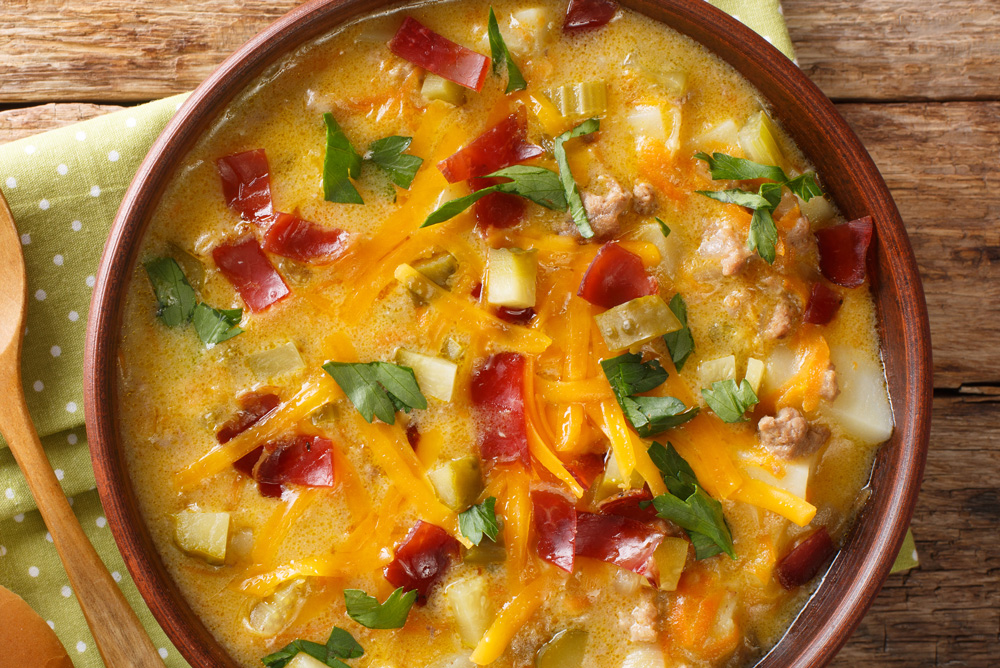 Bacon Cheeseburger Soup
1 bowl of soup has approximately 566 calories.
Ingredients:
1 tbsp butter

½ small onion chopped.

½ – 1 pound of ground beef

1 tbsp marinara sauce

4 small bacon slices

¼ cups of chopped tomatoes

1 tsp Dijon mustard

¾ cup shredded cheddar or Monterey jack cheese

¾ cups of beef stock

¼ cup cream cheese

½ cup of heavy cream

2 tbsp chopped parsley

Salt and pepper to taste.
Instructions:
Add the butter to a soup pot and toss onion and garlic. Cook for 2-3 minutes.
Add ground beef and bacon and cook until golden brown (set aside 1 slice of chopped bacon for garnish)
Add chopped tomatoes, marinara sauce, Dijon mustard, beef stock, salt, and pepper to taste.
Add cream cheese, cheddar (leave a tablespoon for garnish and chopped parsley)
Mix well until cheese melts, pour heavy cream, and simmer for 2-3 minutes.
Pour into bowls and garnish.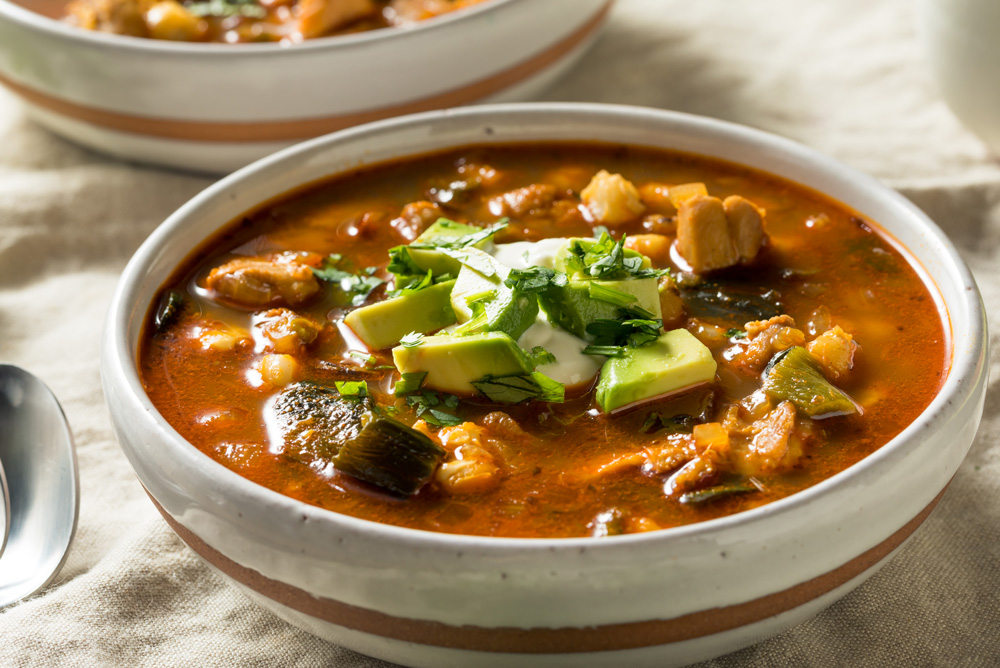 Chicken and Avocado Soup
1 and ¾ cups of this soup only has 297 calories.
Ingredients:
2 tsp olive oil

1 and ½ cups scallions, chopped fine

2 cloves garlic, minced

1 medium tomato, diced

5 cups reduced-sodium chicken broth

2 cups shredded chicken breast

2 small ripe avocados, diced

1/3 cup chopped cilantro

4 lime wedges

kosher salt and fresh pepper, to taste

1/8 teaspoon cumin

pinch chipotle chile powder, optional, or you can also add jalapeno or serrano peppers if you prefer spicy.
Instructions:
Heat a large pot over medium heat.
Add the oil, 1 cup of scallions, and garlic. Sauté about 2 to 3 minutes until soft, then add the tomatoes and sauté another minute, until soft.
Add chicken stock, cumin, and chile powder and bring to a boil. Simmer covered on low for about 15 minutes.
In four bowls, fill each with 1/2 cup chicken, 1/2 avocado, the remainder of the scallions, and cilantro. Ladle 1 cup chicken broth over the chicken and serve with a lime wedge.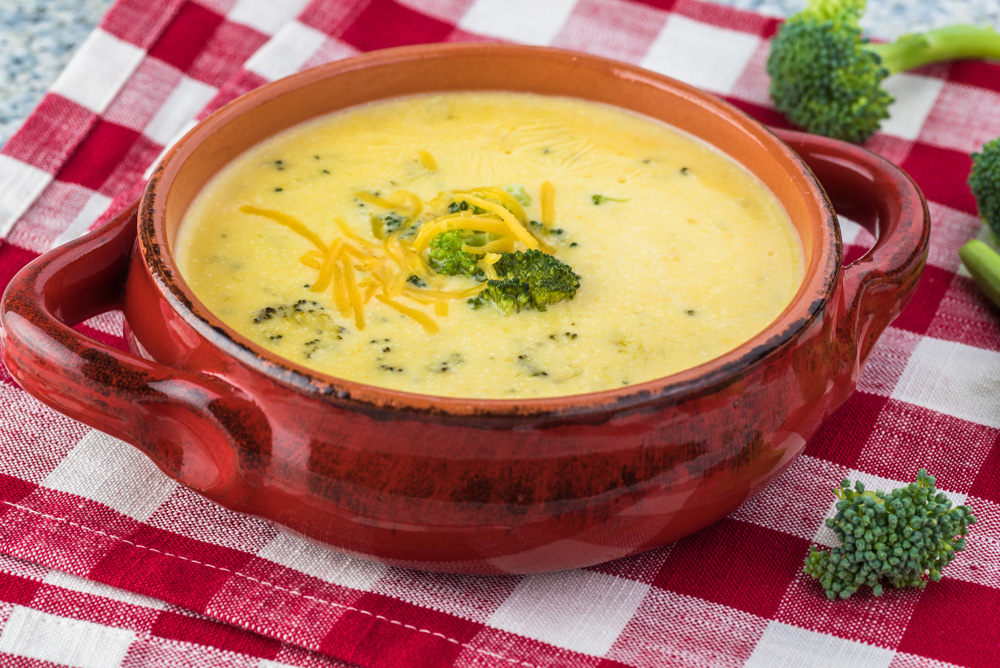 Broccoli and Cauliflower Soup
1 bowl of this soup has only 312 calories.
Ingredients:
1/2 onion

1 clove garlic

1 tablespoon butter

12 ounces cauliflower florets

1 teaspoon salt

1/2 teaspoon dry mustard powder

1/2 teaspoon red pepper flakes

4 cups chicken broth

½ cup heavy whipping cream

2 cups shredded cheddar

12 ounces broccoli florets
Instructions:
Use a deep pot and heat over low heat. Add the diced onion and minced garlic.
Add the butter and let melt, stirring often, for 5 minutes to soften.
Add the cauliflower, salt, mustard powder, red pepper flakes, and chicken broth to the pot and increase heat to medium.
Bring to a boil and reduce to a simmer, stirring occasionally. Simmer for 15 minutes.
Use an immersion blender to blend the soup until smooth and creamy or if you do not own an immersion blender, carefully transfer the hot soup to a blender and blend.
Add the cream and cheddar to the soup and stir well to combine.
When the cheese has fully melted, add the broccoli to the soup and cook for 5-10 minutes or until broccoli is as soft as you'd like, stirring occasionally.
Serve with additional grated cheddar and crumbled bacon, if desired.
Enjoy these delicious recipes and if you are battling with obesity or want to lose a few extra pounds, make your appointment today at our official Ideal Protein Weight Loss Clinic in Beaumont, Texas today! Our team of experts including our IP weight loss coach will help you build a plan that works for you, make the necessary changes to live a healthier and better life this 2021!
For more information or begin the journey towards achieving your weight loss goals for good, call us at 409-203-6692.