STRETCH MARKS TREATMENT
Regain Your Confidence with Our Stretch Mark Removal Therapy
What are Stretch Marks?

Stretch marks are a fact of life for thousands of men and women, these unsightly bands occur when our skins connective tissue is stretch too far or fast such as during pregnancy, puberty, or rapid weight gain or loss.
Stretch marks form when the middle layer of the skin stretches too fast, causing some of the collagen fibers to break. As the skin stretches and the collagen fibers rupture, the underlying blood vessels become exposed and can even suffer some minor damage. It is because of this that new stretch marks often have a red or purplish color; the good news is that over time as the blood vessels heal the marks fade to a white or silver color.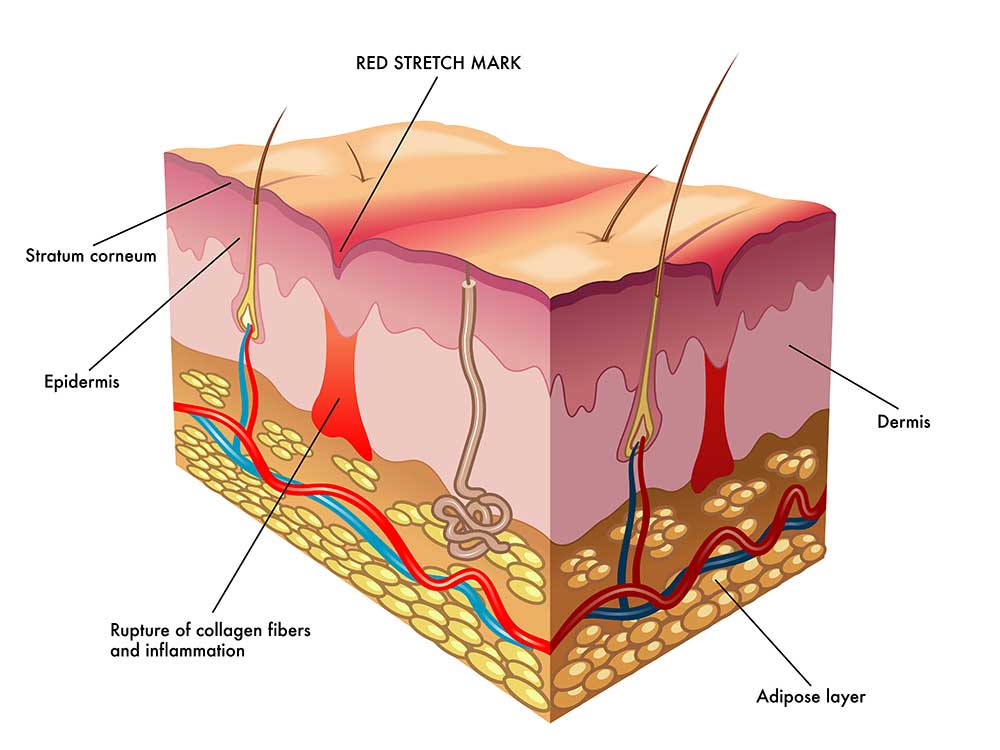 WHAT IF I HAVE STRETCH MARKS? CAN I GET RID OF THEM?
There is a Life After Stretch Marks!
Can Stretch Marks be Eliminated?
Once the middle layer of our skin is damaged, it will never regain its original structure, this means once you get a stretch mark it is there for life.
There are many creams, oils, and lotions that claim they can improve the look and feel of stretch marks; although some have shown marginal positive effects, most medical experts agree, that the claims made by the manufacturers of these products are mostly hype.
But, don't despair, there is hope in the form of stretch mark removal therapy with the use of specialized cosmetic laser technology.
Stretch Marks Treatment Before and After.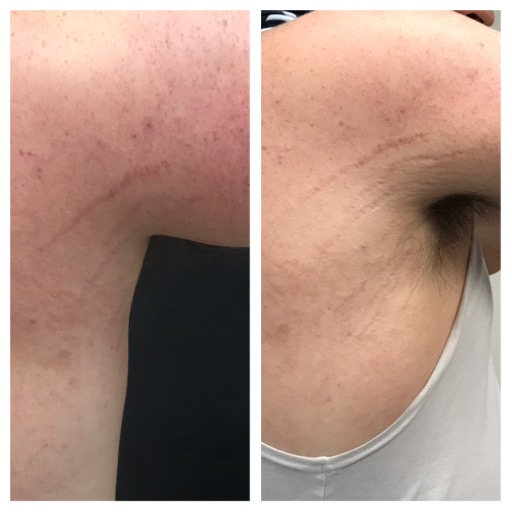 How Are Stretch Marks Treated?
Although stretch marks appear to be on the surface of the skin, the truth is they are the result of tissue damage in the dermis, the deeper layer of the skin.
Fractional radiofrequency or microneedling with PRP works by reaching the deeper dermal layer of the skin, it helps promote the production of new collagen and elastin, leading to remodelling and reducing the depth of the stretch mark.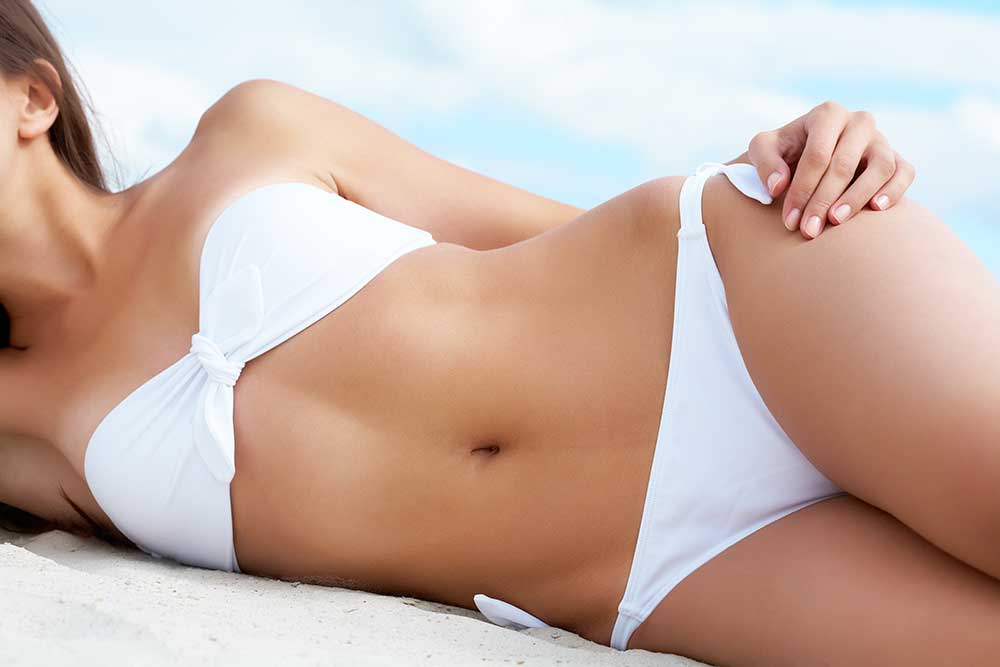 This is a non-invasive procedure, meaning there will be little to no downtime.
You might notice some skin irritation on the treated area, mild discomfort in the treated area. Your skin may also scab over before revealing the new skin tissue over and around the stretch mark. All these side effects are normal and will disappear within a few weeks.
The treatment works best on immature or new stretch marks, but, patients with older stretch marks have also shown improvements. Most patients report improvement rates between 20% and 50%.
STRETCH MARKS TREATMENT BEFORE AND AFTER
REAL PEOPLE HAPPY TO SHARE THEIR RESULTS!
YOU DON'T HAVE TO GO TO BEVERLY HILLS!
You can get your Stretch Marks Treatment right here in Beaumont, Texas!
WANT TO KNOW IF YOU ARE A GOOD CANDIDATE FOR GETTING A STRETCH MARKS TREATMENT?
You can get your Stretch Marks Treatment at Revivify Medical Spa
The Best Quality Medical Grade Treatments at the Best Prices.
BOOK YOUR INITIAL CONSULTATION TODAY!
CALL: 1 409 347-7976
EMAIL: Hello@Revivifymedicalspa.com