Revivify's Facial Recovery Specials
Each summer, we enjoy getting out for fun in the sun, but our skin suffers which is why we are happy to announce our Facial Recovery Specials. According to the National Center for Biotechnology Information,
"Clinical signs of aging are essentially influenced by extrinsic factors, especially sun exposure. Indeed UV exposure seems to be responsible for 80% of visible facial aging signs."
The good news is that you are just in time to help stall and even reverse the signs of aging. Check out our Facial Recovery Specials and contact us for a personalized consultation.
At Revivify Medical Spa in Beaumont, Texas, we make cutting-edge, luxurious medical spa treatments affordable. We offer equal or better medical-grade treatments to those found at the top Houston medical spas. No need to drive long distances! Revivify Medical Spa is the highest-rated, most trusted medical spa in Southeast Texas.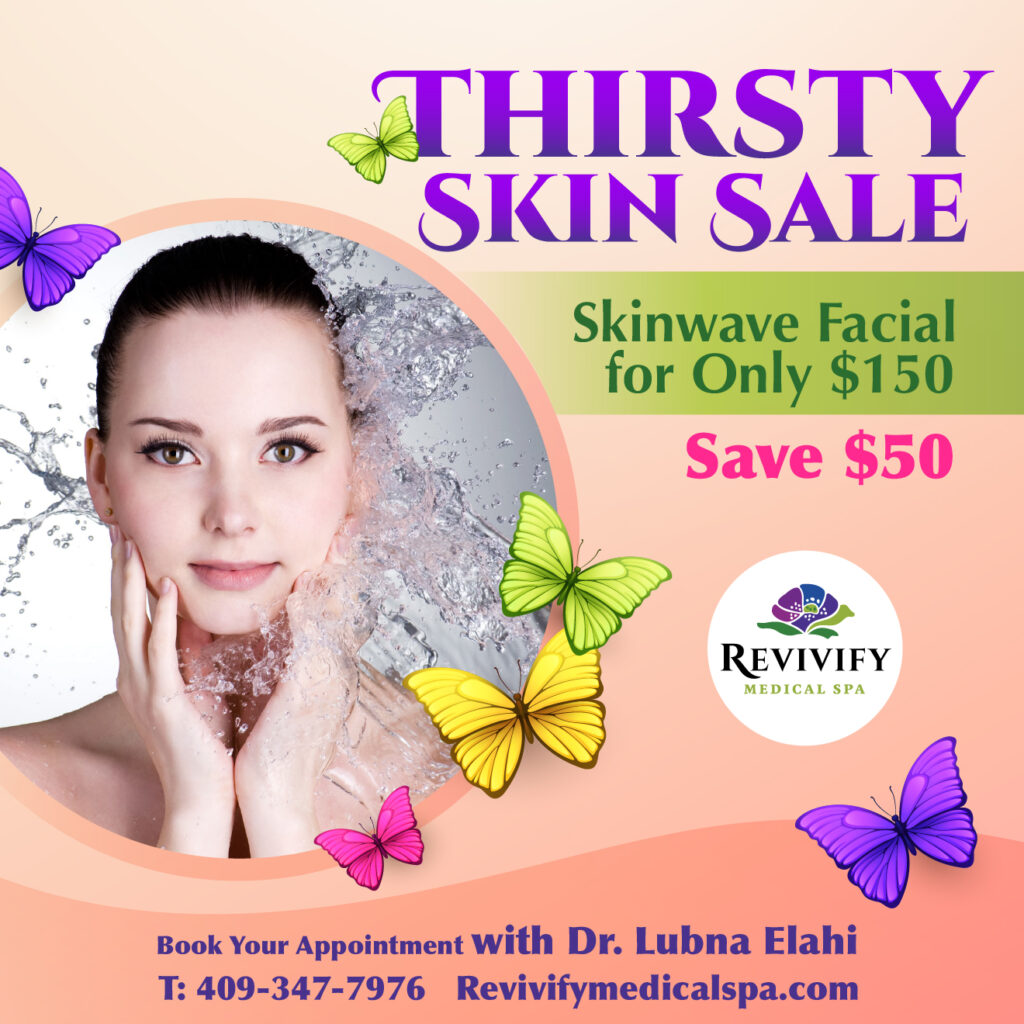 Enjoy a refreshing Skinwave Facial for only $150!
Skinwave is the most advanced medical-grade exfoliating, hydrating, and anti-aging non-invasive facial treatment offered today.
This revolutionary Skinwave facial technology involves a Five-Step System:
Step 1. Deep Cleanse
Step 2. Detoxify
Step 3. Hydrate
Step 4. Plump
Step 5. Massage
SAVE $50!
Scarlet Facial Rejuvenation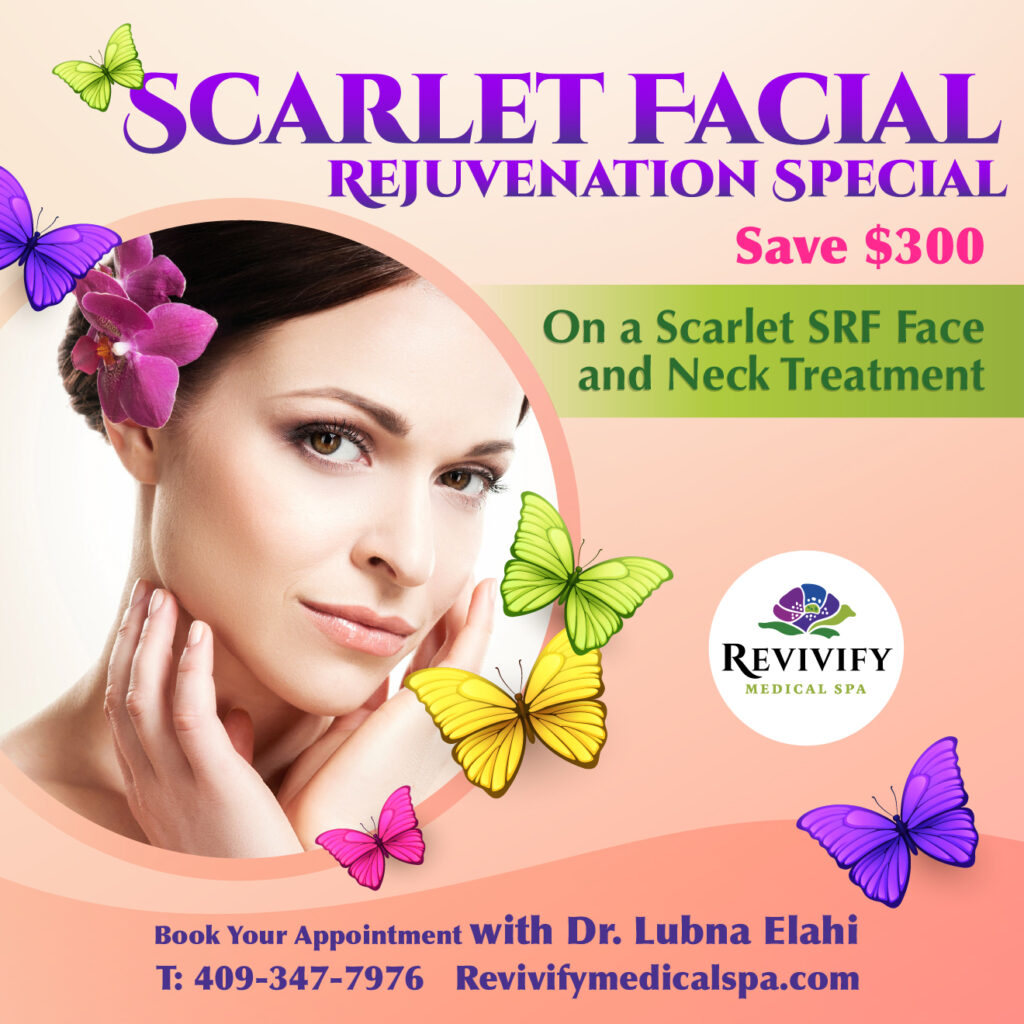 Get $300 OFF the Scarlet SRF Face and Neck Treatment.
Scarlet SRF treatments deliver thermal radiofrequency energy to the deepest layers of the skin via microneedles.  The Scarlet SRF technology, simultaneously promote collagen growth and facilitate noticeable skin rejuvenation with little to no downtime.  Tighten and improve the texture and appearance of your skin today!
SAVE $300!
Nonsurgical Eye Lift Special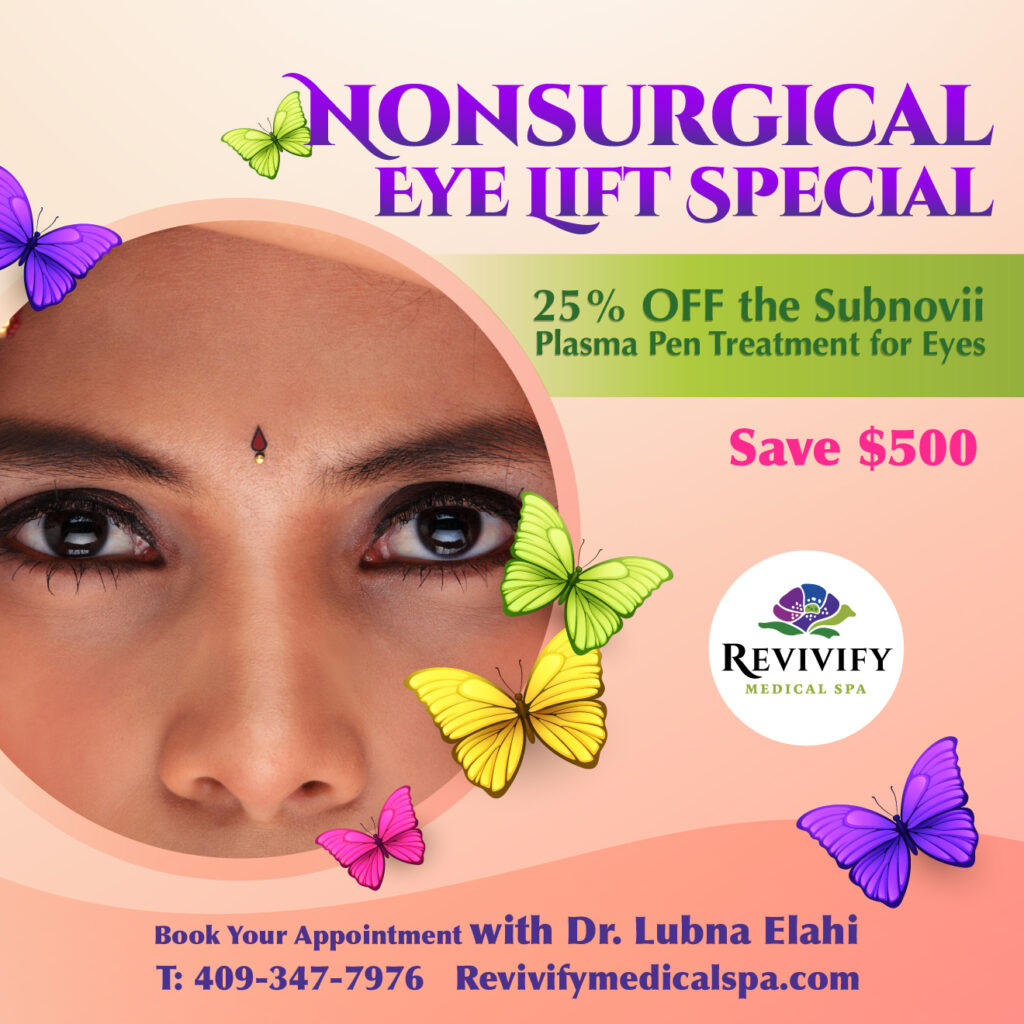 Get 25% OFF the Subnovii Plasma Pen Treatment for Eyes. Don't go under the knife when you can get a non-surgical blepharoplasty. The safest and most effective way to rejuvenate your eyes. This advanced, non-invasive, skin lifting, skin tightening, and rejuvenation method treats wrinkles and sagging leaving your skin looking years younger. Lift Upper Eyelids & Remove Crows Feet without Surgery!
25% OFF!
Buy 3 Syringes of Filler and get 1 Free! Savings of over $600.
Dr. Elahi is a facial filler expert! Whether you are looking for minor adjustments to accentuate your features or are looking for full facial rejuvenation, you can be sure that you will enjoy the wonderful results that you have been dreaming of.  Choose your area's eyes, lips, cheeks, jawline.
SAVE $600!
Acne Laser Facial Special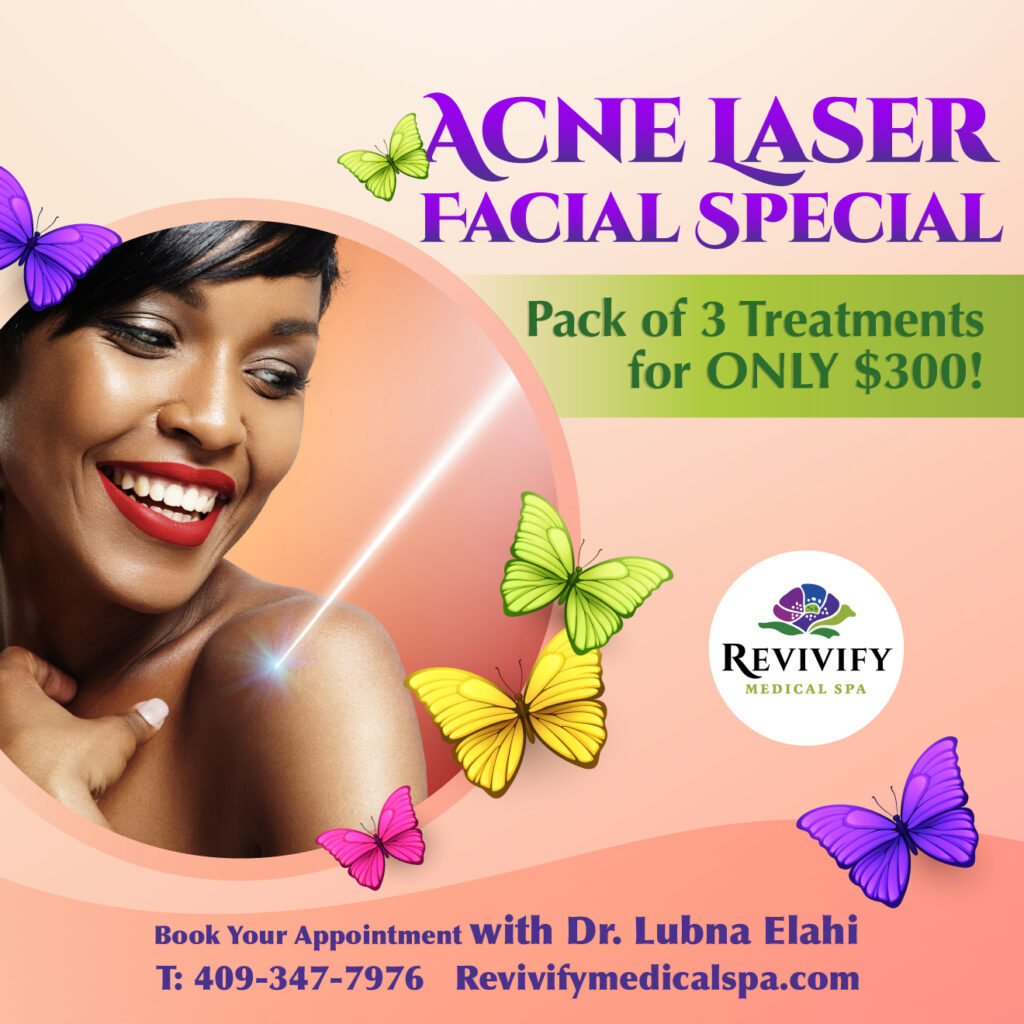 Purchase a pack of 3 laser facial treatments for ONLY $300!
Skin resurfacing laser works wonders in helping clear and heal acne and acne scars.  The new collagen that is produced during the recovery process, helps to fill in indentations from past blemishes. Contact us about a clinical facials skincare line to help extend your beautiful skin results!
ONLY for $300!
Lunchtime Facelift Special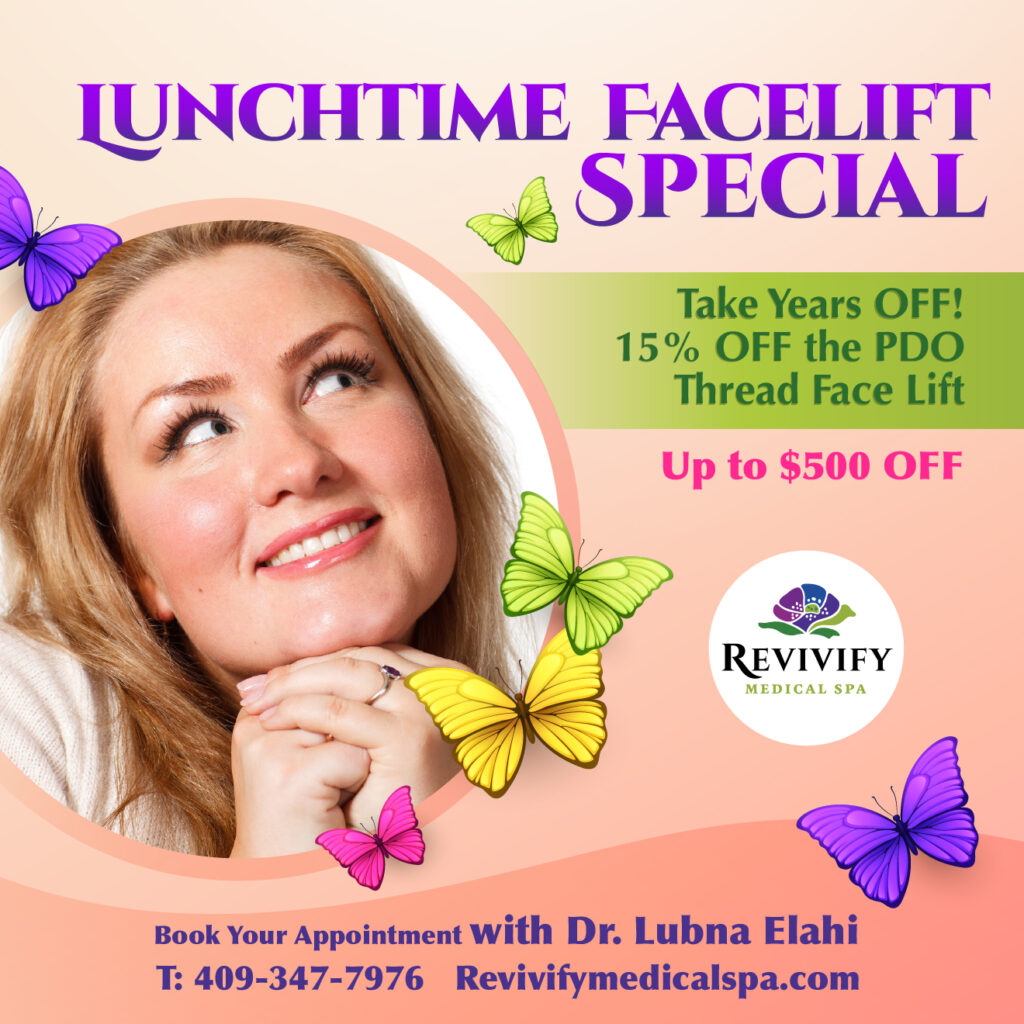 Take Years OFF with our Lunchtime Facelift Treatment now on Sale! Get 15% OFF the PDO Thread Face Lift up to $500 OFF. The thread lift is the most discreet, effective, and affordable nonsurgical aesthetic procedure outpatient treatment available today.  This treatment is safe, effective, with no downtime, with lasting results, and 80% less expensive than the traditional facelift.
SAVE up to $500!
Board Certified Aesthetic Medicine Family Physician
I will make your visit Comfortable, Affordable, and Memorable.
Special Terms & Conditions
All standard terms and conditions apply
Promotions are not retrospective.
In order to claim a special, you must purchase the offer upfront.
Promotions cannot be combined.
We reserve the right to modify or terminate a special at any time.
The expiration date is Sept 30, 2021.