Ideal Protein Pumpkin Spice Protein Smoothie
Halloween is just around the corner, and at Revivify Lean Clinic, we believe that you don't have to give up on the festivities to stay on track with your Ideal Protein journey. This year, we've got a special treat for you – the Ideal Protein Pumpkin Spice Protein Smoothie. It's a delightful and seasonal way to celebrate the holiday without straying from your health and weight loss goals.
How to Make the Ideal Protein Pumpkin Spice Protein Smoothie
Ingredients:
1 Ideal Protein Pumpkin Spice Drink Mix- 1 cup unsweetened almond milk
1/2 cup canned pumpkin puree (unsweetened)
1/2 teaspoon ground cinnamon
1/4 teaspoon ground nutmeg
1/4 teaspoon ground ginger
1/4 teaspoon vanilla extract
Ice cubes (optional)
Whipped cream (sugar-free, if desired)
A sprinkle of ground cinnamon (for garnish)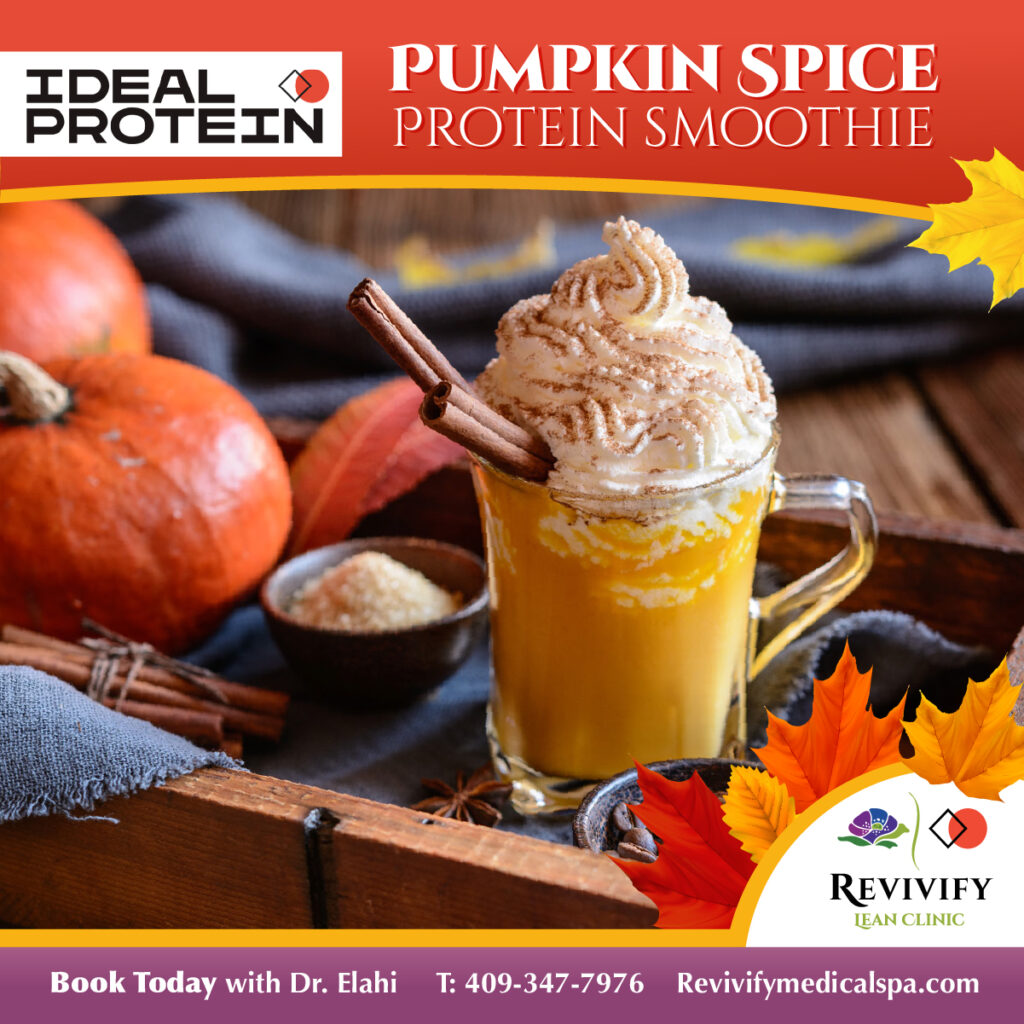 Instructions:
Gather Your Ingredients: Before we dive into the deliciousness, make sure you have all the ingredients ready to go.\
Blend the Magic: In a blender, combine the Ideal Protein Pumpkin Spice Drink Mix, unsweetened almond milk, canned pumpkin puree, ground cinnamon, ground nutmeg, ground ginger, and vanilla extract.
Chill Out: If you prefer a colder and thicker smoothie, you can also add a few ice cubes to the blender.
Blend Until Smooth: This is the fun part! Blend all the ingredients until they transform into a smooth, creamy concoction. You may want to taste it and adjust the spices to your liking.
Pour and Present: Pour your smoothie into a festive Halloween-themed glass. The presentation adds to the fun!
Whipped Cream Wonder: If you'd like, top your smoothie with a dollop of sugar-free whipped cream. This step is entirely optional, but it sure makes your smoothie look fancy.
Cinnamon Sprinkle: Finish your masterpiece by garnishing it with a sprinkle of ground cinnamon. It adds a lovely touch of flavor and presentation.
This Pumpkin Spice Protein Smoothie is not only a delicious treat but also fully in line with Ideal Protein's principles. It provides a healthy, protein-packed way to indulge in the flavors of fall while staying on track with your wellness journey.
Whether you're celebrating Halloween with your family, friends, or simply treating yourself, this smoothie is a perfect choice. It's a delightful way to enjoy the holiday season while making progress toward a healthier you.
Happy November and happy sipping!
Please note that it's essential to ensure that the Ideal Protein Soup Mix used is compliant with the specific Ideal Protein program guidelines followed by Revivify Lean Clinic. So, go ahead, and celebrate Halloween with a warm, delicious bowl of this festive soup. Enjoy the magic of the season!
For more information or to begin the journey towards achieving your weight loss goals for good, call us at 409-347-7976.