Laser Hair Removal
Painless and the quickest laser hair reduction technology in the medical spa industry!

What is Laser Hair Removal?
Drop the Razor and Start Thinking Laser!
This is the permanent and pain-free treatment for women and men that you have been wishing for! Laser hair removal is one of the most commonly performed cosmetic medical procedures, it utilizes a concentrated beam of light or laser to remove unwanted hair from different areas in the body.
The type of laser used in this procedure is useful for removing unwanted hair from anywhere on the body including but not limited to legs, face, arms, underarms, bikini line, and back.
Soprano® ICE
At Revivify Medical Spa we use Soprano Ice by Alma Lasers, the most complete and effective laser hair reduction solution available today.  Soprano ICE Platinum is an all-in-one system that uses one powerful wavelength covering the optical spectrum.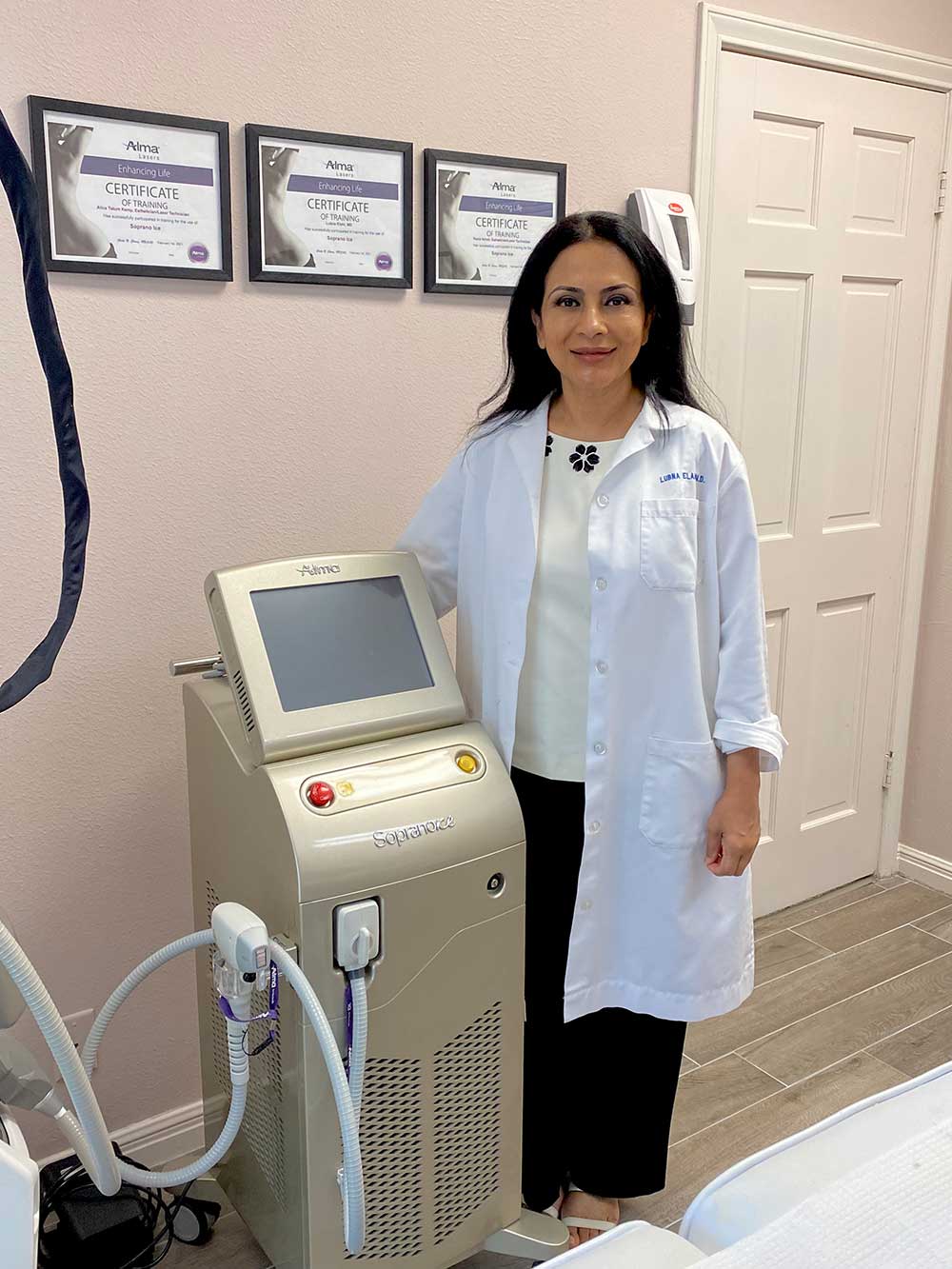 Why is Soprano® ICE Superior to Other Laser Hair Removal Systems?
The Features & Benefits that Make a Difference!
What Are the Benefits of Laser Hair Reduction?
The Laser Hair Removal/Reduction Treatment offers several benefits including:
It Offers Permanent Results
Most patients will experience significant hair reduction in the treated area within 3 to 8 sessions. However, every patient is different, and results may vary.
It's Precise
The laser technology used in these procedures can target dark-colored hairs without causing damage to the surrounding skin.
It's Fast
The time you spend on each treatment session depends on the area you are treating. Small areas such as the upper lip can be handled in just a few minutes. Larger areas, such as legs or back, can take longer but are usually under an hour.
It Has Minimal Side Effects 
You may experience some redness and mild discomfort in the treated area, this can last for a few hours or days depending on your skin's sensitivity.
No Ingrown Hairs
You can say goodbye to painful and unsightly ingrown hairs once and for all. Shaving and waxing can irritate the skin causing, and this can lead to ingrown hairs, laser hair removals target the hair follicle without causing any skin damage, so there is no risk of ingrown hairs.
You Don't Need to Wait for Hair to Grow
Waxing requires hair to be a certain length to be effective, Laser hair removal doesn't. In fact, you are encouraged to shave a few days before your session to avoid burning any of the surface hair.
How Does Laser Hair Removal Work?
Laser hair removal uses the properties of the laser to beam the light straight into the pore targeting the follicle directly. The light from the laser is converted to heat, which can heat the follicle enough to damage it, slowing new hair growth and eventually preventing it from growing back altogether.
Laser hair removal is more specific compared to other hair removal systems, and so may require fewer treatments to achieve the same results.
At Revivify Medical Spa in Beaumont, Texas, we offer MEDICAL GRADE AESTHETICS AND REGENERATIVE MEDICINE AT the most reasonable prices.
What to Expect
Depending on the area and coloring of your skin and hair, laser hair removal can require 3 to 8 sessions to achieve maximum results. The interval between sessions is usually 6 weeks.
"I strive to help my clients reach their desired goals through personalized guidance, relentless work, compassion and understanding."
Dr. Lubna Elahi
Are You a Good Candidate?
Want to know if you are a good candidate?
At Revivify Medical Spa, we employ only the most effective laser hair reduction treatments that will be fast and comfortable for you as a patient.  Most importantly, you'll love the results!
Call us today to request a personalized consultation and enjoy less time shaving and more time for you!