Refreshing Ideal Protein Cucumber and Dill Salad
Craving a light and refreshing salad that's both delicious and on-plan with Ideal Protein? Look no further! Try our Cucumber and Dill Salad – it's a crisp and flavorful dish that's perfect for staying on track with your wellness goals.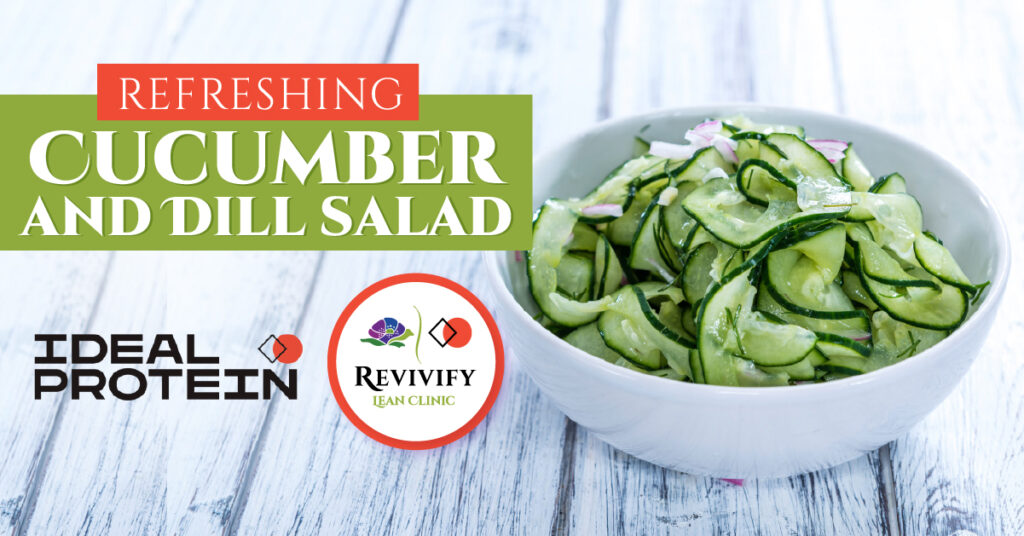 Ingredients:
1 cucumber, thinly sliced
1/4 cup chopped fresh dill
1/4 cup diced red onion
1/4 cup Walden Farms Balsamic Vinaigrette (Ideal Protein-approved)
Salt and pepper to taste
Instructions:
In a mixing bowl, combine the thinly sliced cucumber, chopped fresh dill, and diced red onion.
Drizzle the Ideal Protein-approved Walden Farms Balsamic Vinaigrette over the cucumber mixture.
Gently toss the salad to ensure all ingredients are coated with the dressing.
Season with a pinch of salt and pepper to taste.
Refrigerate the salad for about 30 minutes to allow the flavors to meld together and the salad to chill.
Serve your refreshing Cucumber and Dill Salad as a delightful and guilt-free side dish or a light meal.
This salad is not only delicious but also hydrating and low in calories, making it a perfect addition to your Ideal Protein journey. Enjoy the crispness of cucumber and the freshness of dill while staying on track with your wellness goals!
Getting healthy and reaching your weight goals should never deprive you of good-tasting food. At Revivify Medical Spa's Ideal Protein Weight Loss Clinic, we can help you reach your ideal weight in a safe, healthy, and delicious way.
Contact us today to schedule an appointment and start living your best life.
For more information or to begin the journey towards achieving your weight loss goals for good, call us at 409-347-7976.