Flash Football Season Facial Specials
So Summer has been brutal this year but we have a great relief to safeguard your skin.  Not only do we have facials but the very best facials in Southeast Texas! But wait, there's more, we have a special so you can pick and choose which facial you want.  Yes!  This is really happening! So ladies and gentlemen, presenting the Flash Football Season Facial Specials.
Starting this coming Monday, the 11th, through to Friday, the 15th, we're unleashing our "Kickoff" Specials, designed to help you recover from the summer and kickstart the season with a bang. Dr. Elahi and our entire team are thrilled to announce these exclusive offers.
15% Off All Chemical Peels, Laser Peels, and more! Single Treatments, No Packages. This is your chance to pick and choose whichever you need.
At Revivify Medical Spa in Beaumont, Texas, we make cutting-edge, luxurious medical spa treatments affordable. We offer equal or better medical-grade treatments to those found at the top Houston medical spas. No need to drive long distances! Revivify Medical Spa is the highest-rated, most trusted medical spa in Southeast Texas.
15% OFF Skinwave Hydra Facial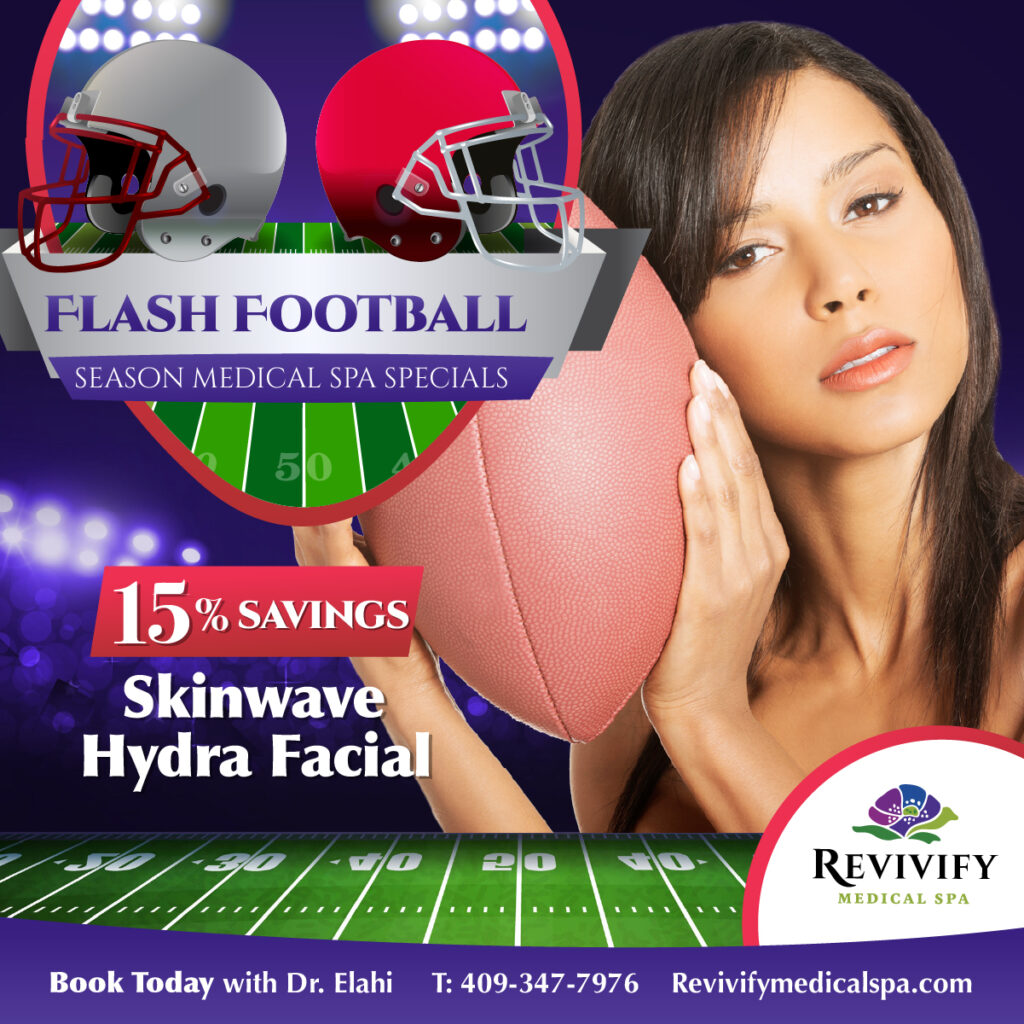 The Skinwave Facial is a transformative skincare experience that brings multiple benefits in a single treatment. It deeply cleanses, exfoliates, and hydrates the skin, leaving it visibly refreshed and radiant. This innovative facial also offers customizable solutions to address specific skin concerns, such as fine lines, acne, and uneven tone. With its non-invasive and painless approach, Skinwave provides immediate results and long-lasting skin improvements, making it an ideal choice for those seeking a quick and effective skincare solution.
15% OFF Laser Teeth Whitening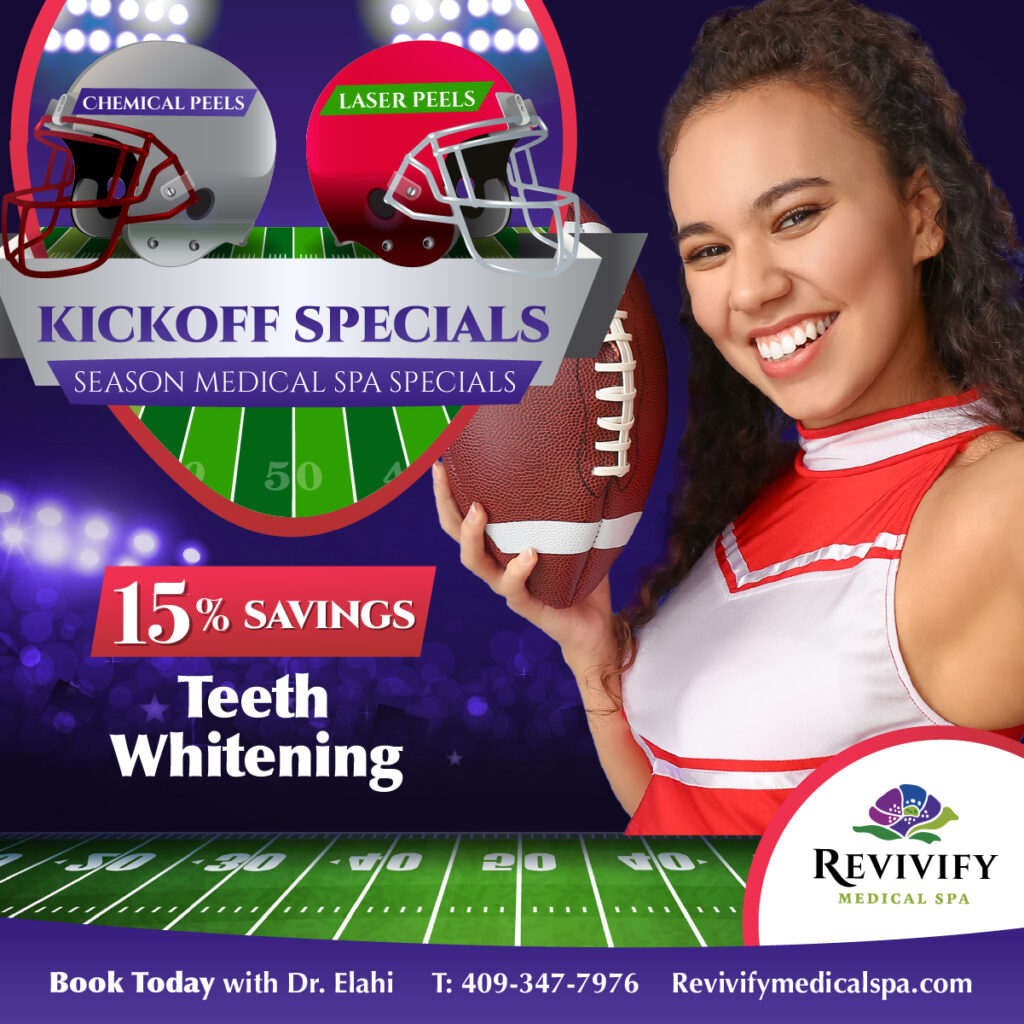 Laser teeth whitening is a fast and highly effective way to achieve a dazzling smile. In a single session, it can significantly lighten tooth color, often by several shades, leaving you with noticeably brighter teeth. This procedure is safe, minimally invasive, and typically produces immediate results. It's an excellent option for individuals looking to enhance their smile quickly and efficiently, boosting confidence and overall appearance.
15% OFF Your Choice of Laser Facials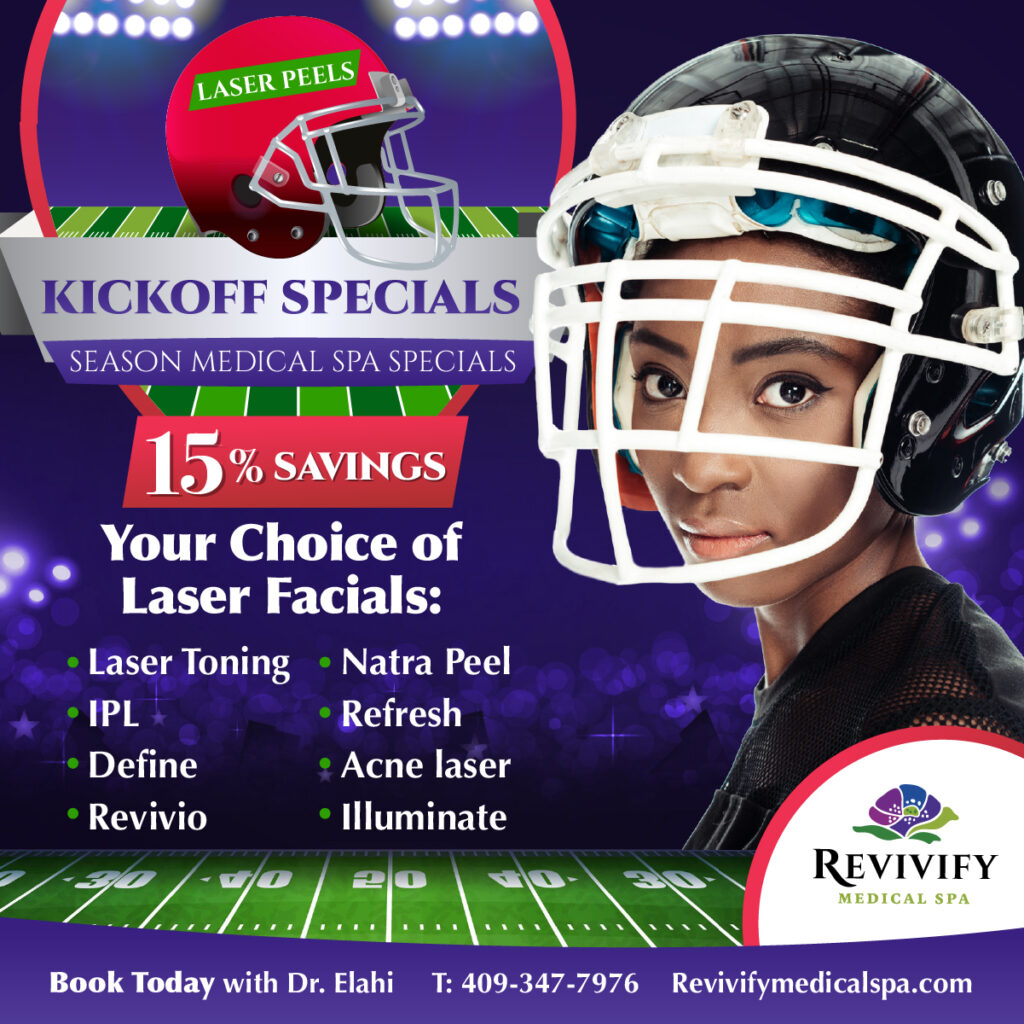 Enjoy a 15% OFF your choice of our fabulous Laser Facial specials.  Get to know them today!
Laser Toning: Experience a brighter, more even skin tone with Laser Toning. It can help fade those stubborn spots and fine lines, leaving your skin looking refreshed and youthful.
IPL (Intense Pulsed Light): IPL is like a magic wand for sunspots and redness. It can give your skin a smoother, more vibrant appearance by reducing sun damage and redness.
Define: Our "Define" treatment is all about refining your skin. Whether you're dealing with dryness, roughness, or uneven texture, this treatment aims to leave your skin soft and beautifully defined.
Revivio: Discover the rejuvenating effects of our unique "Revivio" treatment. It's tailored to make your skin feel alive again, and it's all about bringing out your natural glow.
Natra Peel: Natra Peel can work wonders for your skin's texture. It's like hitting the reset button, revealing a smoother complexion and reducing the appearance of fine lines.
Refresh: Feeling tired or stressed? Our "Refresh" treatment can help you unwind and your skin rejuvenate. It's like a mini-vacation for your face.
Acne Laser: Don't let acne hold you back! Our Acne Laser treatment can help clear your skin by targeting those troublesome breakouts and acne scars.
Illuminate: Get ready to shine with our "Illuminate" treatment. It's designed to brighten your complexion and reduce dark spots, leaving you with a radiant and glowing look.
15% OFF Your Choice of Chemical Peels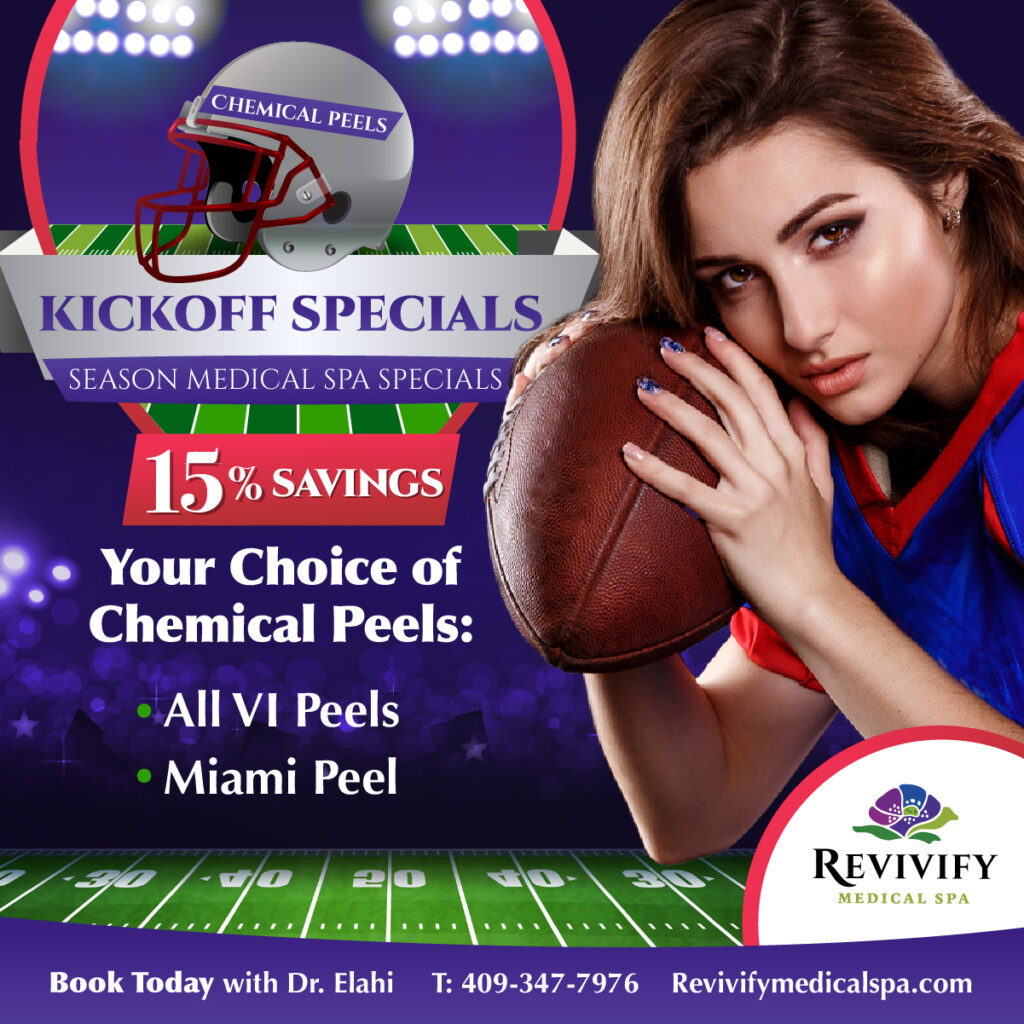 All VI Peels: VI Peels are your secret weapon against skin concerns. They deliver tailored, transformative results, from erasing fine lines to banishing acne scars. Experience a refreshed, youthful glow with minimal downtime.
Miami Peel: The Miami Peel is your passport to radiant, captivating skin. Say goodbye to dark spots and hello to a luminous, youthful radiance. It's the rejuvenation you've been waiting for, packed into a single, exhilarating treatment.
Board Certified Aesthetic Medicine Family Physician
I will make your visit Comfortable, Affordable, and Memorable.
Special Terms & Conditions
All standard terms and conditions apply
Promotions are not retrospective.
In order to claim a special, you must purchase the offer upfront.
Promotions cannot be combined.
We reserve the right to modify or terminate a special at any time.
The expiration date varies per flash sale.