IT'S NOT JUST A GUY THING

Men's intimate health does not just affect you.  Your spouse or partner and family are all affected when they notice changes in your mental, emotional and physical health.  The truth is that you are not invincible.  All men go through health hurdles that can either be ignored or faced.  Most men will spend more time and effort caring for their car or gadgets than their own health.  Don't you think that your body deserves the same?  It's time to make a change.
P-SHOT® – TREATMENT FOR ED & BEYOND
25% of Men Who Seek ED Care Are Under the Age of 40. Erectile dysfunction exists in varying degrees and is more common than you think. Get to know the new alternative to the little blue pill. Scroll down for more…
BIOTE® – BIOIDENTICAL HORMONE PELLET THERAPY
How have you been feeling these days? You would be surprised to know how many changes will occur as a result of a hormone imbalance. How do you know that you have one? Scroll down for more…
TAKE A WELLNESS QUIZ!
It's time to take the bull by the horns. Take less than a minute to submit our Hormone Wellness Quiz. This is your opportunity to find out if your hormones are properly balanced or not.
MEN'S INTIMATE HEALTH
Safeguard Your Health & Live a Longer & Happier Life!
P-Shot® – One Shot Away From Enhancing Your Sex Life
Studies show that 50% of men aged 50 and up have some degree of erectile dysfunction.
At Revivify Medical Spa we offer the P-Shot® or Priapus Shot® to treat ED or for those that simply wish to enhance their sex drive, performance and function.  The procedure involves using PRP (Platelet-Rich Plasma) which is derived from the patient's own blood to renew and restore tissue to its youthful form.  The result is a form penis rejuvenation without the side effects of other ED treatments.
Fast & Virtually Painless.  The procedure takes approximately 45 minutes.
Non-Surgical.  Little to No Downtime
All Natural:  Involves the patient's own blood so that it has no side effects, and there is no chance of rejection.
If you are interested in stronger erections, increase in sensitivity and improvement the girth and size or shape (correct curvature), Contact Us for more information on the P-Shot® or to find out if it is right for you.
Shockwave Therapy for ED – Experience the Ripple Effect!

At Revivify Medical Spa we offer the Low-Intensity Shockwave Therapy to treat ED.  The procedure involves using 300 low-intensity shockwaves in 5 different locations of the penis.  The procedure takes approximately 20 minutes and it is completely painless.  Each wave feels similar to a light tap.  The result is increased blood flow to the penis.
Men's intimate health 
Contact us for a Free Consultation to find out of the Shockwave Therapy is best for you.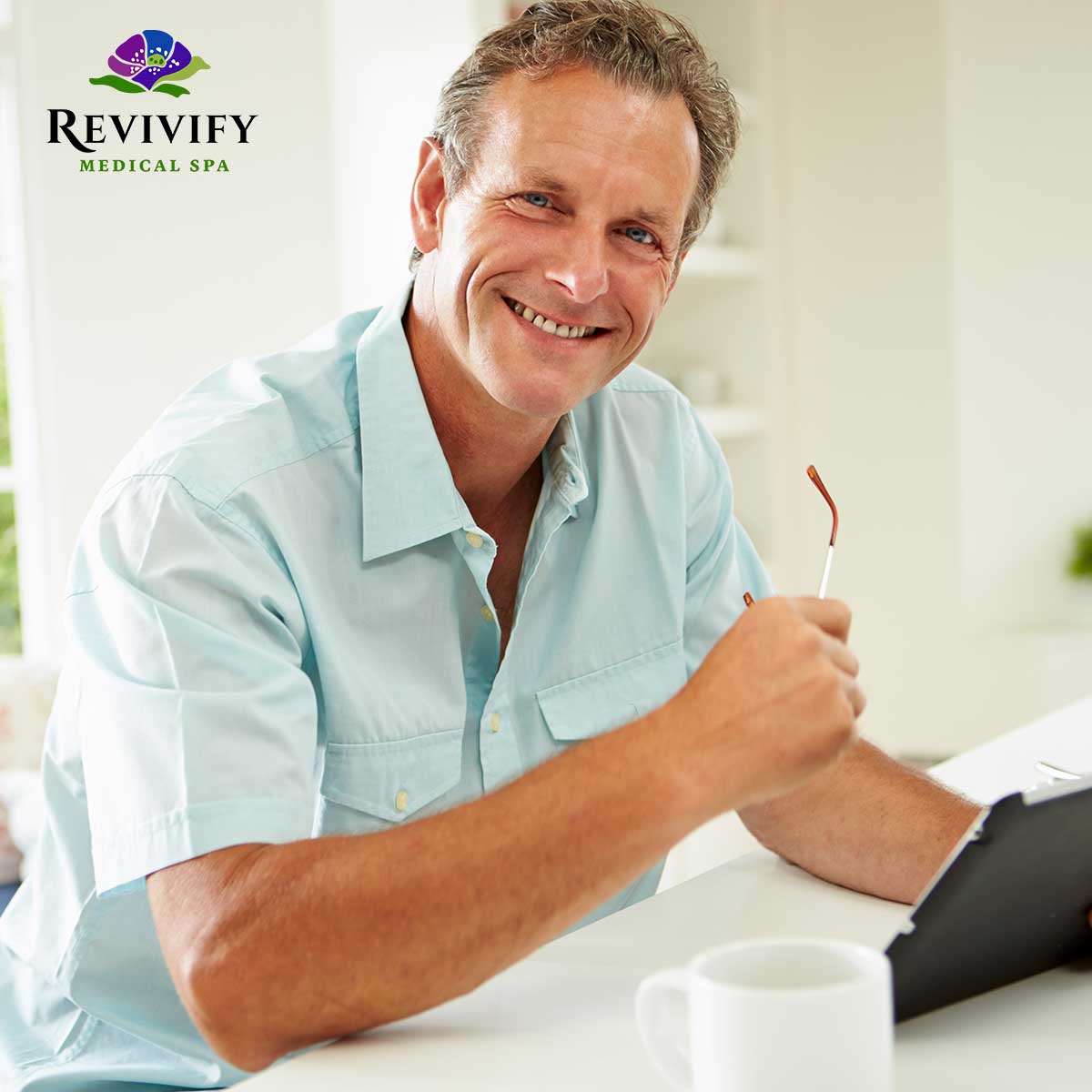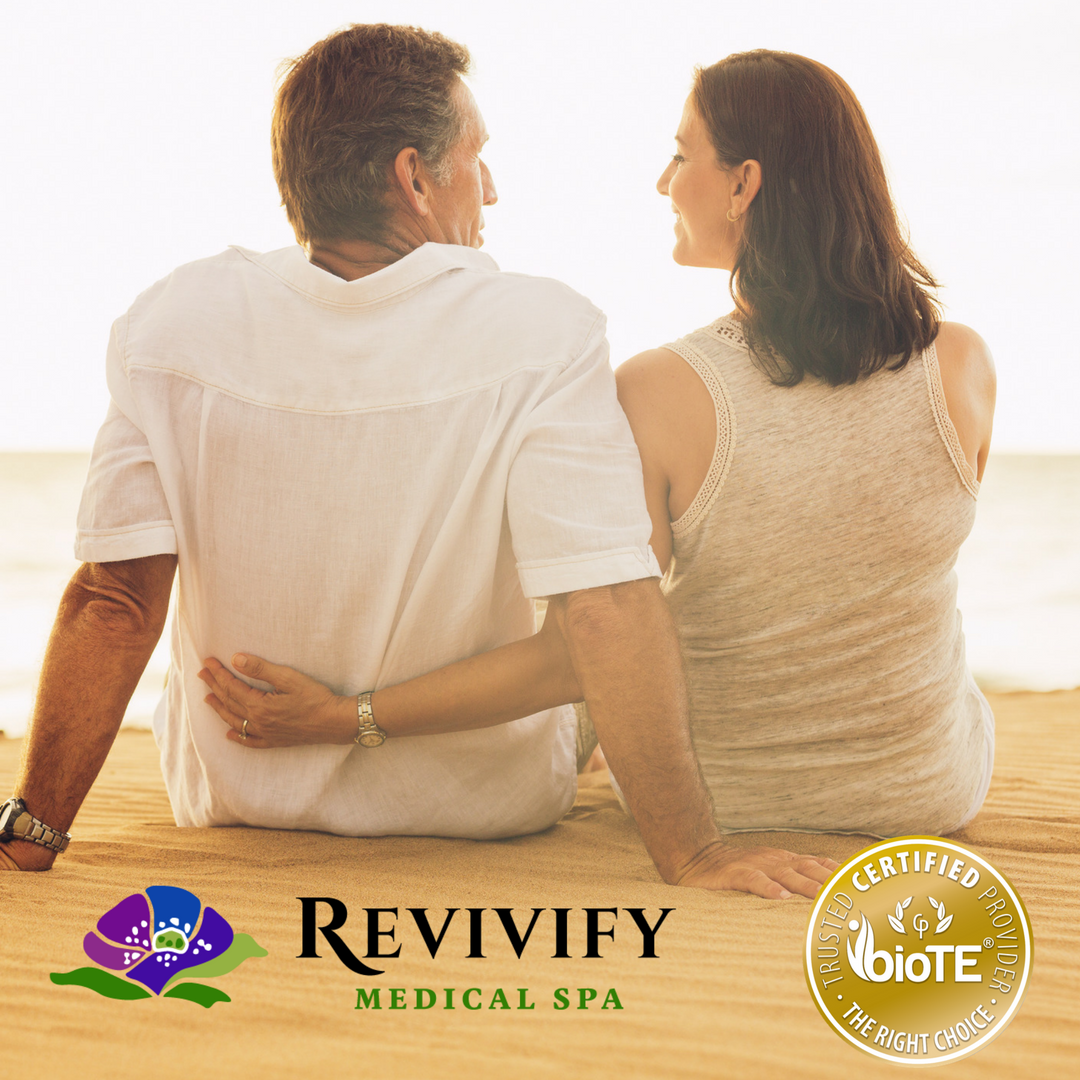 BioTE® – Bioidentical Hormone Pellet Therapy
Are weight loss, stamina, memory-loss, fatigue or insomnia concerns lately?  After age 35, men lose up to 5% of testosterone production per year.
What does this mean?  Similar to a machine, without having properly balanced hormones, your body will begin to lose performance.  However, most only try mending the symptoms.  Why tackle the symptoms when you can get down to the nitty gritty and tackle the source!
Revivify Medical Spa is a Trusted Certified Provider of 
BioTE®

 Medical Hormone Pellets.

BioTE® Medical Hormone Pellets is a Health Science Breakthrough Technology based upon 34 years of documented research to ensure the safety and standard of care for all patients.
Bio-Identical. 100% Customized. An all natural exact replica of your own hormones so that there no chance of rejection.
Safe and Effective.  

A groundbreaking cure for hormone deficiencies and hormone imbalances.

Cancer Prevention. Bioidentical hormones help prevent certain type of cancers.
The Best Hormone Replacement Therapy is Affordable.  Similar to the price of one cappuccino a day!
It's time to live up to your potential. Not sure if you have a hormone unbalance or not?  Scroll down and submit your Hormone Health Quiz!
If you are interested in getting yourself back to 100%, Contact Us to get your labs done to find out if BioTE is right for you.
HORMONE WELLNESS QUIZ
The Trick to a Healthy Body & a Healthy Mind is Keeping the Balance