Healthy & Yummy Ideal Protein Chicken Recipes
How Ideal Protein and Chicken Help Power Your Body
Ideal Protein is a medically developed and supervised 3-stage eating plan that helps stabilize your pancreas and blood sugar levels while burning fat and maintaining muscle mass.  Find out about the health benefits of chicken and scroll down to view Healthy & Yummy Ideal Protein Chicken Recipes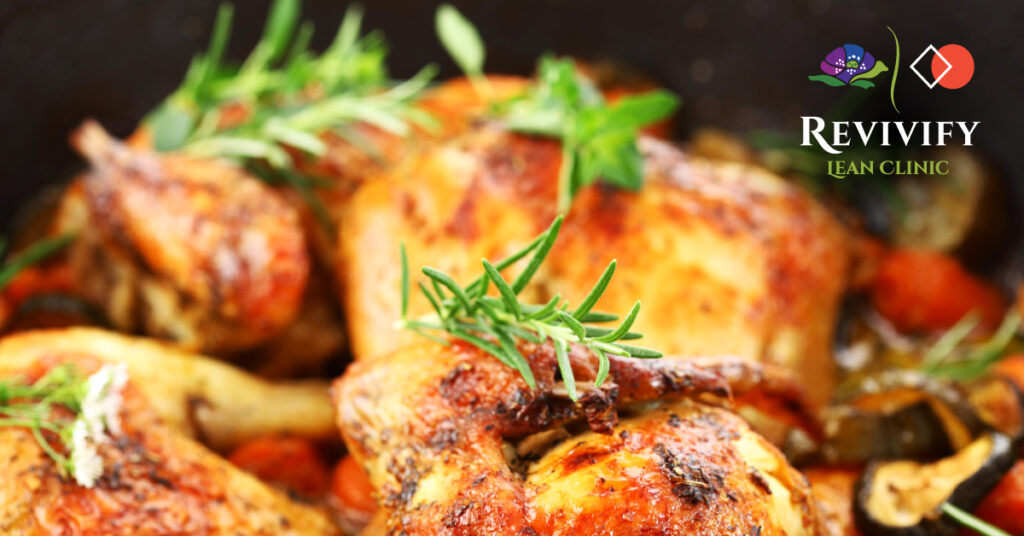 How it Works
During Phase 1, we focus on weight loss. By restricting carbohydrate intake, the plan helps your body optimize fat loss through ketosis (a safe and natural process in which the body utilizes stored fat as its primary energy source).
After you've lost your excess weight, we move onto Phase 2, the stabilization phase. If you've tried to lose weight before, you know how difficult it can be to maintain your body weight, and you are not to blame.
After significant weight loss, the body fights to regain lost weight creating an energy gap where the body craves more calories than it needs to function. Phase 2 of the Ideal Protein program is all about narrowing that energy gap.
The Ideal Protein is a highly personalized weight loss program, which allows us to narrow the energy gap by adjusting the intake of protein/fat/carbs to your unique needs to effectively manage hunger, promote greater satiety and maintain weight loss.
Once you build a positive relationship with food, you can move on to the maintenance phase. Unlike other weight loss programs with Ideal Protein, you continue to receive support and education from the coaches at Revivify's Lean Clinic for up to 12 months after completing the stabilization phase.
The Benefits of Eating Chicken
An adequate amount of lean proteins such as chicken in our diet has numerous health benefits, including:
Helps Build and Maintain Muscle Mass
Chicken is an excellent source of high-quality proteins, which are the building blocks of muscles.
Rich in Vitamins and Minerals
Chicken is also a good source of vitamin B, known to improve the nervous system, strengthen the immune system, and increase energy throughout the day.
Additionally, chicken nourishes the body with vitamin A, which improves eyesight, and vitamin D, essential for bone health.
Moreover, chicken is rich in phosphorus, which contributes to strong teeth and a healthy brain and iron, which helps red blood cells deliver oxygen to internal organs, and selenium, which plays a vital role in the cell's defense mechanism against diseases such as cancer.
Heart Healthy
A Johns Hopkins Medicine study links a healthy, reduced carbohydrate diet that is also rich in proteins and good fats with better heart health.
During the study, researchers exchanged 10 percent of the daily calories from carbohydrates for high-quality proteins. As a result, participants saw a 21 percent reduction in their risk for cardiovascular disease and significant improvement in their cholesterol levels and blood pressure.
Weight Loss Aid
Protein sources in our diets help us feel fuller for longer. Thanks to this, when we consume more proteins, we can likely decrease the total amount of calories we consume.
Incorporating More Chicken in our Diets
Thanks to the versatility of chicken, it's easy to incorporate more of it into our diet. From soups, salads, and more elaborate main dishes, there is a chicken recipe for everyone.
Here we share one of our favorite Healthy & Yummy Ideal Protein Chicken Recipes, give it a try and learn how delicious the food in the Ideal Protein program can be.
Asian Chicken with Snow Pea Slaw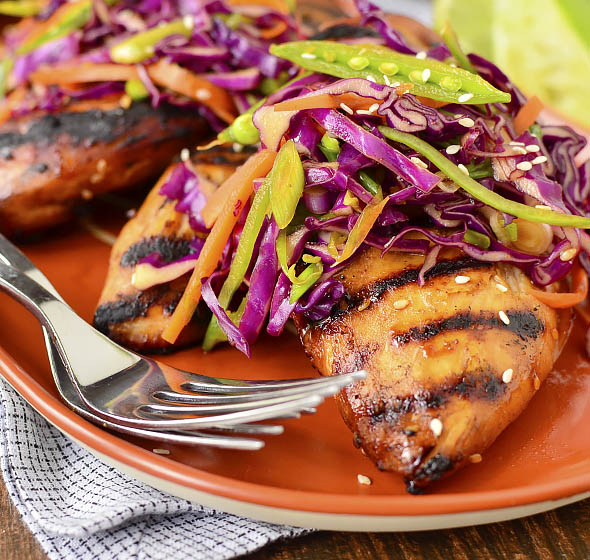 Image source: iowagirleats
Ingredients
1 portion chicken breast pounded to an even thickness
3 green onions diced
2 tbsp low sodium, gluten-free soy sauce
2 tsp grapeseed oil
2 tbsp Ideal Protein Sesame Sauce
½ tsp ginger
1 tsp red chili flakes
3 cloves garlic, minced
½ tbsp lime juice
A pinch of salt, or more to taste
Ground pepper to taste
For the Snow Pea Slaw
1 cup of red cabbage, thinly shredded (about half small head)
½ cup snow peas, thinly sliced
1 celery stalk, thinly sliced
½ piece green onion, thinly sliced on the diagonal
Directions
Step 1
Place chicken in a large Ziplock bag with the green onions. Season with salt and pepper and set aside
Step 2
Combine soy sauce, grapeseed oil, Ideal Protein Sesame Sauce, ginger, garlic, and lime juice in a bowl and whisk to combine
Step 3
Reserve a 1/3 cup of the marinade, then pour the remaining marinade in the bag with the chicken and green onions. Refrigerate for at least 30 minutes and up to 5 hours
Step 4
Preheat pan, then place chicken in the pan. Cook each side for 3-4 minutes with the lid closed.
Step 5
While the chicken is cooking, combine the red cabbage, snow peas, celery, and green onions in a large bowl then toss with the reserved marinade. Taste and add extra lime juice, salt, and pepper if necessary. Place chicken on top of slaw and enjoy!
If you are looking to lose weight safely and effectively without giving up delicious foods, then Ideal Protein is for you.
Call our Lean Clinic today and book an initial consultation free of charge. Your journey to a healthier, leaner you begins at Revivify Medical Spa.
For more information or begin the journey towards achieving your weight loss goals for good, call us at 409-203-6692.