Trick your Age, Treat Your Face & Figure!

Bewitching Beauty Event

Free Event - Spaces are Limited, RSVP Now!
Dr. Elahi Shares the Latest Health & Aesthetic Medical Technologies
Bewitching Beauty Event - You're Invited!
---
Trick your Age, Treat Your Face & Figure!
Learn how to TURN BACK TIME!
When:  October 24th, 2019 5:30 pm – 7:30 pm
What: 
Free Wine & Cheese – Free Raffle Drawings & Special Discounts for Attendees. Open House, Q&A with Dr. Lubna Elahi.
Where: 

3560 Delaware St Suite 107, Beaumont, TX 77706
RSVP Now! Call 409-347-7976 and ask for Chelsie.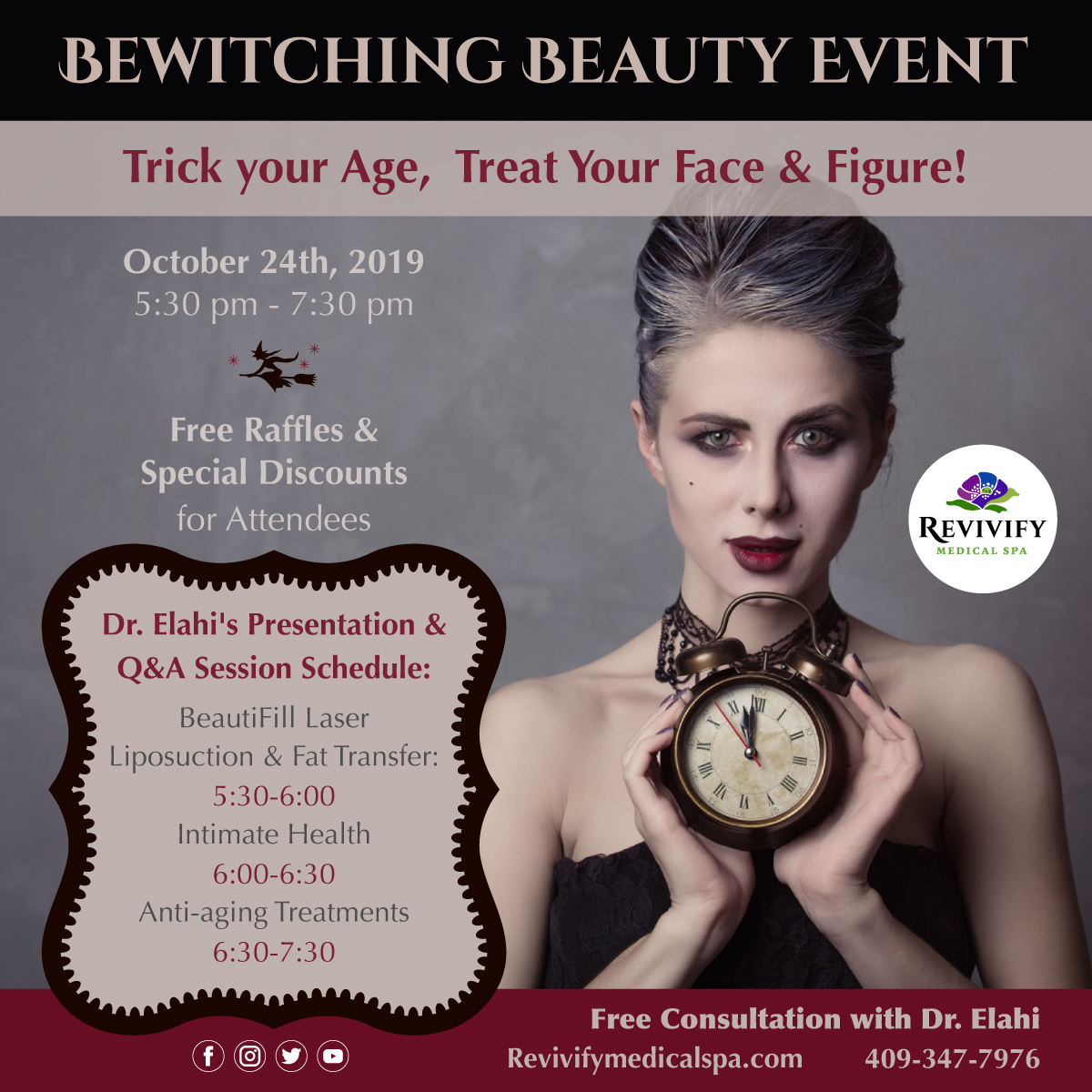 Event Schedule
Dr. Elahi's Presentation and Q&A Session Schedule:
---
October is the month when Dr. Elahi will reveal the latest in medical "magic" treatments that will help you bring about your best version! 
Make an appointment with the beauty and health experts at Revivify Medical Spa!
For more information on our treatments and a free initial consultation, call us at 409-347-7976.
Browse Our Medical Grade Treatments
Visit our Beauty Treatment Services Page for more of the razzle and dazzle that is store for you at Revivify Medical Spa:

CALL:

1 409-347-7976
EMAIL:

Hello@revivifymedicalspa.com or scroll below to submit your questions via our FREE Consultation Form.
We Offer Southeast Texas the Finest Medical Grade Treatments Available Today.
Dr. Elahi feels it's important to help her clients in all aspects of their lives, whether it's health or beauty. Her passion for improving her patients' self-esteem and confidence led her to the field of aesthetic medicine.

Delaying skin aging and maintenance of beauty is very vital in her aesthetic practice as well. Her philosophy is that aesthetic skin care process should start early in life and be as natural and comforting as possible.
Dr. Elahi is extremely passionate about her work and deals with her clients with compassion and diligence.
I want to help my clients reinvent their natural beauty and feel confident about themselves, because they are all beautiful in their own way. – Dr. Lubna Elahi
Dr. Lubna Elahi
Family Physician, Exclusively Board Certified in Aesthetic Medicine.