What is the ViVi Facelift?
What if you could turn back time to look up to ten years younger?  Now, what if it didn't have to involve a scalpel to obtain your desired results?  Introducing the ViVi Nonsurgical Facelift, an exclusive nonsurgical facelift treatment brought to you exclusively by Revivify Medical Spa.
Combining PDO threads, dermal fillers, and botox you can restore the V shape and bring back the youthful look naturally without going under the knife. IMMEDIATE RESULTS! No downtime!
15% off this treatment. OFFER EXPIRES SEPTEMBER 4th.
15% off.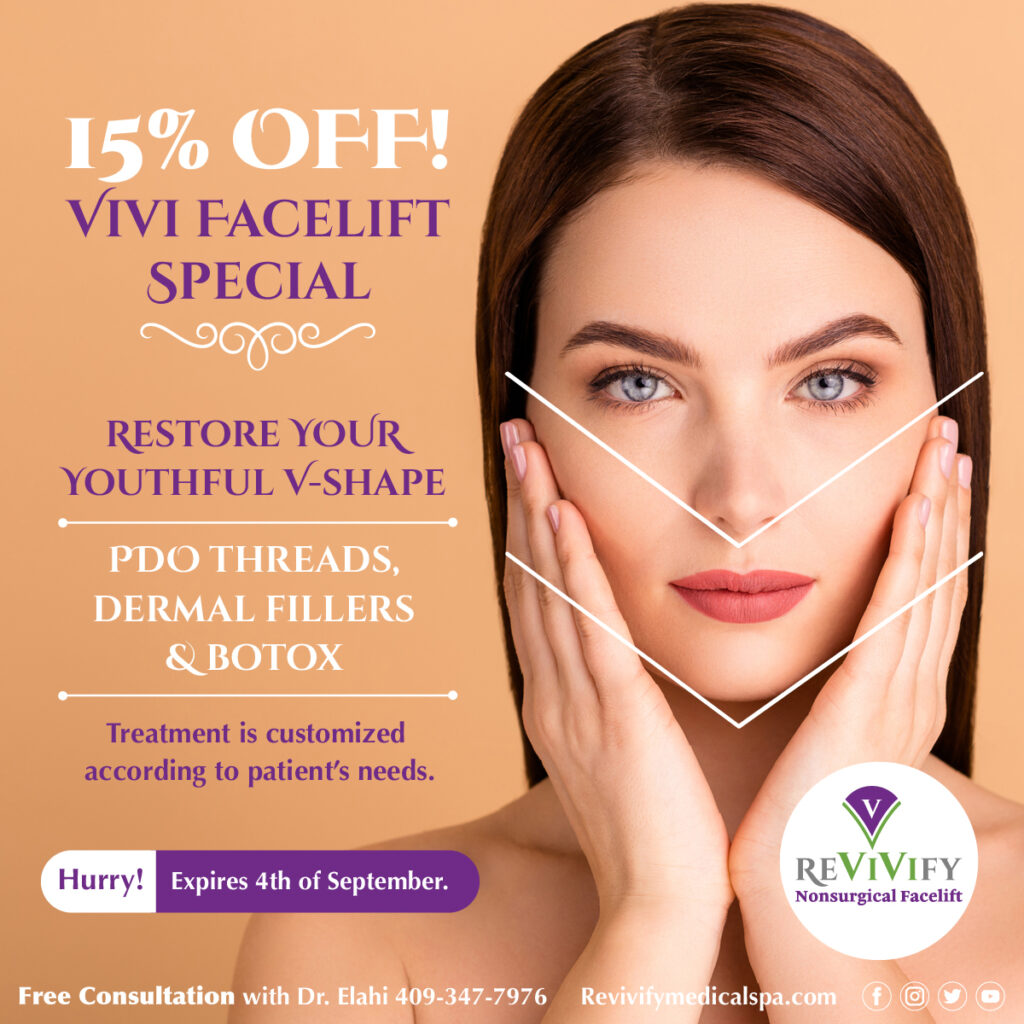 Book a consultation with our doctor in order to recommend the treatment or combination of treatments for your unique needs. We make cutting edge, luxurious medical spa treatments affordable.  We offer equal or better medical-grade treatments to those found at the top Houston medical spas.  No need to drive long distances!  Revivify Medical Spa is the highest-rated, most trusted medical spa in Southeast Texas.
Board Certified Aesthetic Medicine Family Physician
I will make your visit Comfortable, Affordable, and Memorable.
SAFETY FIRST!
At Revivify Medical Spa, we comply with all safety measures as per the CDC. Yes! You can come and get pampered safely.
As a responsible medical facility, we are taking all necessary measures for everyone's safety.
One client at a time in the office &
A mask must be used on your way to the medical spa.
All staff is wearing the officially required PPE.
Lockdown these great savings to bring out the best version of you this summer and beyond.  The staff of Revivify Medical Spa is happy to help you!
Special Terms & Conditions
All standard terms and conditions apply
Promotions are not retrospective.
In order to claim a special, you must purchase the offer upfront.
Promotions cannot be combined.
We reserve the right to modify or terminate a special at any time.
The expiration date is August 15, 2020.