Valentines Medical Spa Specials 2021
Love is in the Air!
Ooh, la, la!  Enter February and love is in the air! At Revivify Medical Spa in Beaumont, Texas, we are here to help you have a beautifully romantic Valentine.
At Revivify Medical Spa in Beaumont, Texas, we make cutting edge, luxurious medical spa treatments affordable. We offer equal or better medical-grade treatments to those found at the top Houston medical spas. No need to drive long distances! Revivify Medical Spa is the highest-rated, most trusted medical spa in Southeast Texas.
Intimate Sweethearts Special!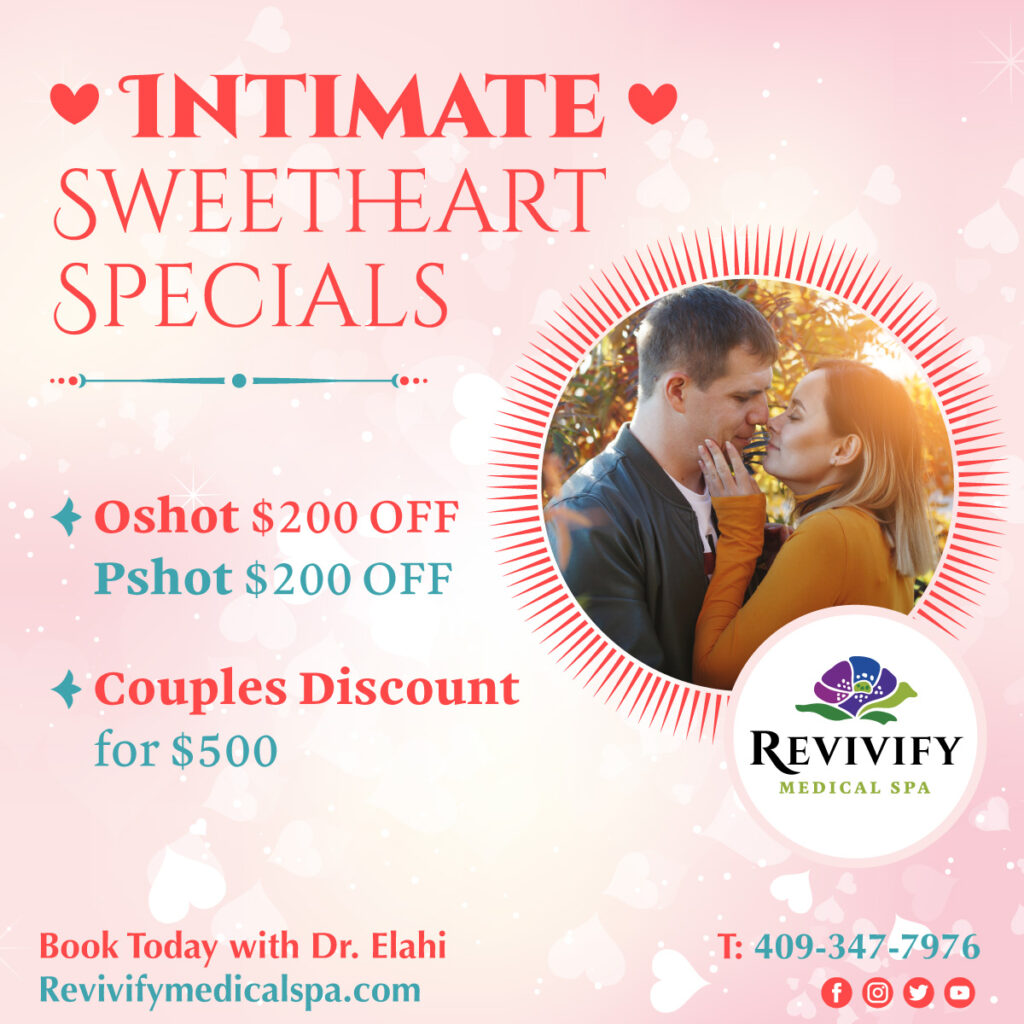 O-shot $200 OFF

P-shot $200 OFF

Couples Discount for $500
Many have not felt like themselves for a long time.  If this is the case, you are not alone. We challenge you to take the steps to be your best version once more.  Join so many other clients who turned to us for expert medical health and aesthetics care.  You deserve only the best! Check them out now!
Board Certified Aesthetic Medicine Family Physician
I will make your visit Comfortable, Affordable, and Memorable.
SAFETY FIRST!
At Revivify Medical Spa, we comply with all safety measures as per the CDC. Yes! You can come and get pampered safely.
As a responsible medical facility, we are taking all necessary measures for everyone's safety.
One client at a time in the office &
A mask must be used on your way to the medical spa.
All staff is wearing the officially required PPE.
Lockdown these great savings to bring out the best version of you this summer and beyond. The staff of Revivify Medical Spa is happy to help you!
Special Terms & Conditions
All standard terms and conditions apply
Promotions are not retrospective.
In order to claim a special, you must purchase the offer upfront.
Promotions cannot be combined.
We reserve the right to modify or terminate a special at any time.
The expiration date is February 12, 2021.