Fabulous His and Her's June Medical Spa Specials!

As June marks the unofficial beginning of summer, and we're finally reopening it's time to enjoy fun in the sun and show up great in those selfies!  For all of us out there that are still trying to recover from the lockdown, we bring you Revivify's Fabulous His and Her's June Medical Spa Specials.
You may ask, why his and hers?  In honor of Men's Health Month, and Father's day, we would love to remind everyone that medical aesthetics is no longer just for the ladies.  Whether it's your husband, brother, father, grandfather, or best friend, men also need and deserve pampering.  Health and wellness are universal and vital for both men and women for a healthy now and tomorrow.  We all age but how we age is very much up to us.  We encourage you to check out our June Medical Spa Specials to seize the day and begin the journey towards improved wellness on the inside and on the outside.  Within the June Medical Spa Specials, we've even included a wonderful giveaway that we are sure you'll love!
At Revivify Medical Spa in Beaumont, Texas, we make cutting-edge, luxurious medical spa treatments affordable. We offer equal or better medical-grade treatments to those found at the top Houston medical spas. No need to drive long distances! Revivify Medical Spa is the highest-rated, most trusted medical spa in Southeast Texas.
Handsome Hair Restoration Special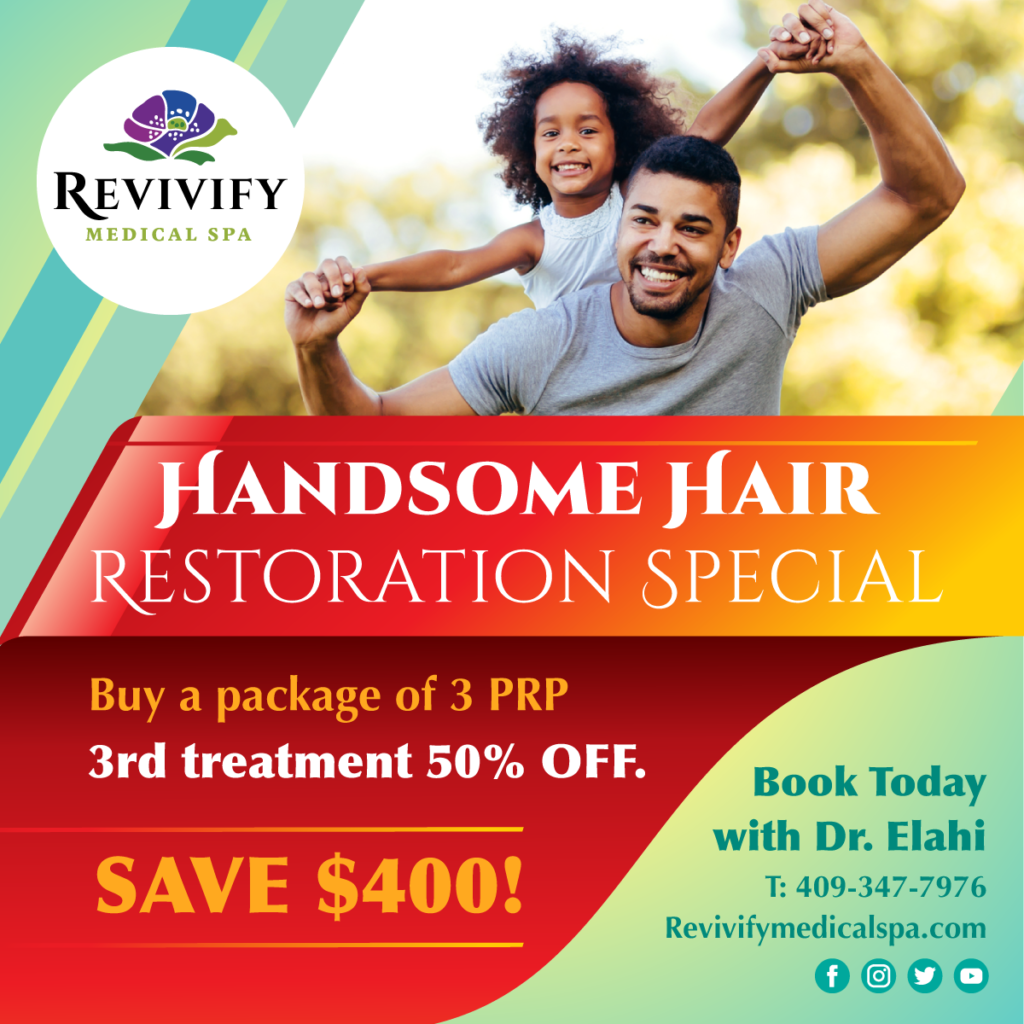 Growing back a thicker, fuller head of hair is now possible with our special innovative Hair Restoration treatments!  Whether if you wish to grow a beautiful fuller head of hair or replenish a hairline, we can help!
Buy a package of 3 non-surgical platelet-rich-plasma hair restoration and hair regrowth PRP 3rd treatment 50% OFF.
SAVE $400!
Goodbye Love Handles Vanquish ME Special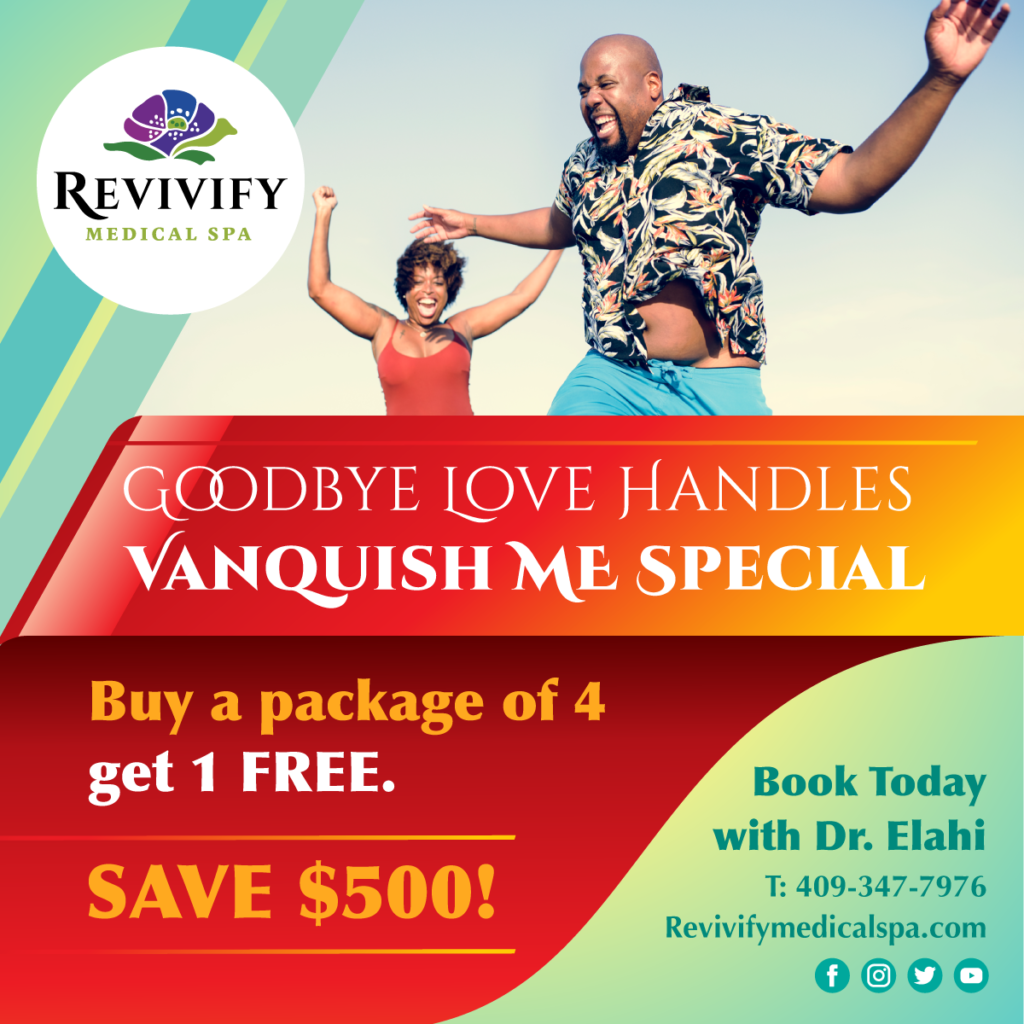 Looking to achieve fat removal, volume reduction, and body shaping?  At Revivify Medical Spa we offer the FDA approved Vanquish Me™ which is a large "Touch-less Spot Size" device that uses radiofrequency to break down and mobilize those stubborn fat cells.
Buy a package of 4 and get 1 FREE Vanquish Me treatment.
SAVE $500!
Men's Young Again ED Special
At Revivify Medical Spa we offer the P-Shot® or Priapus Shot® to treat ED or for those that simply wish to enhance their sex drive, performance and function.  The procedure involves using PRP (Platelet-Rich Plasma) to renew and restore tissue to its youthful form.  The result is a penis rejuvenation without the side effects of other ED treatments.  If you team this up with Low-Intensity Shockwave Therapy, the results will speak for themselves!  It's another nonsurgical, pill-free treatment that yields excellent results.
Get a Free Cellutone Low-Intensity Shockwave Therapy with your purchase of the P Shot.
SAVE $300!
Revivify Giveaway Alert: Win a FREE PRP Restoration Treatment!

No Purchase Necessary to Enter to enjoy a fabulous treatment of an $800 value!  You can participate through either Facebook or Instagram. The Draw Date is June 30th, 2021.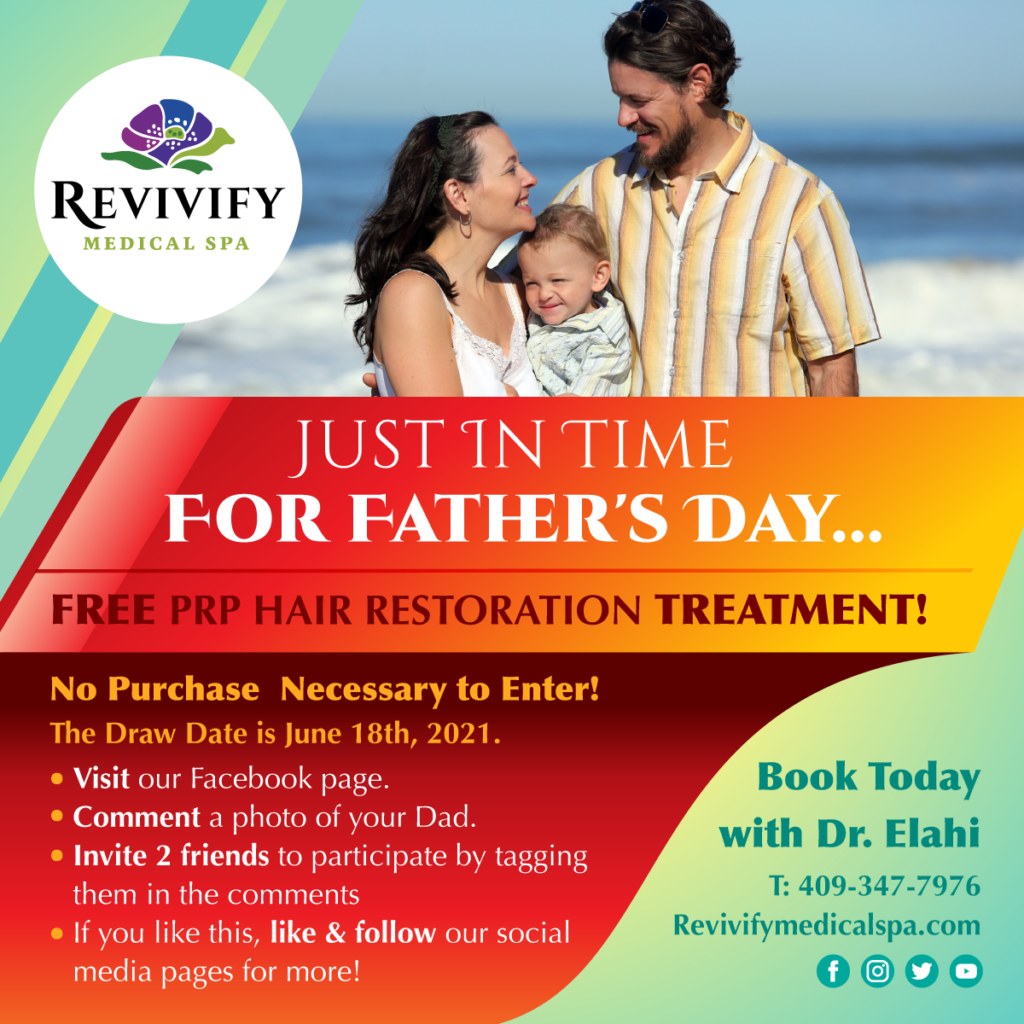 How to Participate Through FACEBOOK
Visit our Facebook page.
Comment a photo of your Dad.
Invite 2 friends to participate by tagging them in the comments
If you like this, like & follow our social media pages for more!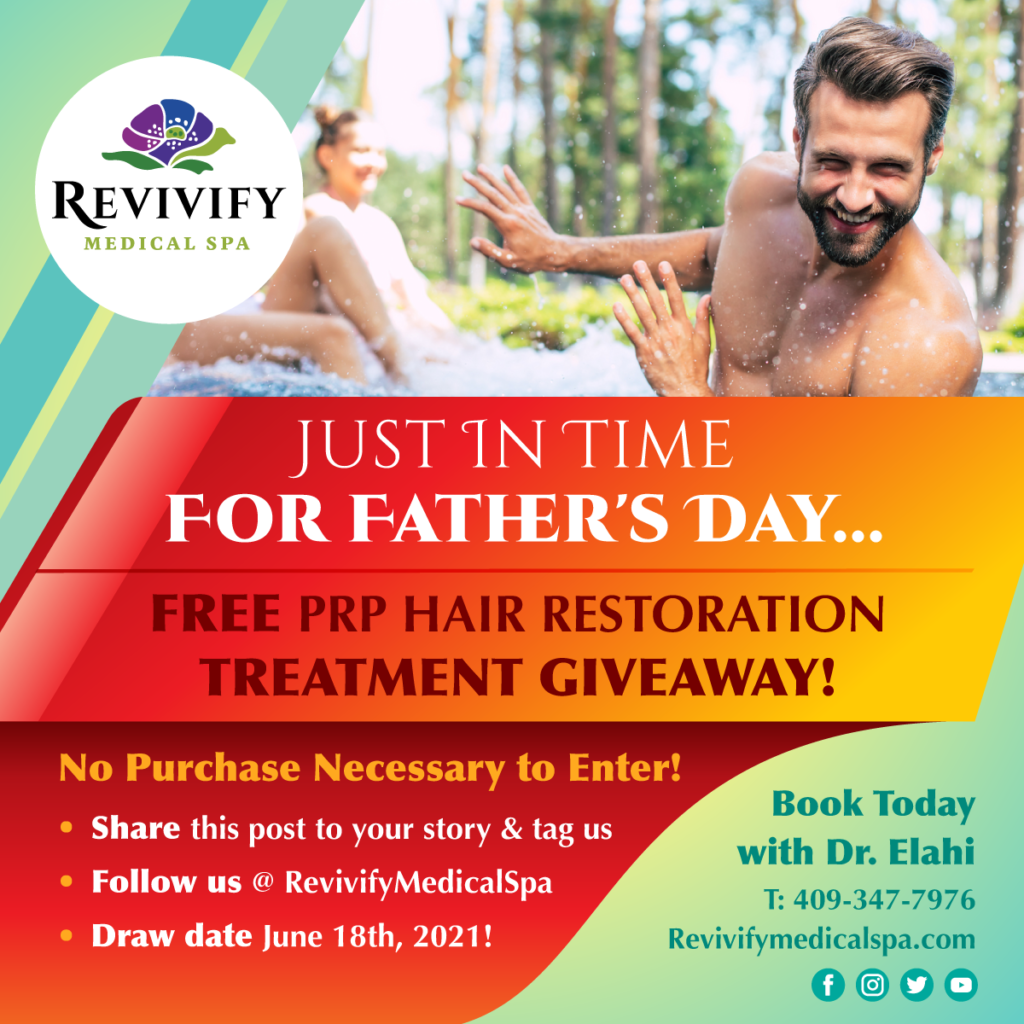 How to Participate Through INSTAGRAM

After June 30th, 2021 we will announce one (1) lucky winner.  Please stay tuned to our social media pages for the announcement.  All rules apply.
Board Certified Aesthetic Medicine Family Physician
I will make your visit Comfortable, Affordable, and Memorable.
Special Terms & Conditions
All standard terms and conditions apply
Promotions are not retrospective.
In order to claim a special, you must purchase the offer upfront.
Promotions cannot be combined.
We reserve the right to modify or terminate a special at any time.
The expiration date is June 30, 2021.