Halloween Transformation Specials 2020
Introducing Revivify Medical Spa's Halloween Transformation Specials! The year 2020 has been filled with many a frightful story but fortunately, we have the magical potions & spells to get you back to your gorgeous self!
This Halloween, we are going to help put you on the path of a transformation with the help of Dr. Elahi!  Don't go down the path of many a medical spa that offers you tricks, we at Revivify Medical Spa, we have tons of treats in store for you!  So whether you prefer to be a beautiful witch, a vampire, or a sweet fairy, you will look your best!
Make sure you contact us to lock down your offers!  At Revivify Medical Spa, we are here to help you look and feel your best from the inside out.  It is our mission to make cutting edge, luxurious medical spa treatments affordable.  We offer equal or better medical-grade treatments to those found at the top Houston medical spas.  No need to drive long distances!  Revivify Medical Spa is the highest-rated, most trusted medical spa in Southeast Texas.  We hope you enjoy our Halloween Transformation Specials!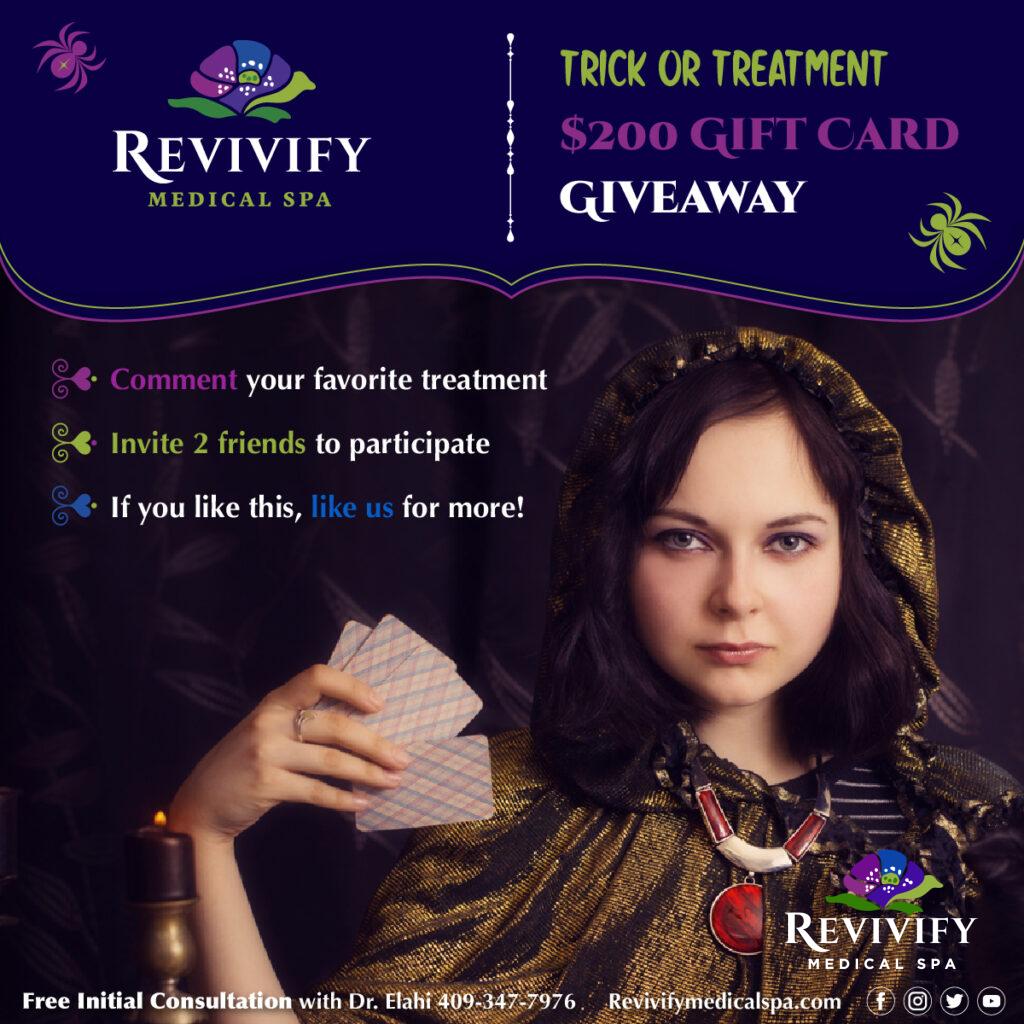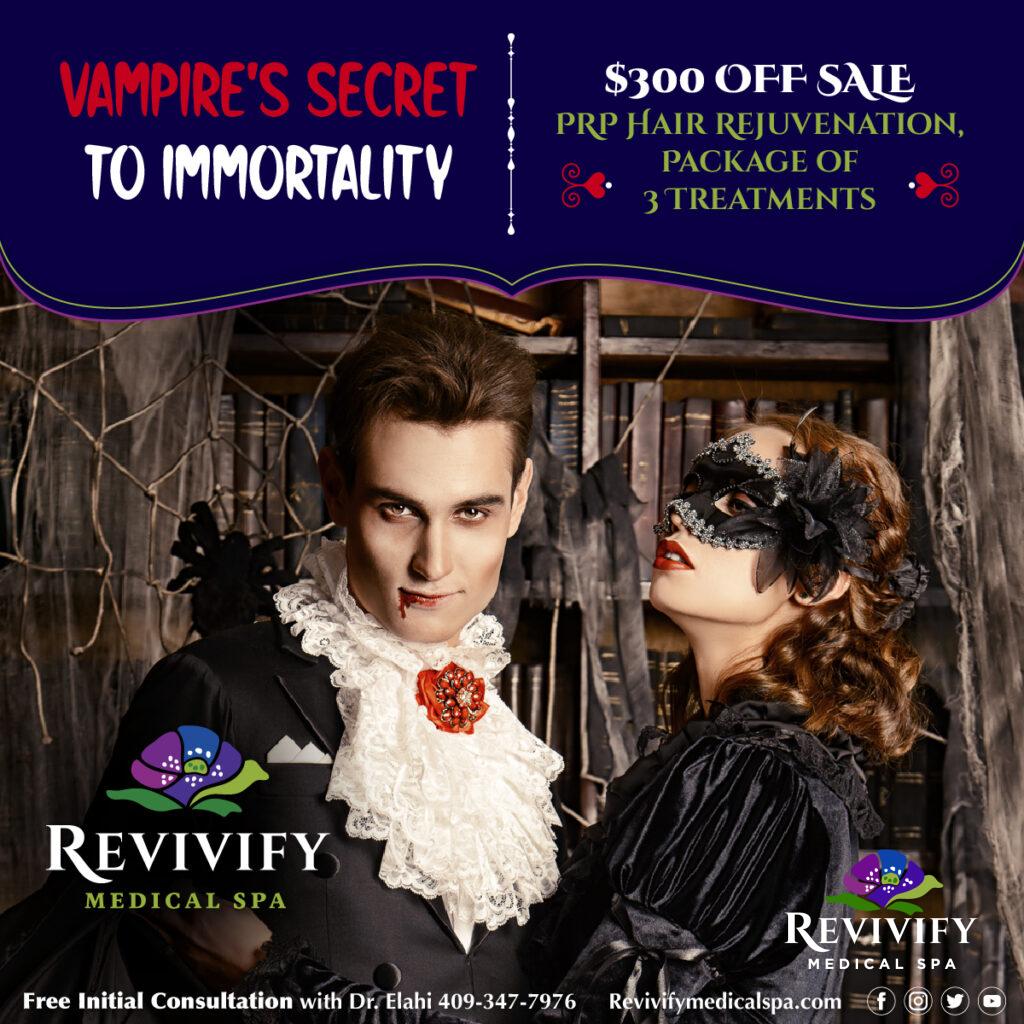 Learn the Vampire's Secret to Hair Immortality!
$300 OFF SALE PRP Hair Rejuvenation, Package of 3 Treatments
A $300 Value!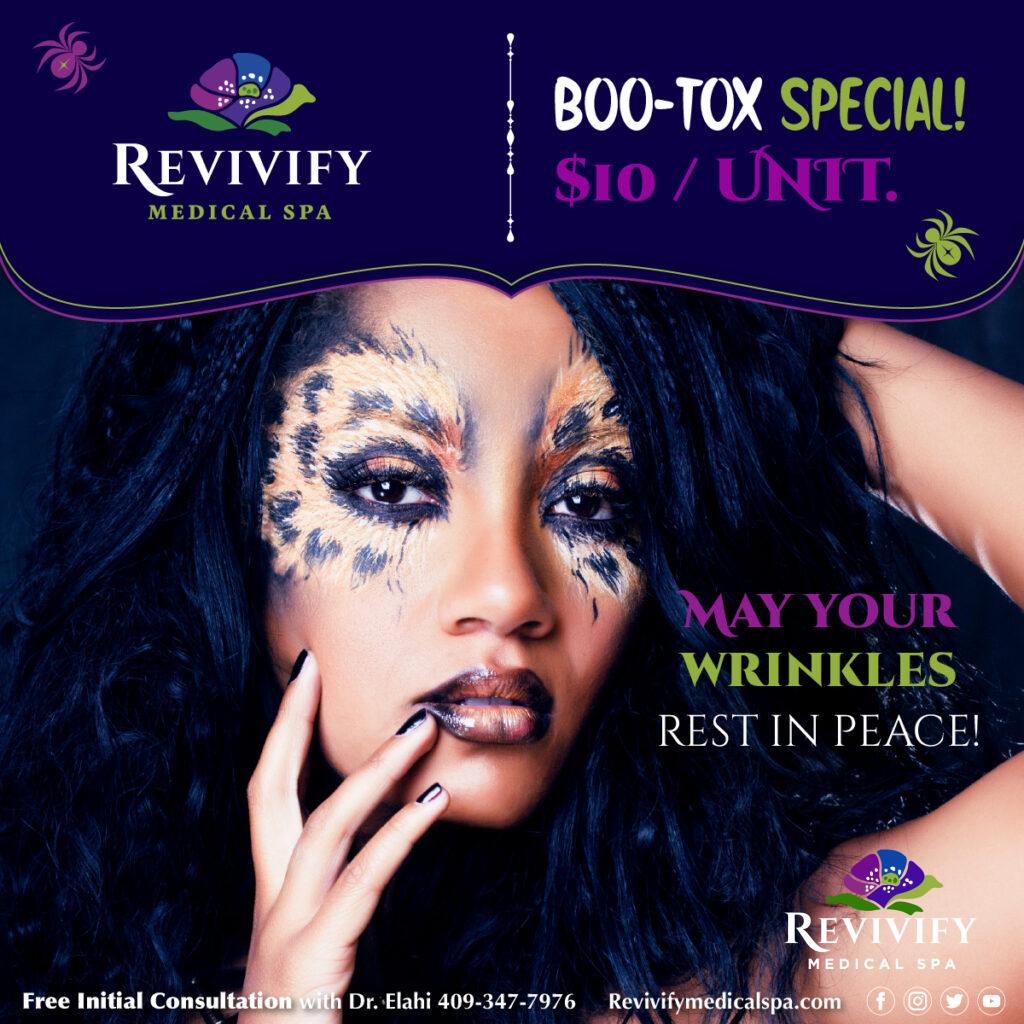 BOO-TOX SPECIAL! $10 / UNIT.
May your wrinkles rest in peace!
Get That Relaxed Look Today!
Little Devil's Face & Lips Special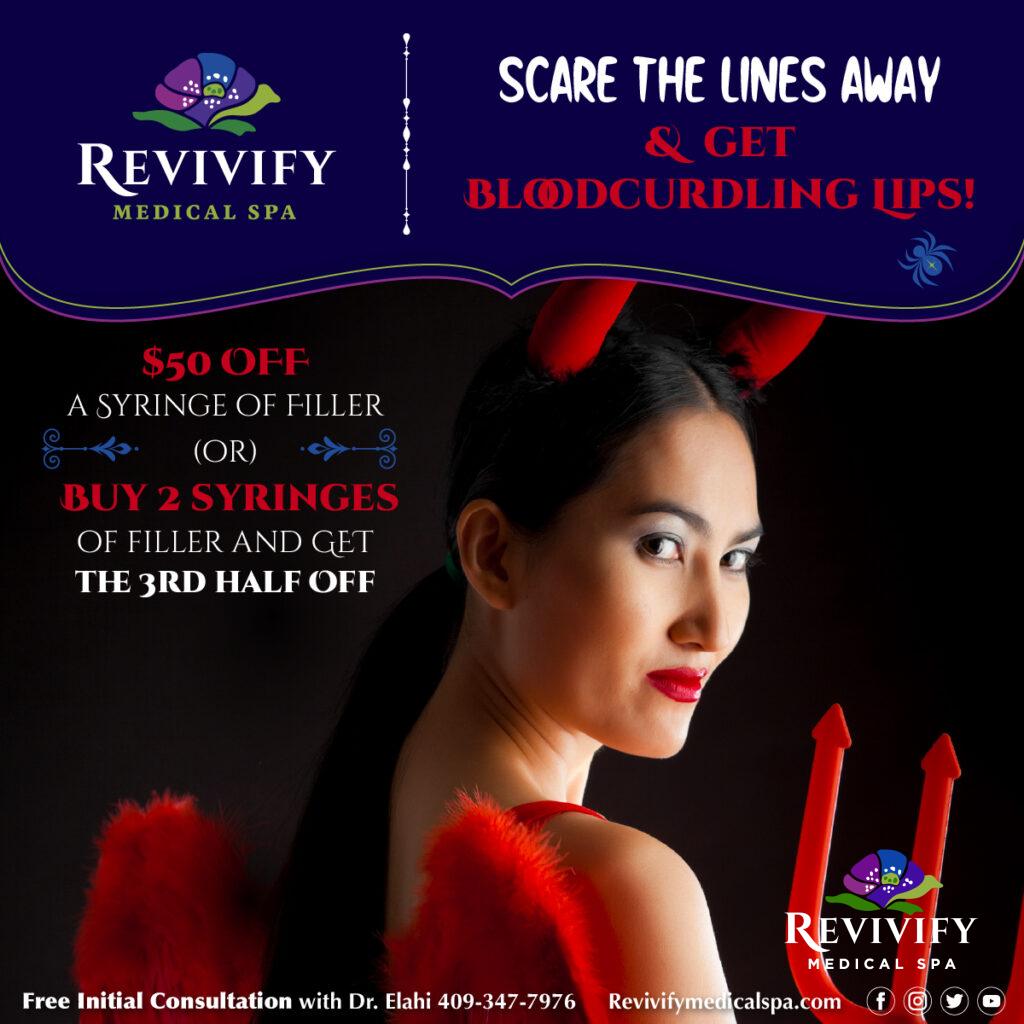 Scare the Lines Away & get Bloodcurdling Lips!
$50 OFF a Syringe of Filler (or)
Buy 2 syringes of filler and get the 3rd 1/2 OFF!
Fairy's Reveal Their Beauty Secret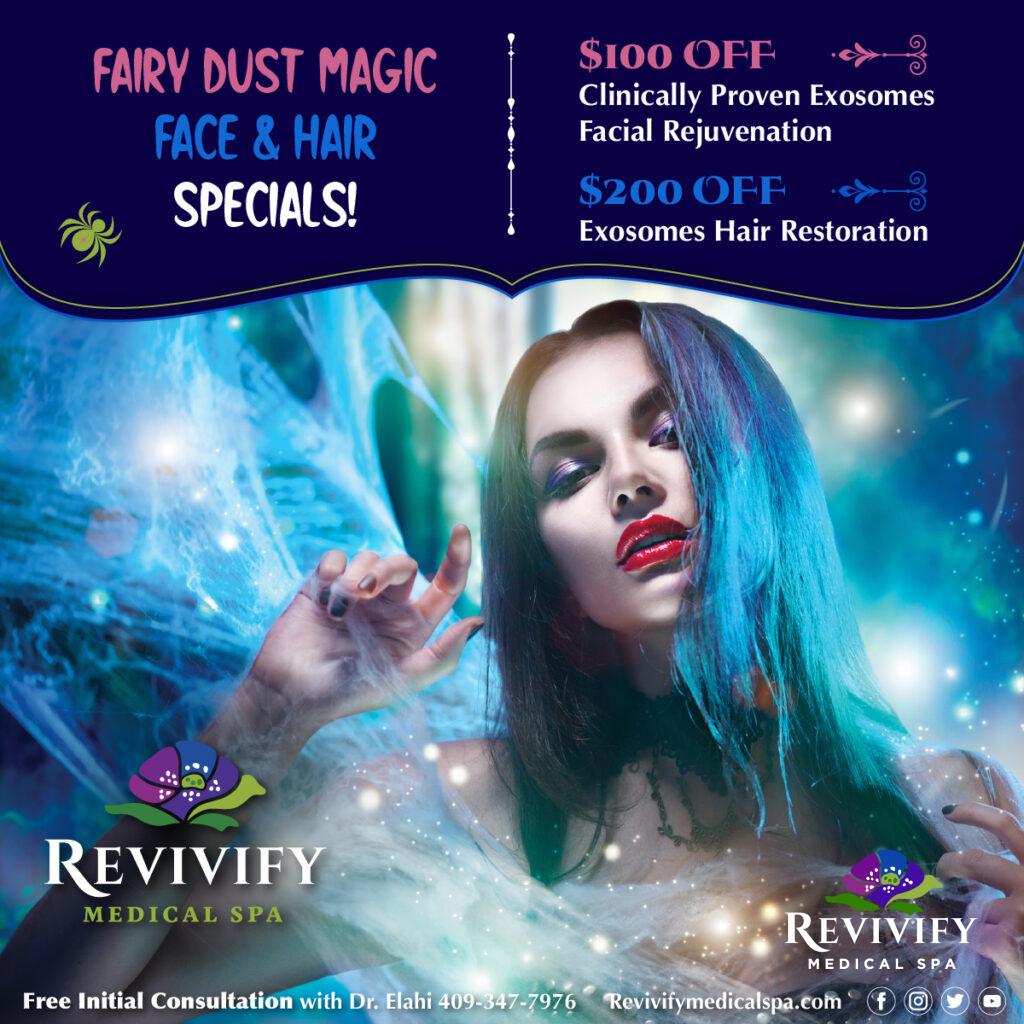 Fairy Dust Magic Face & Hair Specials!
Up to a $300 Value!

How Does Morticia Adams Keep Those Curves?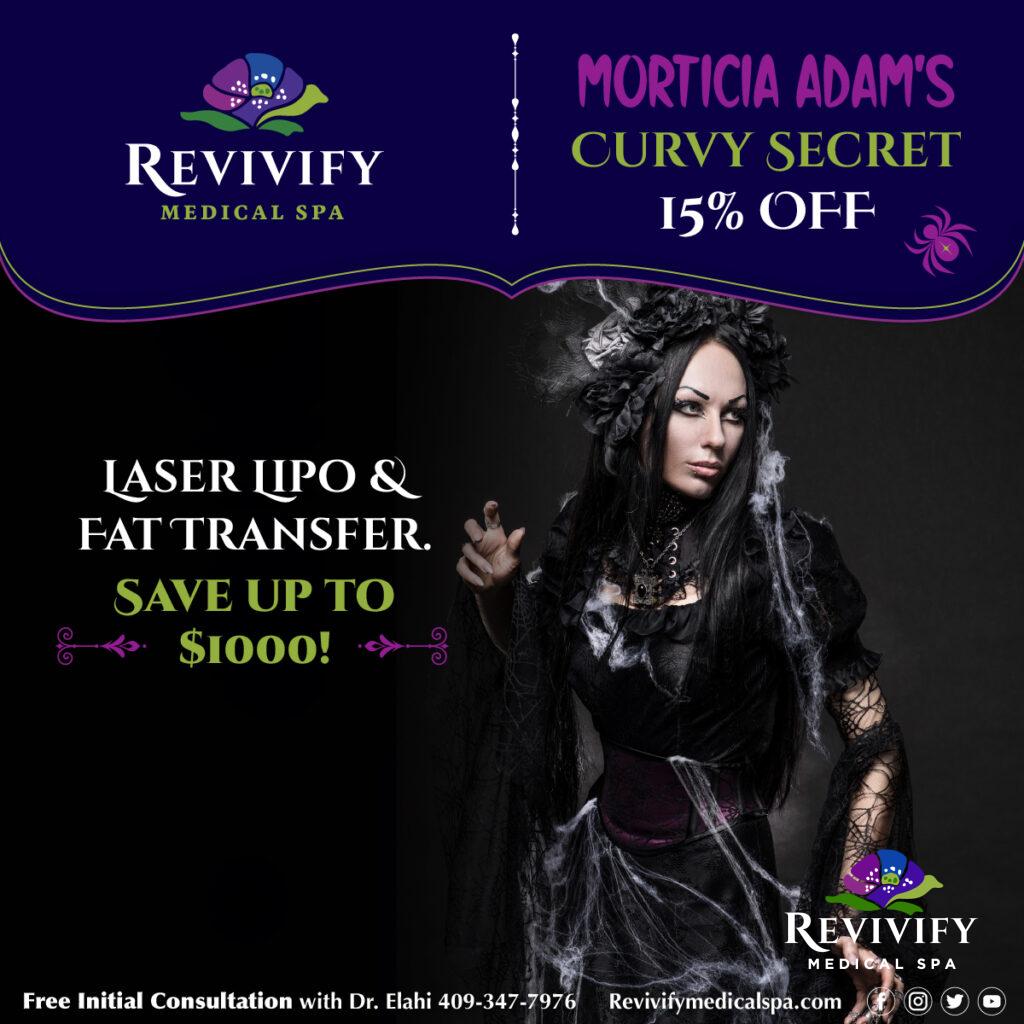 Board Certified Aesthetic Medicine Family Physician
I will make your visit Comfortable, Affordable, and Memorable.
SAFETY FIRST!
At Revivify Medical Spa, we comply with all safety measures as per the CDC. Yes! You can come and get pampered safely.
As a responsible medical facility, we are taking all necessary measures for everyone's safety.
One client at a time in the office &
A mask must be used on your way to the medical spa.
All staff is wearing the officially required PPE.
Lockdown these great savings to bring out the best version of you this summer and beyond.  The staff of Revivify Medical Spa is happy to help you!
Special Terms & Conditions
All standard terms and conditions apply
Promotions are not retrospective.
In order to claim a special, you must purchase the offer upfront.
Promotions cannot be combined.
We reserve the right to modify or terminate a special at any time.
The expiration date is November 1st, 2020.