FALL-I-DAY Medical Spa November Specials
Everyone loves the beauty of Spring but what about the Fall?  Well, at Revivify Medical Spa, we believe that it's time to fall in love with Autumn all over again!  Introducing our FALL-I-DAY Medical Spa November Specials! Let's take a look at the gorgeous change that mother nature makes tinging the colors of fall.  This is an inspiring time to embrace the beauty of our diversity.  Just as flowers come in all colors during Spring, so do leaves turn and become the focus of a profoundly gorgeous landscape to behold.  At Revivify Medical Spa, we dedicate the FALL-I-DAY Medical Spa November Specials to celebrate the unique beauty in each and every one of us.  So, without further ado, get to know the best November Medical Spa specials in Southeast Texas!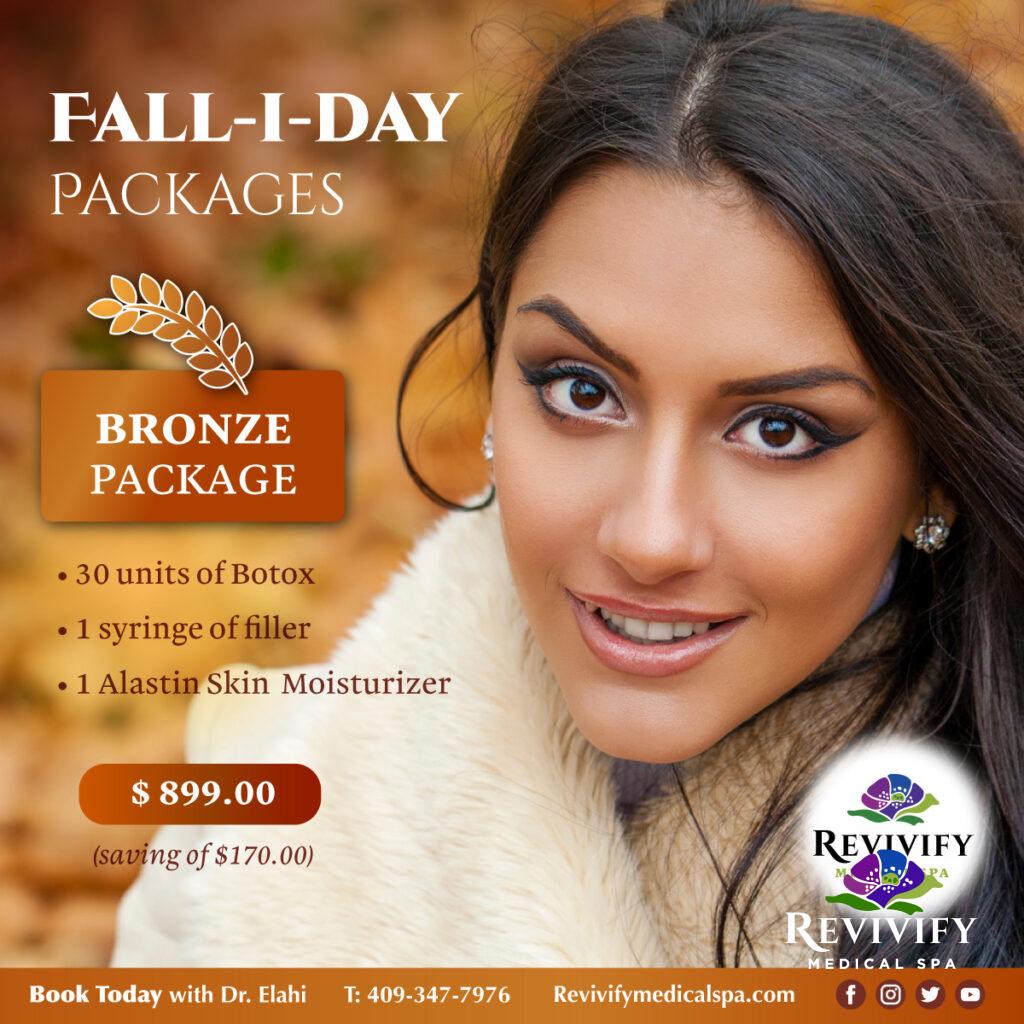 The Bronze Package Includes:
30 Units of Botox
1 Syringe of Filler
1 Alastin Skin Moisturizer
Package Price: $ 899
Savings of $170!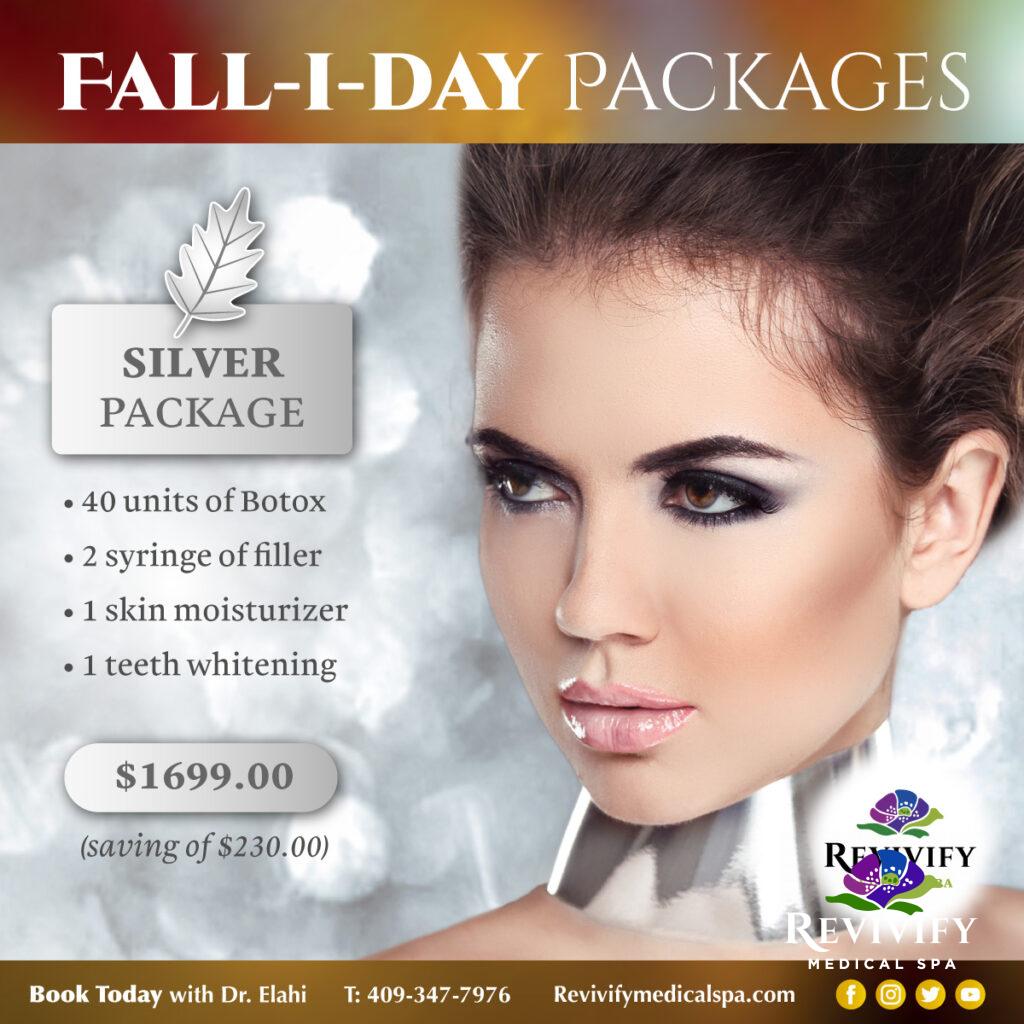 The Silver Package Includes:
40 Units of Botox
2 Syringe of Filler
1 Skin Moisturizer
1 Teeth Whitening
Package Price: $1699

Savings of $230!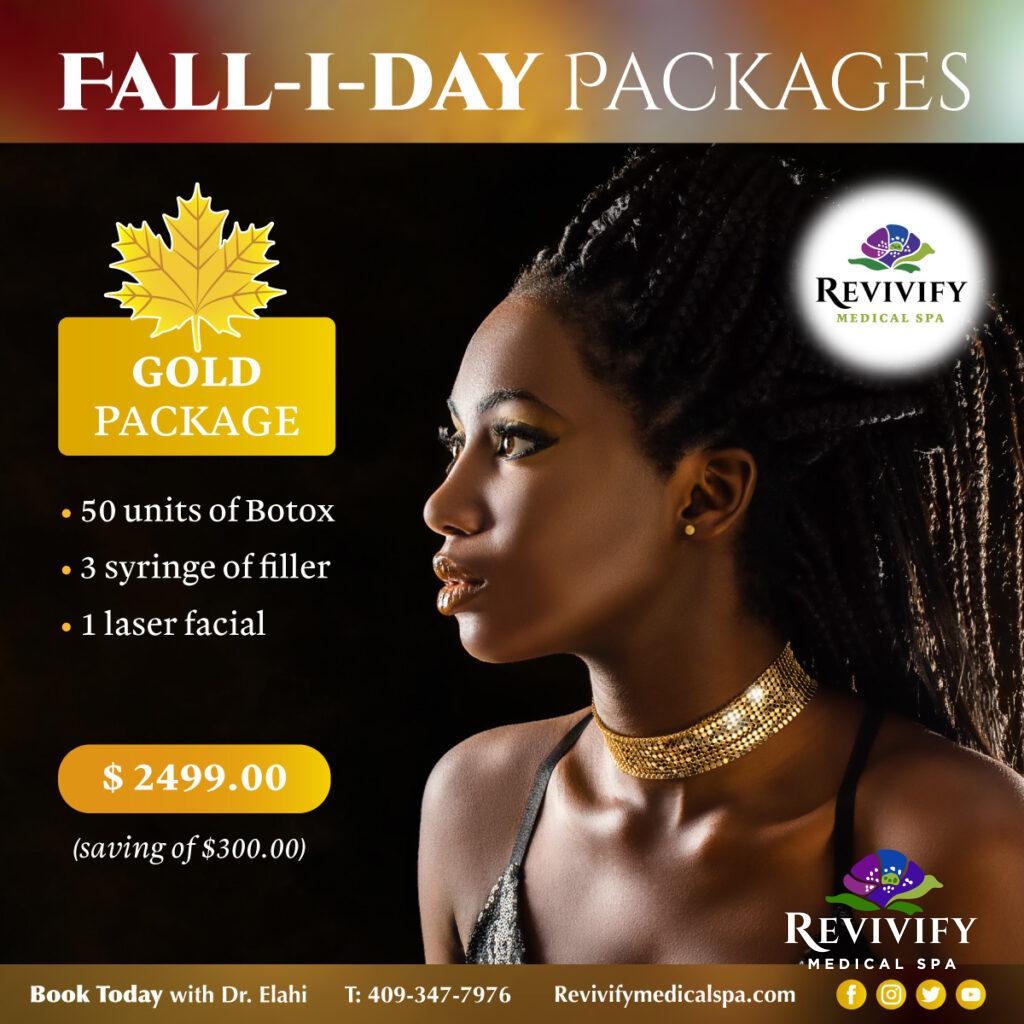 The Gold Package Includes:
50 Units of Botox
3 Syringes of Filler
1 Laser Facial
Package Price: $ 2499

Savings of $300!
Make sure you contact us to lock down your offers!  At Revivify Medical Spa, we are here to help you look and feel your best from the inside out.  It is our mission to make cutting edge, luxurious medical spa treatments affordable.  We offer equal or better medical-grade treatments to those found at the top Houston medical spas.  No need to drive long distances!  Revivify Medical Spa is the highest-rated, most trusted medical spa in Southeast Texas.
Board Certified Aesthetic Medicine Family Physician
I will make your visit Comfortable, Affordable, and Memorable.
SAFETY FIRST!
At Revivify Medical Spa, we comply with all safety measures as per the CDC. Yes! You can come and get pampered safely.
As a responsible medical facility, we are taking all necessary measures for everyone's safety.
One client at a time in the office &
A mask must be used on your way to the medical spa.
All staff is wearing the officially required PPE.
Lockdown these great savings to bring out the best version of you this summer and beyond.  The staff of Revivify Medical Spa is happy to help you!
Special Terms & Conditions
All standard terms and conditions apply
Promotions are not retrospective.
In order to claim a special, you must purchase the offer upfront.
Promotions cannot be combined.
We reserve the right to modify or terminate a special at any time.
The expiration date is November 30, 2020.