REVIVIFY CHRISTMAS MED SPA Specials 2020
Tis the season to sparkle, shine and razzle-dazzle! Welcome, all to our 12 Days of Revivify Christmas Med Spa Specials 2020! This year has been quite a wild ride and we're thankful for all of our beautiful ladies and gentlemen for your loyalty. It's been an honor to help so many of you bring about your best version. In honor of all of our past, present, and future customers, let us help you end this year looking fabulous and begin 2021 feeling confident. After all, this has been a rough year for most and it's high time to get back to feeling yourself again.
At Revivify Medical Spa in Beaumont, Texas, we make cutting edge, luxurious medical spa treatments affordable. We offer equal or better medical-grade treatments to those found at the top Houston medical spas. No need to drive long distances! Revivify Medical Spa is the highest-rated, most trusted medical spa in Southeast Texas.
Holiday-Ready Face Special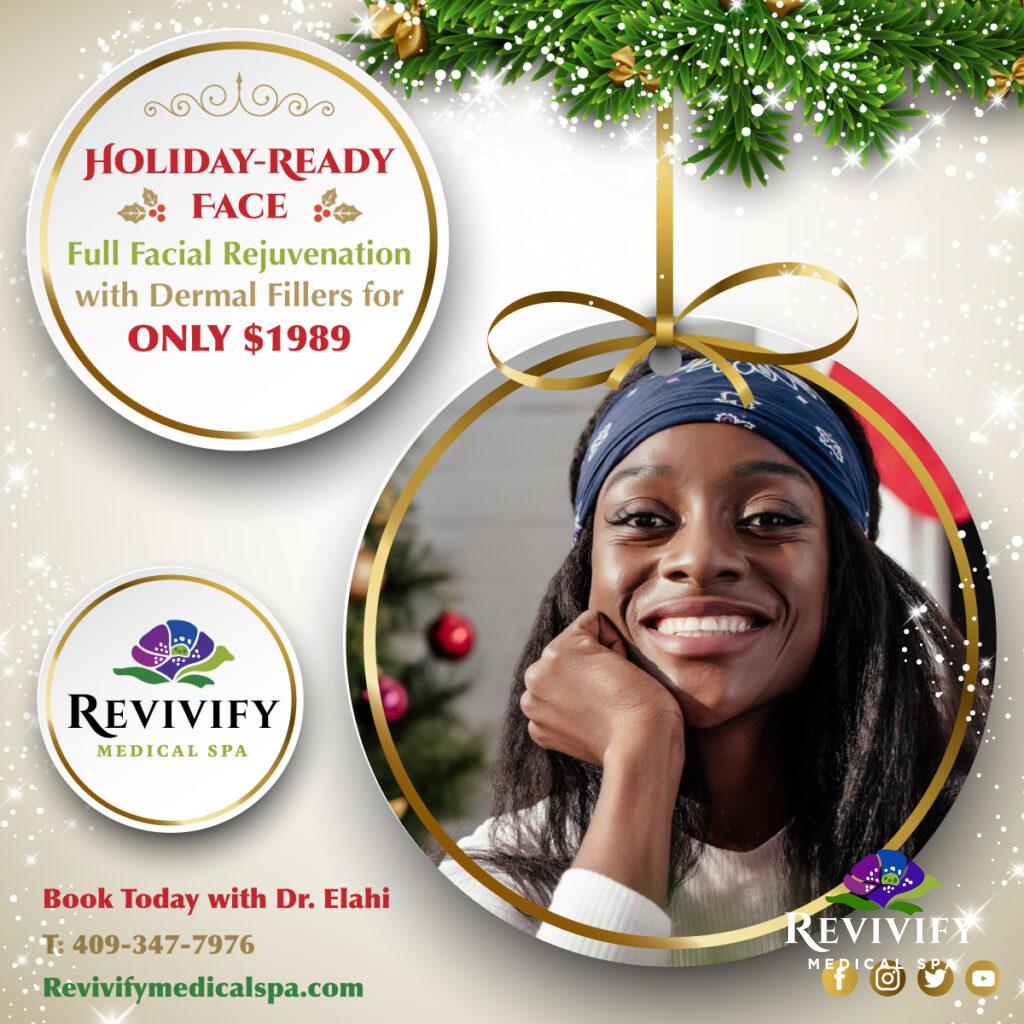 Get that Holiday-Ready Face on!
Full Facial Rejuvenation with Dermal Fillers for Only $1989
Only $1989!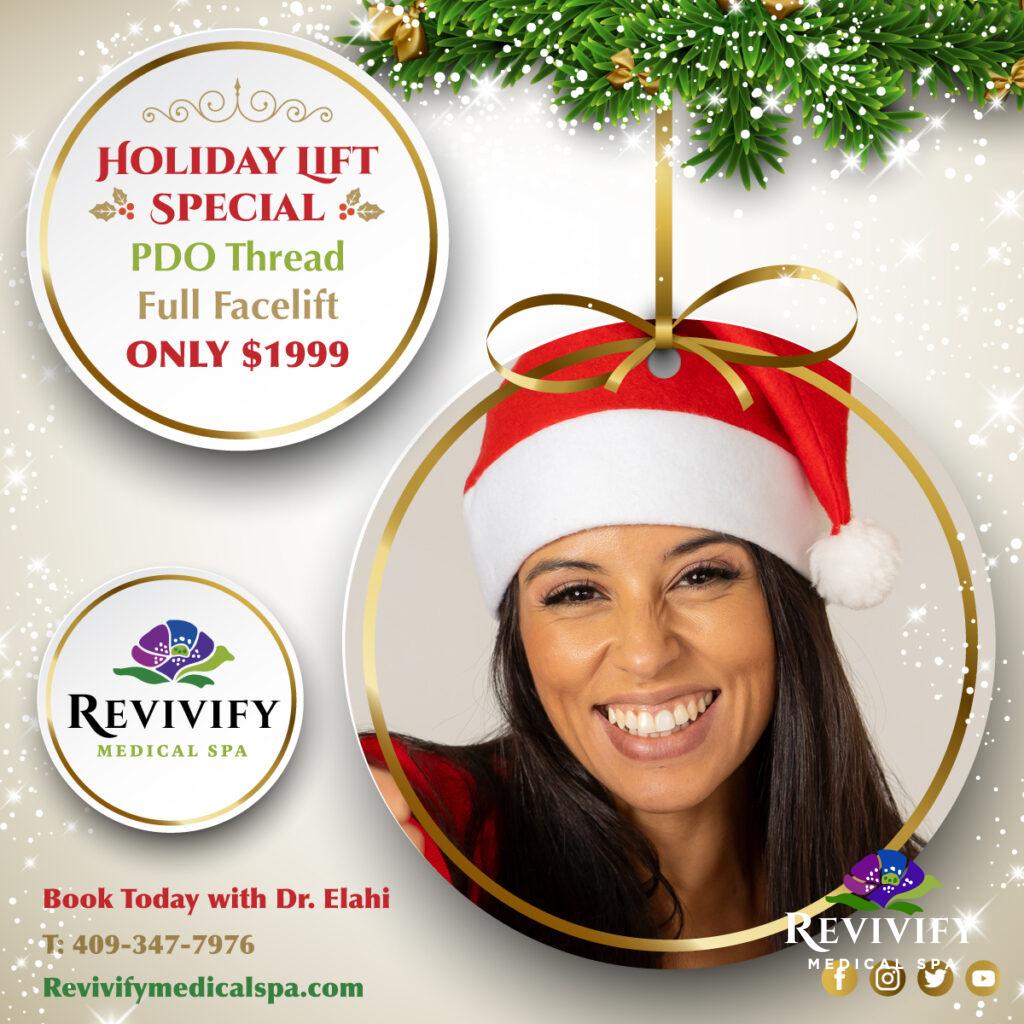 Could you use a little helpful lift? We've got your Christmas wish down with our Holiday Lift Special! Get a PDO Thread Full Facelift for only $1999.
Only $1999!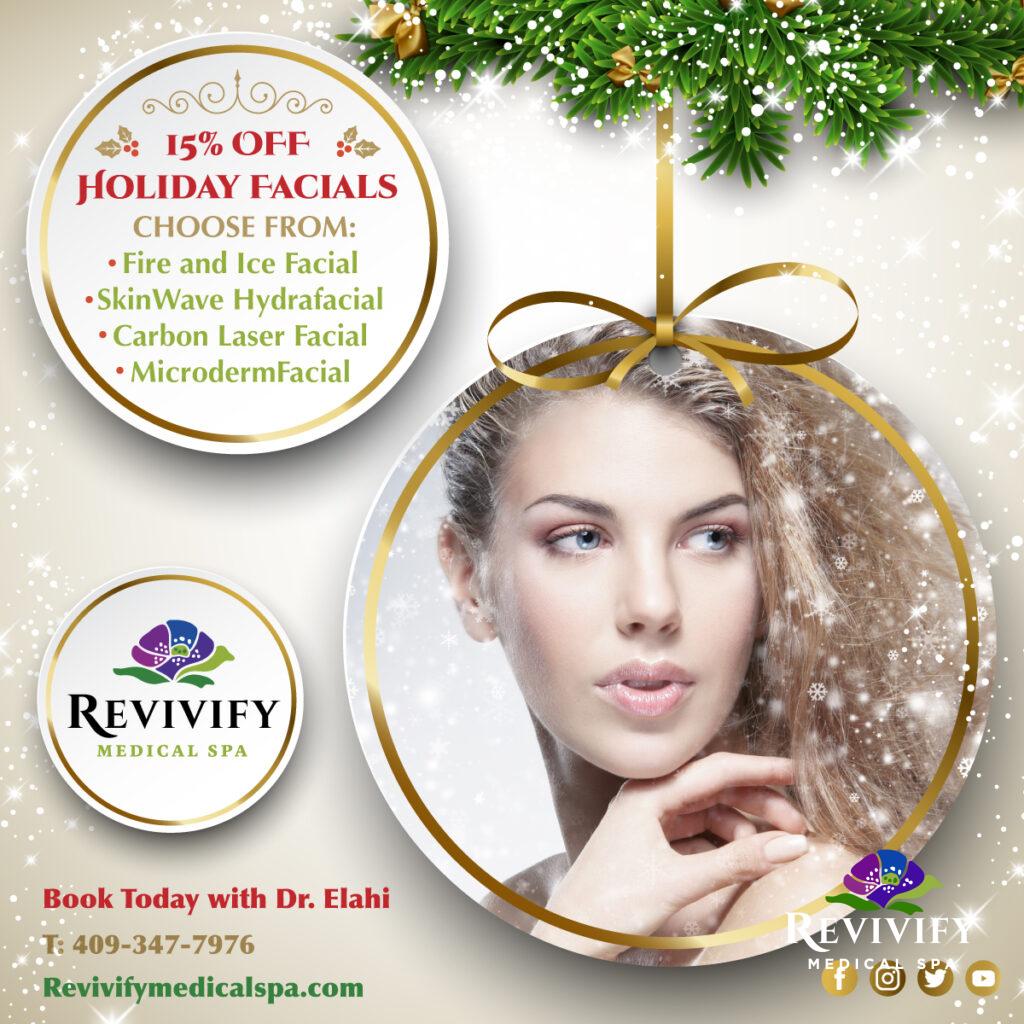 Put your best face forward! Choose from:
Fire and Ice Facial
SkinWave Hydrafacial
Carbon Laser Facial
MicrodermFacial
15% OFF Facials!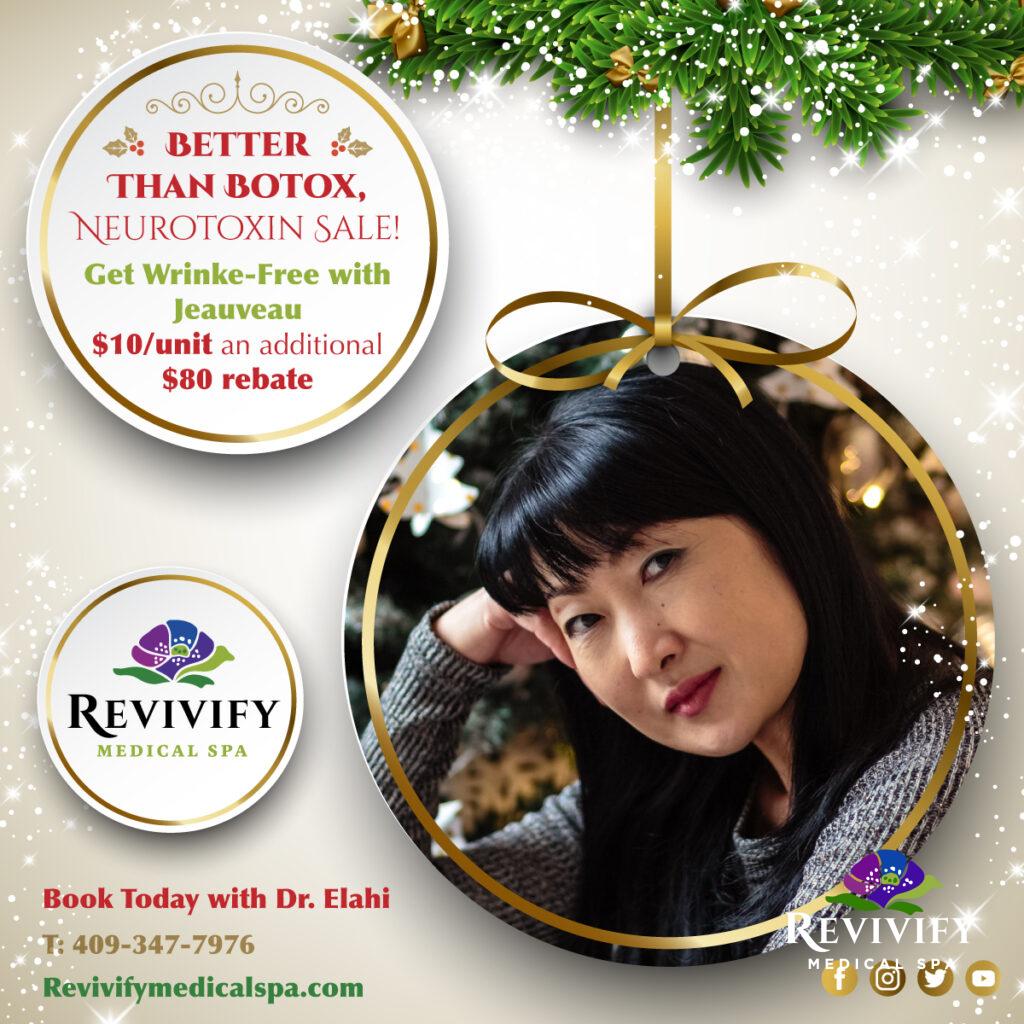 Better Than Botox, Neurotoxin Sale! Get Wrinkle-Free with Jeauveau. $10/unit an additional $80 rebate.
$80 Rebate

Sexy Face & Neck Infini Special!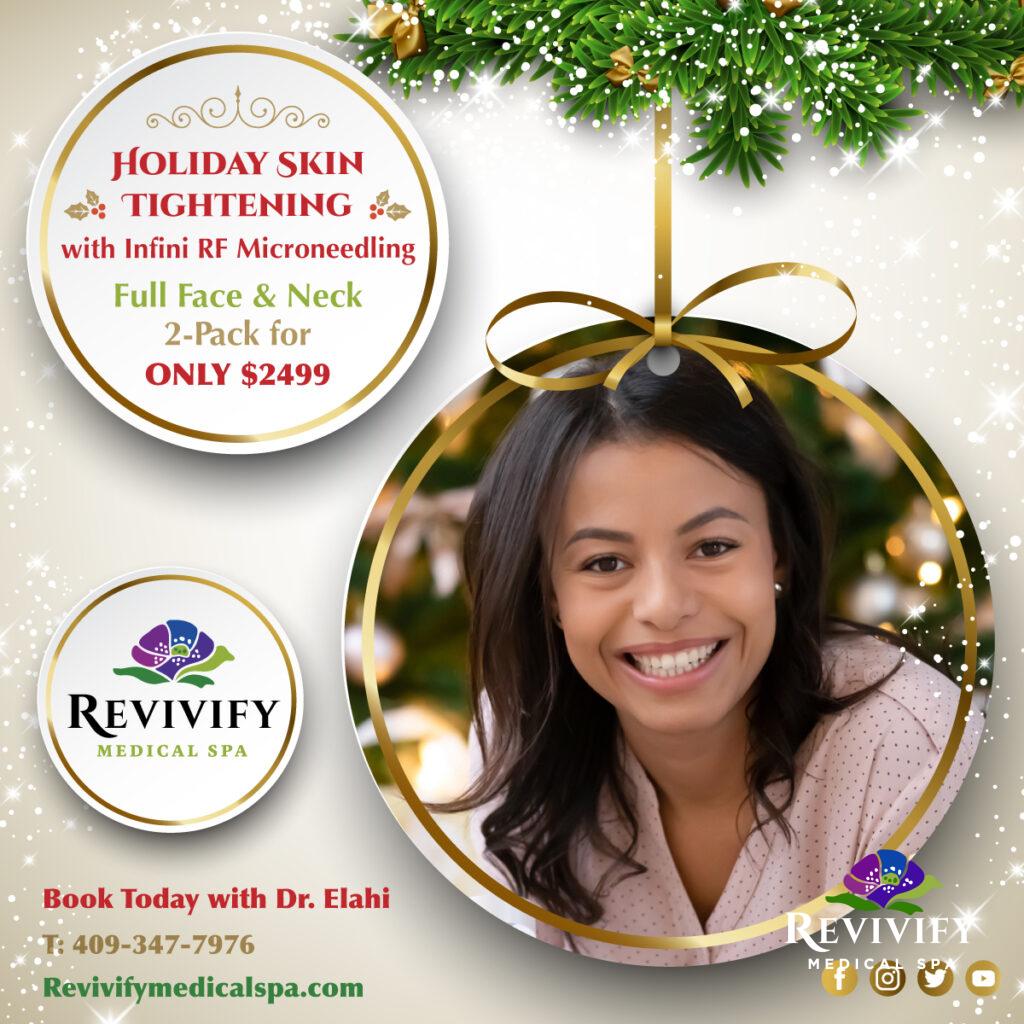 Holiday Skin Tightening with Infini RF Microneedling. Get a full Face & Neck 2-Pack for Only $2499!
Only $2499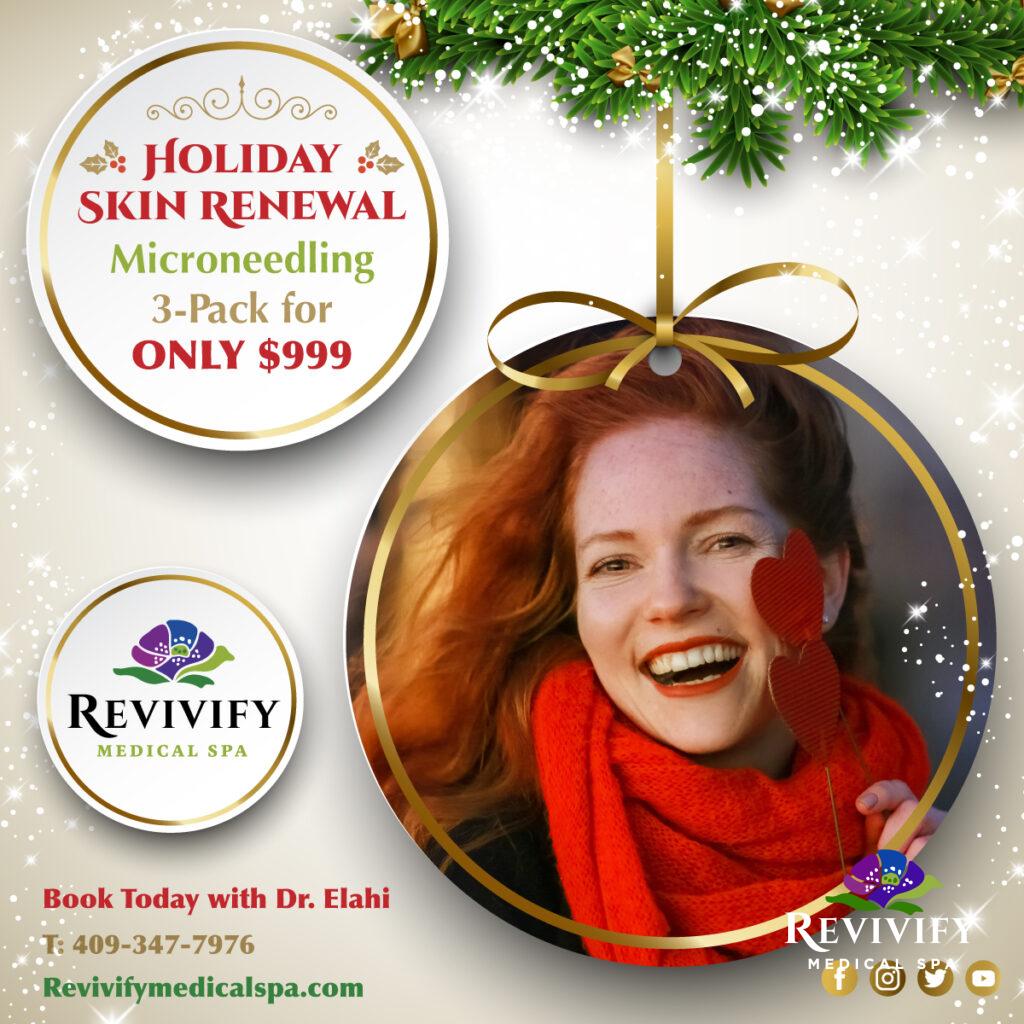 Reveal that beautiful, youthful skin hidden within with our Holiday Skin Renewal special. Grab a Microneedling 3-Pack for Only $999
Only $999!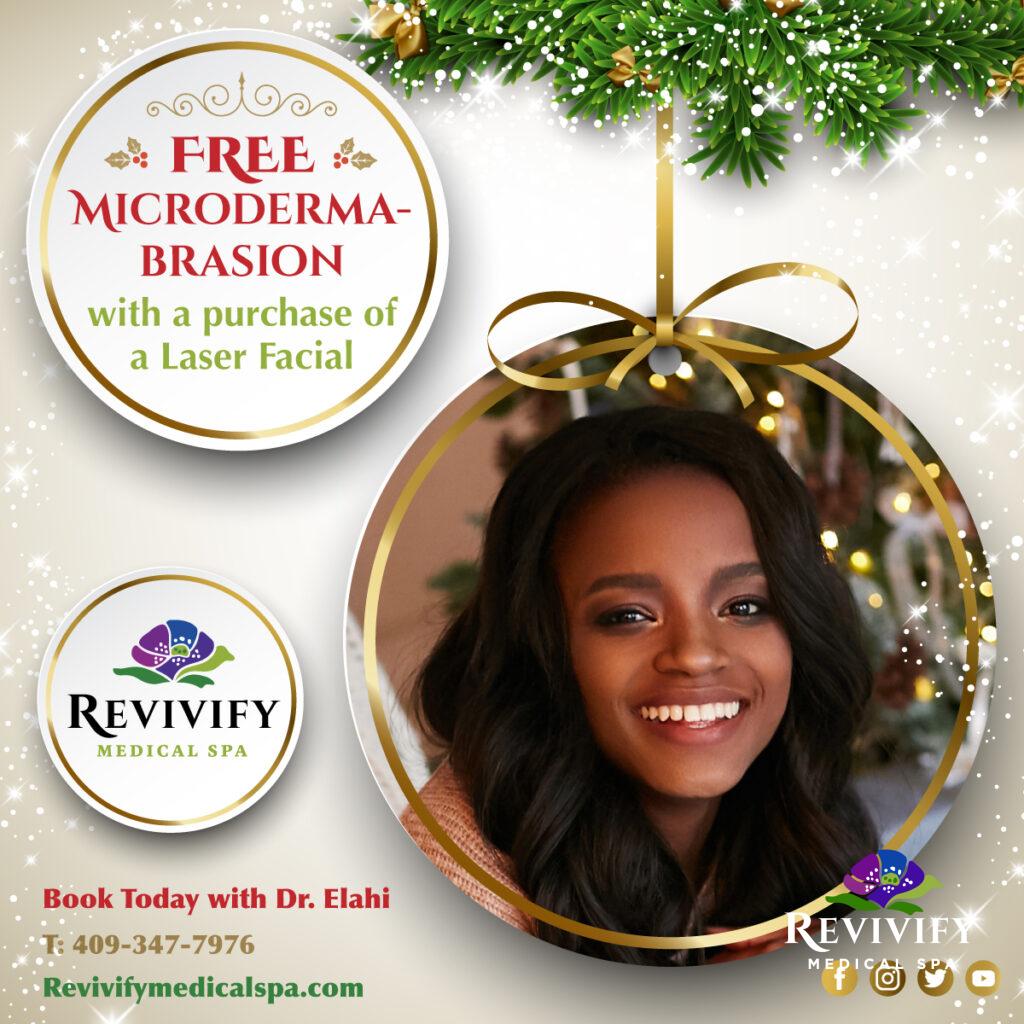 Get a FREE Microdermabrasion with your purchase of a Laser Facial.
FREE Treatment!

Holiday Tight, Youthful Look!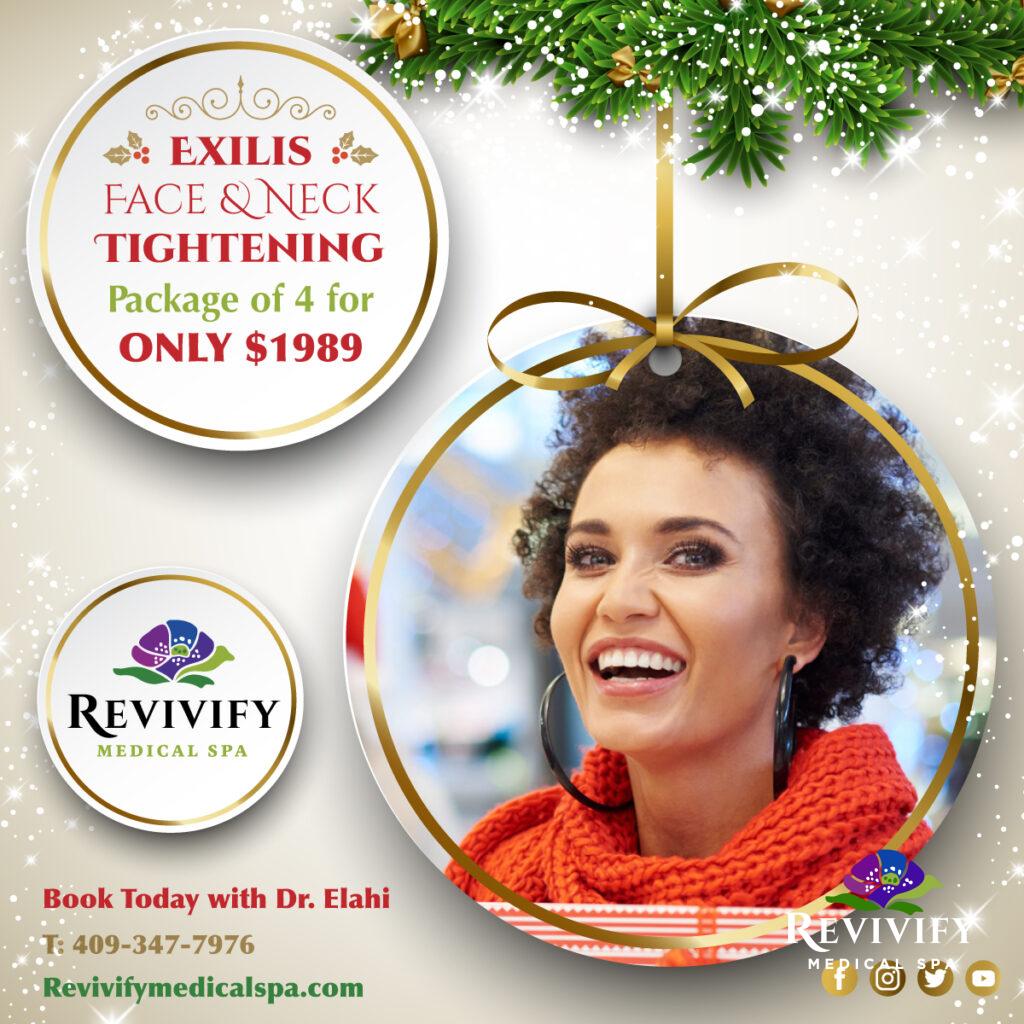 Looking younger is possible! Get an Exilis Face & Neck Tightening Package of 4 for Only $1989!
Only $1989

Wake up to a good hair day throughout the holidays and beyond with our Exosomes Hair Rejuvenation Package. Includes Hair Vitamins & Growth Serum.
Only $2199!

Feminine Wellness Special!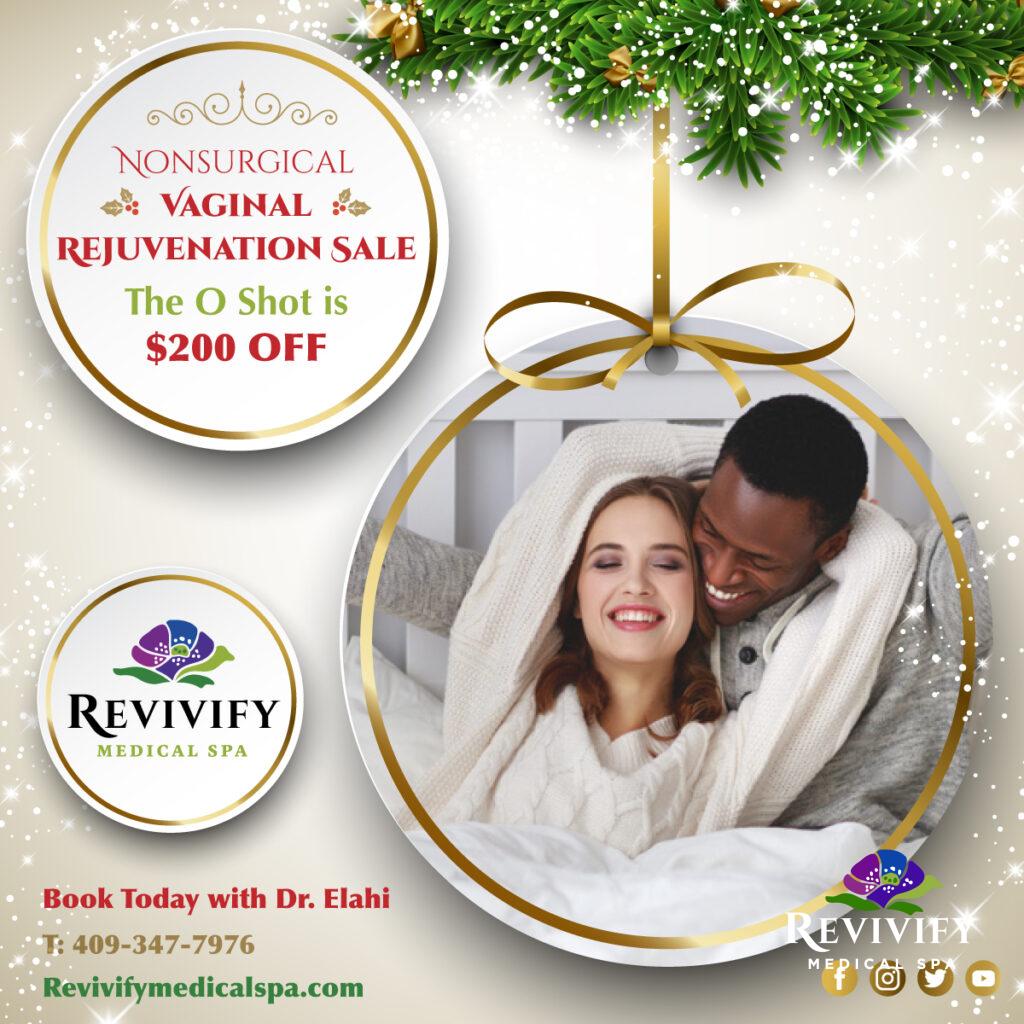 Nonsurgical Vaginal Rejuvenation Sale, $200 OFF! The O Shot is a non-surgical procedure that uses PRP to rejuvenate the tissue. It's excellent for increasing sensitivity, as well as a treatment for urinary incontinence.
$200 OFF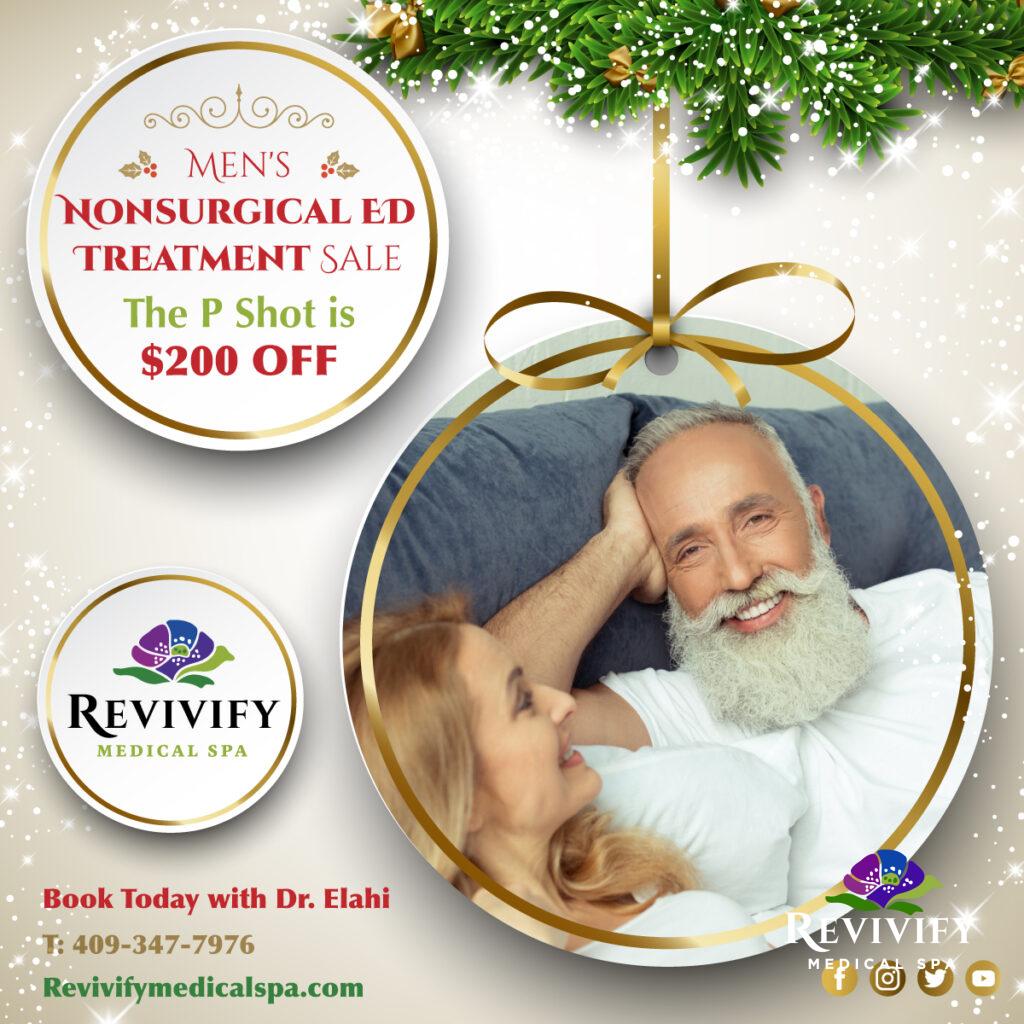 Men's Nonsurgical ED Treatment Sale, $200 OFF! The P Shot is a non-surgical procedure that uses PRP to rejuvenate the penile tissue. It's safe, nature, no downtime and effective!
$200 OFF

Lift & Holiday Smile Special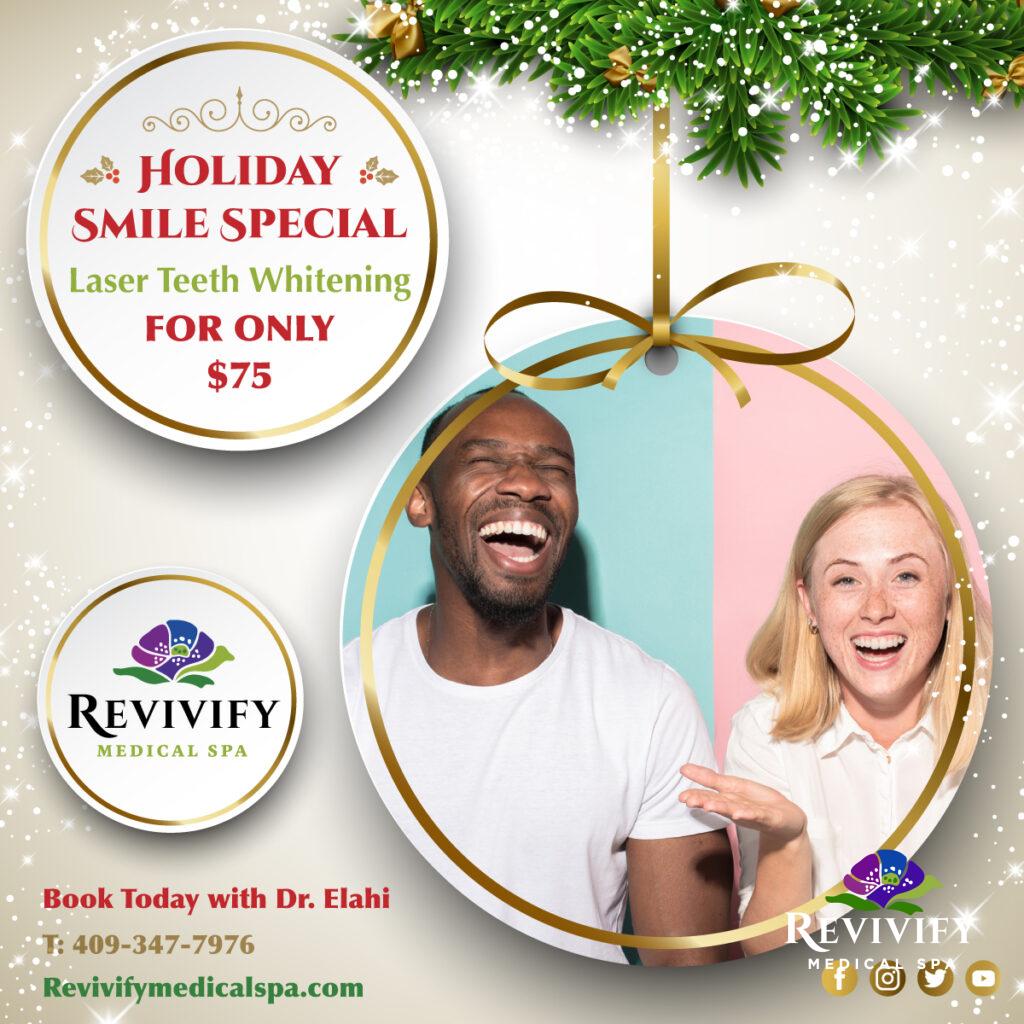 Take advantage of our Holiday Smile Special for a dazzling smile sure to light up the room! Grab this special offer of our Laser Teeth Whitening for Only $75, before it's too late!
Only $75!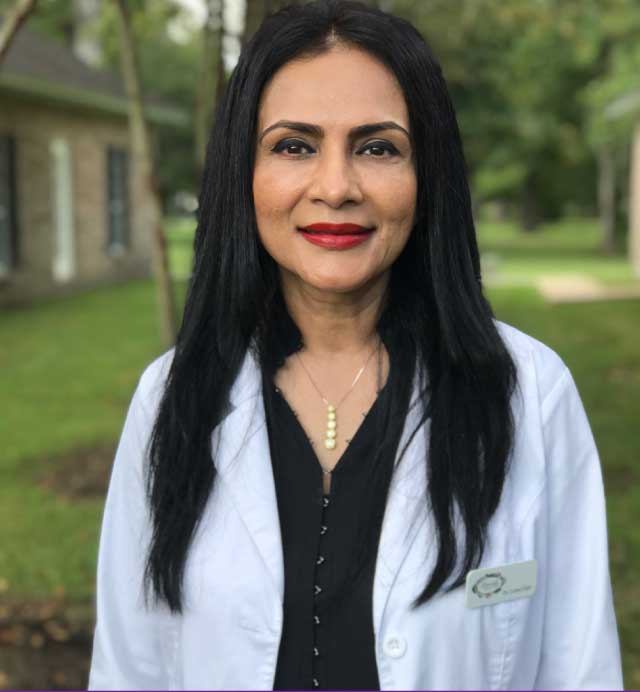 Board Certified Aesthetic Medicine Family Physician
I will make your visit Comfortable, Affordable, and Memorable.
SAFETY FIRST!
At Revivify Medical Spa, we comply with all safety measures as per the CDC. Yes! You can come and get pampered safely.
As a responsible medical facility, we are taking all necessary measures for everyone's safety.
One client at a time in the office &
A mask must be used on your way to the medical spa.
All staff is wearing the officially required PPE.
Lockdown these great savings to bring out the best version of you this summer and beyond. The staff of Revivify Medical Spa is happy to help you!
Special Terms & Conditions
All standard terms and conditions apply
Promotions are not retrospective.
In order to claim a special, you must purchase the offer upfront.
Promotions cannot be combined.
We reserve the right to modify or terminate a special at any time.
The expiration date is December 18, 2020.