NEW YEAR, NEW LIFE! IDEAL PROTEIN FEBRUARY FREE EVENT
Archive Your Weight Loss Goals for 2020 and Beyond!
Ideal Protein February Free Event
You are invited to start your journey towards looking and feeling great by finally achieving your weigh loss goals for life!
According to surveys, the top New Year's resolutions are to:
Eat Healthier
Exercise
Ultimately, to lose weight or achieve a healthier weight to look and feel better.
At Revivify Medical Spa, we say, "YOU'VE GOT THIS!"
Announcing Ideal Protein's New and Improved Weight Loss Protocol!
Are you frustrated with trying so many weight loss routines and finding them impossible?  Have you tried "the keto" and even have found Ideal Protein's protocol having some room for improvement?  Well, we have great news for you!  This 2020, Ideal Protein has breathed New Life into their weight loss protocol! If you've struggled with the protocol in the past, there's a newer, fresher, and revamped Ideal Protein to make it easier for you to understand the protocol, the process and ultimately take off those extra pounds for good!
This is one Free Event you can't miss out on! Our New Year, New Life Ideal Protein February Free Educational Seminar is on February 6th, 2020 at 5:30 pm with our Regional Consultant Brian Adams at Revivify Medical Spa.
Free Event Details:

WHO: Ideal Protein Independent Regional Development Consultant Brian Adams will be presenting, along with Ideal Protein Coach Kailyn Burnett and Board Certified Dr. Lubna Elahi present to ask any questions.
WHAT: Presentation and exciting news about our new Ideal Protein logo, new protocol design, and New Year.
WHEN: February 6, 2020 at 5:30 PM
WHERE: Revivify Medical Spa
WHY: Get off on the right foot to look and feel great! Let's help you acheive your health & weight-loss goals for 2020 and beyond.   The new mindset towards a happier and healthier you begins today!
SPECIAL OFFERS FOR ATTENDEES!

Past clients will receive 10% any food or supplement purchases made that day
Past clients that bring a guest will receive a coupon for a free microdermabrasion
Any guests that become new clients will have their $99.00 consultation fee waived, and will receive 10% off any food or supplement purchases made that day.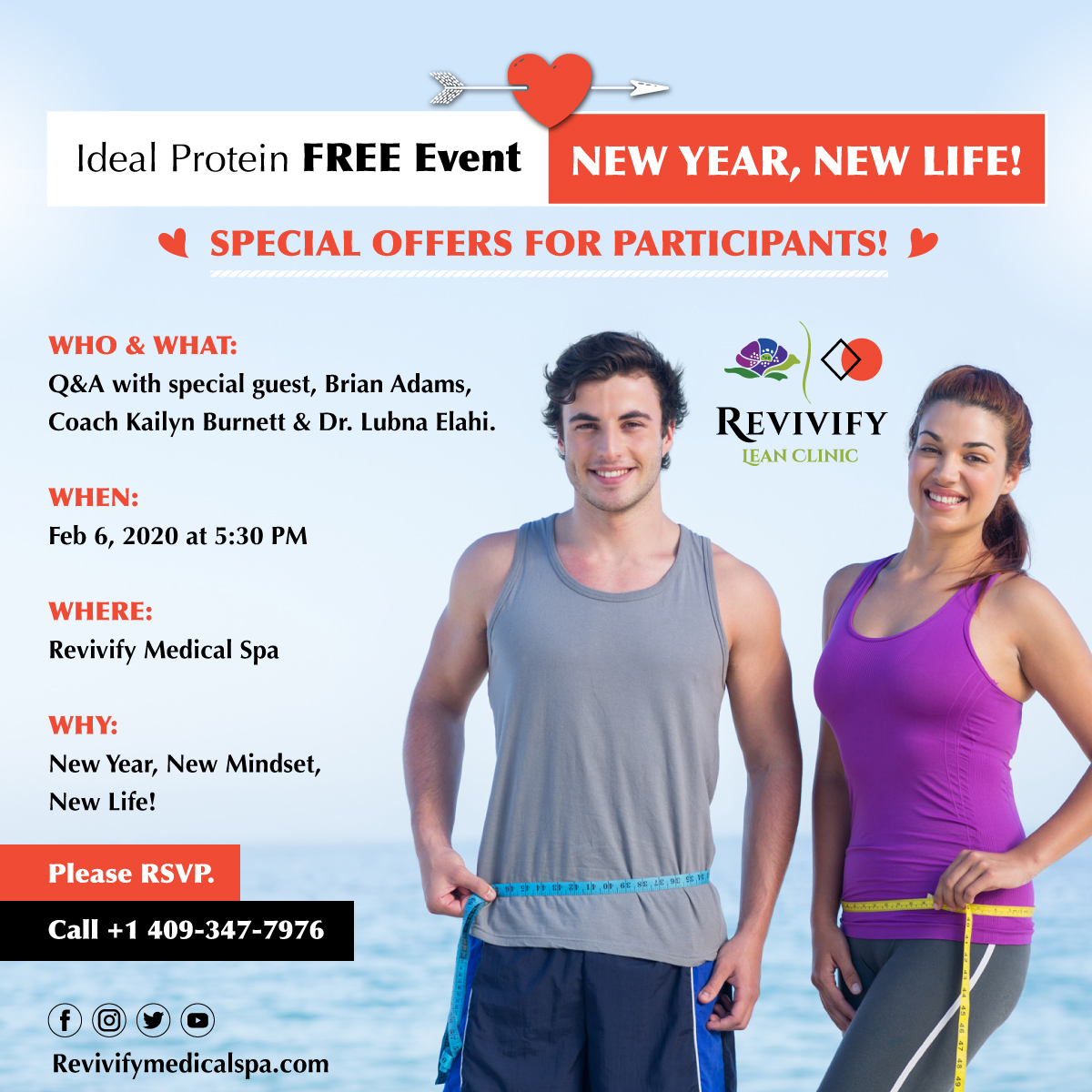 At Revivify Medical Spa, we help you improve your health and appearance safely so you can embrace life fully and enjoy all the blessings this new year has to offer.
Contact Us today to RSVP to our Ideal Protein February Free Event!