Enter our FREE Dermal Filler & $500 Gift Certificate Giveaway
Restore the Youthful Plumpness to Your Face!
---
What are Dermal Fillers?

Dermal fillers are used in non-surgical esthetic treatments designed to restore youth and volume to the face. They resemble the natural protein present in our skin.
How do Dermal Fillers Work?
Fillers help restore lost volume to your face so that deep-set lines are smoothed in a single application. Dr. Elahi administers the fillers via tiny injections to the affected areas, and the results are instant with a minimal amount of discomfort and no downtime.  The results of a dermal filler treatment when performed by a trained board-certified physician are natural looking, this is because the changes they make are subtle, there is no drastic facial contouring.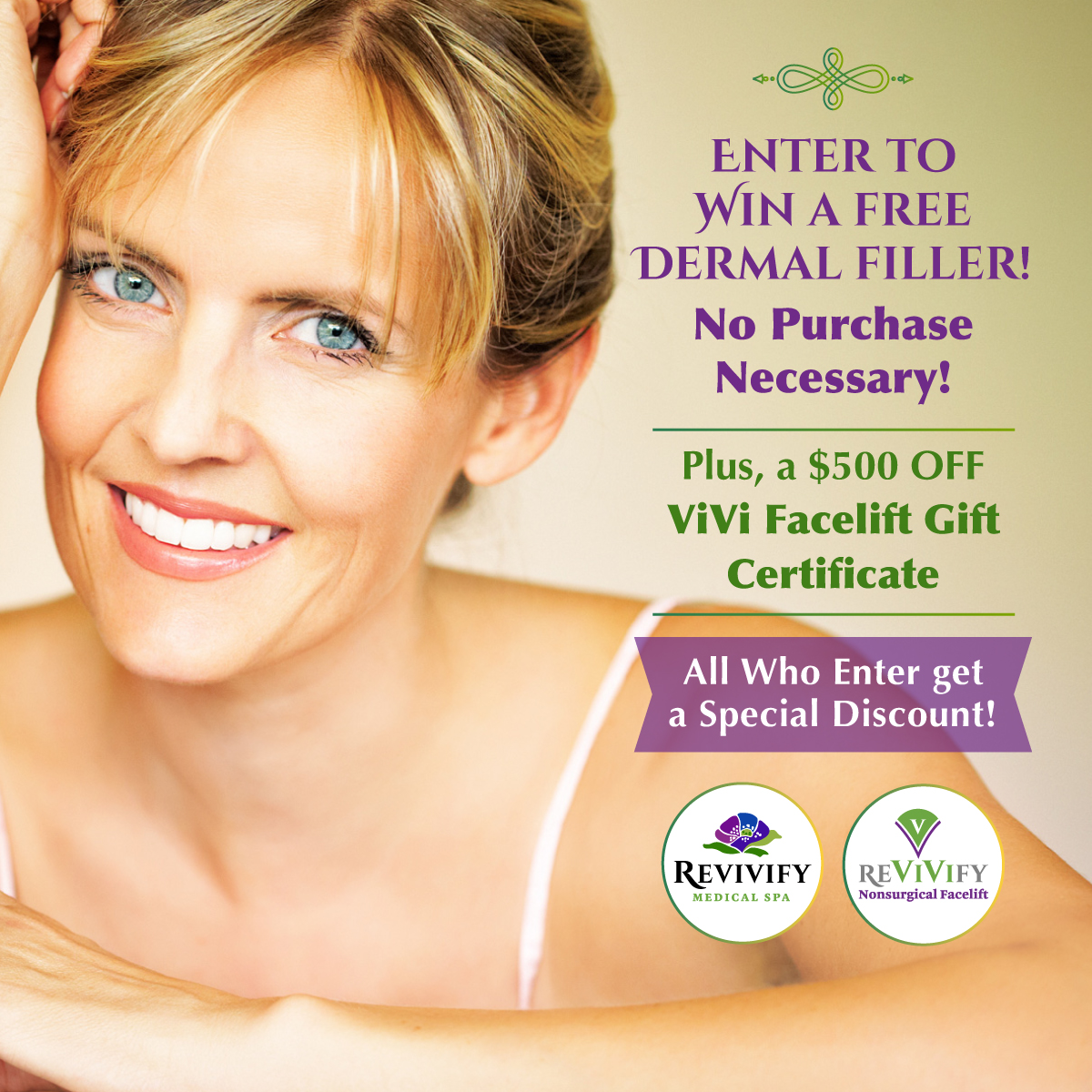 Win a $500 Gift Certificate for a ViVi Facelift!
Restore the Youthful V-Shape to Your Face
---
What is a ViVi Nonsurgical Facelift?
If you wish to go beyond the fillers and get the royal treatment, our ViVi Facelift is the star of the show.
The ViVi delivers subtle, natural results that you would expect from a very good aesthetic surgery without having to go under the knife.
The ViVi Facelift is an exclusive non-invasive facelift which is customized for each patient's needs.
This custom treatment is designed to rejuvenate the facial features by focusing on the organic structure of the face from the chin to the temples, this area is commonly referred as the "V" shape of the face.
What Does the ViVi Nonsurgical Facelift Consist In?
Every patient is different, for this reason, the treatment is customized to address the specific needs of each patient. After an initial evaluation Dr. Elahi will create a custom treatment which may include one or more of the following:
PDO Threads Lift

Dermal Fillers

PRP Injection

Neurotoxin like Botox
Benefits of the ViVi Nonsurgical Facelift
This procedure offers many benefits including:
Help with fine lines and deep wrinkles
Fill in facial grooves
Restore volume to the cheeks
Eliminate hollows and dark circles under the eyes
Define the jawline
SCROLL BELOW to Enter our FREE Dermal Filler & $500 Gift Certificate Giveaway!

PARTICIPATE IN THE FREE FREE Dermal Filler & $500 Gift Certificate Giveaway
It's super easy to enter!
---
Win a one (1) FREE Dermal Filler & a FREE $500 Gift Certificate Applicable Towards a ViVi Nonsurgical Facelift!

PLUS, all who enter get a Special Surprise Discount!
Submit your personal details through our signup form below.

Keep your eyes peeled!  We'll announce the winner after March 18th, 2019.

We encourage you to like our social media pages (scroll below to see) to find out real time when the winner is drawn.  You could be the winner!
We Offer Southeast Texas the Finest Medical Grade Treatments Available Today.
Dr. Elahi feels it's important to help her clients in all aspects of their lives, whether it's health or beauty. Her passion for improving her patients' self-esteem and confidence led her to the field of aesthetic medicine.

Delaying skin aging and maintenance of beauty is very vital in her aesthetic practice as well. Her philosophy is that aesthetic skin care process should start early in life and be as natural and comforting as possible. 
Dr. Elahi is extremely passionate about her work and deals with her clients with compassion and diligence.
I want to help my clients reinvent their natural beauty and feel confident about themselves, because they are all beautiful in their own way. – Dr. Lubna Elahi
Dr. Lubna Elahi
Family Physician, Exclusively Board Certified in Aesthetic Medicine.
Client Testimonials
Don't take our word for it... We are only as good as how happy we make our customers!
---
I have had such a wonderful experience with Revivify! The doctor and her staff made me feel very comfortable. I was nervous about the procedures i had done and they explained it all so very well. That and the atmosphere of the office settled my fears. I am so impressed with my results of my vampire facial that i would recommend anyone I knew to Revivify Medical Spa! I also had my lips filled and love my results from this procedure also! My daughter had to come I with me because I had no one to keep her and they also made her feel right at home too. Thankyou all at Revivify for making it such a wonderful experience and door making me feel pretty again!

I came here to get some cheek fillers and came out incredibly pleased! The fillers look so natural and fit my face perfectly. The office is very welcoming , so are the doctors and staff. I will definitely come here again and recommend to family/friends.

Very friendly and professional. Dr. Elahi delivers what she promises. I look younger and feel more confident. I refer anyone who asks.

My experience at Revivify was amazing! All procedures were done with the utmost of care and knowledge. Dr. Elahi does what is suited for you and your appearance. She is a licensed physician. This is what made me feel the most comfortable. Lots of other spas do not have physicians administering the procedures. The staff is very helpful, knowledgeable, and always friendly. Please visit Revivify!!

I will vehemently recommend Dr. Lubna Elahi to anyone looking for medical Spa treatments,excellent experience for me!!! This medical spa has board certified physicians. As picky as I am, my experience for all my appointments was nothing short of 100% satisfaction. Dr. Lubna Elahi's knowledge, expertise and professionalism was superb. How better can it get that a medical MD is taking care of your aesthetic needs, even the staff is extremely kind and caring as well. It just doesn't get better than this.Best medical spa in Beaumont TX.

Just had my first Vampire Facial & bioTe pellet & I am very pleased with my services! The ladies at Revivify Spa are professional, polite, & very patient! Truly pleased with my visit and can't wait to go back in 6 weeks!! Treat yourself to a great experience people!

I have done the O-shot and Ultra Femme procedures and I'm very happy. Revivify has given my life back. I have my pride back again and Dr. elahi and staff are very nice and professional. I feel like family thanks again to Dr. Elahi and staff.

This spa is absolutely amazing. The staff is very friendly, comforting, and personal. The doctors are very informative. Both Dr. Naqvi and Dr. Elahi listen and keep your best interest in mind. I've been to countless places that just want your money and were absolutely no help. At Revivify I get real results, and I feel like I'm more than a $. I will always recommend Revivify to everyone I know, and I look forward to being a patient here for a very long time.

Absolutely the BEST!!! So pleased with my results!! Dr. Elahi and staff were so nice, professional, answered all my questions. Dr. Elahi has a magic touch!! Looking forward to my other treatments!!!

This was awesome I actually smelled the hair burning off. I am so excited about this no recovery time and no pain just a mosquito bite. I'm looking forward to getting rid of this unsightly hair.

Had the laser teeth whitening done here and absolutely loved my experience! Great staff!

Great facial!

My mom and I LOVE this place! From when you walk in to getting any of their amazing products, you are welcomed and treated like a queen!! I recommend them to all my friends!

Absolutely love this spa. They are all so professional. They also made me feel right at home and put my fears at ease. Dr Elahi is the absolute greatest. I recommed that if anyone is looking to trust their face to someone... this is the group of ladies to do so with. Thank you again Dr Elahi and staff for another beautiful job done!!

Excellent facility run by board certified Dr Elahi. I went all the way from Houston to have hair PRP done. Dr Elahi explains the procedure so well and it went smoothly. I really enjoyed my visit. Highly recommend to anyone who love to care for themselves, they have so many treatment options to make one feels good.

A very professional staff that makes you feel at home immediately. Have questions? Don't hesitate to ask! They answered all of my questions, and you can tell how hard they work to ensure client satisfaction. You'll be at ease the moment you walk in the door. They take the time to listen to your concerns, and give genuine feedback. I'm grateful SETX has such a great establishment. Schedule your free consultation immediately. After you go you'll WONDER why you waited so long.

I'm so happy I found Revivify Medical Spa! They are not kidding about helping you look and feel better. The hormone treatment really has changed my life. I have also done a few other treatments treatments that have really helped me feel better when I look in the mirror. I am very picky about trusting anyone with my skin as it is ultra sensitive. From the very first contact, everyone was very professional, informed and friendly. They genuinely show that they care about finding the best way to help you achieve your dreams of looking the best possible. I'm happy to have found non surgical alternatives that are affordable and deliver real results. Thank you to Stacey, Dr. Elahi and Dr. Naqvi! You truly are the best medical spa in Southeast Texas. More than that, you make me feel like family. 100% Recommended! Don't settle for less!

I had my first microdermabrasion and diamond peel yesterday and my skin looks better just after one time. I have to go back and get two more and I already can't wait. I can't imagine how good my skin will feel after 2 and 3! I plan on trying some other things after I've finished these. The doctors are so nice and informative and seem to know exactly what treatments yours skin in particular need. Also, Stacey at the front desk is the best!! She is so nice and helpful! Go check Revivify Spa out!

They are awesome....they really make you feel like family as soon as you walk in. I had the Diamond Peel for my melasma, it lightens it immensely. Also had Vampire PRP facial...can already see a difference but can't wait to see in the next few months how my skin will improve. Exceeded my expectations for sure. Money well spent.

I love when it is time to make a visit with Dr. Afia Naqvi and her staff!! I am currently working with her on my diet, health, and overall well-being through their LEAN program and looking forward to seeing great results. There are other services they offer that I am also interested in. If you are looking for a medical spa that offers excellent service and a knowledgeable staff, you will definitely want to make an appointment at Revivify.

Dr. Elahi was great! I visited Revivify to help with urinary incontinence. I went during my lunch break it was quick and painless. My symptoms are gone. I can laugh, sneeze and cough worry free. Staff is friendly and professional. Give Revivify a call for anything! They have free consultations to help you!

I've visited Revivify Spa 5 times in the past month. It has been the most amazing experience. I went there with skin issues . Dr.Afia Naqvi did miracles with my skin. I now have a clear glowing complexion. While there I was impressed by the results I saw in clients who came with weight issues. With Vanquish Me they lost inches within a few sittings. I love this place and the people running it. And yes Stacey Harley your the most humble person ever:)

Dr. Elahi is an excellent doctor. She took the time to explain every procedure that is offered at her office. Dr. Elahi was very supportive and thorough when explaining the PDO threads process. She's a professional and has a naturally lovely personality. And, her staff were extremely professional. I recommend Dr. Elahi to everyone.

Wonderful staff!! Extremely knowledgeable!! Reasonable prices!! I'm on my second Diamond Peel treatment for my melasma and can already tell a difference!!

From my very first introduction to Dr. Elahi and Dr. Naqvi, I was made to feel welcome and comfortable by the friendly staff and the pleasant environment of the office itself. Both doctors have a wealth of knowledge, skill and professionalism. They took the time to explain every procedure. Dr. Elahi and Dr. Naqvi have very natural loving personalities. I would recommend Revivify Spa to all my friends and colleagues.

Soothing atmosphere greets you on your visit. Knowledgeable doctors who take the time to explain procedures and recommend best one for your skin type and needs. A great experience from front desk to end of treatment.

I am so excited about Revivify Medical Spa. The atmosphere is one of hope- of minimizing wrinkles, getting rid of spider veins, and many other treatments that are amazing. The doctors and office staff are so friendly and very caring. I would highly recommend a visit to Revivify!
Terms & Conditions
This cannot be combined with any other promotion.

Discounts cannot be applied for previous purchases.

The Contest ends on March 18, 2019

Any disputes relating to eligibility will be determined solely by Revivify Medical Spa.
Revivify Medical Spa reserves the right to modify or discontinue this program at any time without prior notice.