JUNE IS MEN'S HEALTH MONTH
We're Bringing Healthy & Handsome Back!
WE'RE TREATING OUR GUYS this MEN'S HEALTH MONTH!
Male aesthetics is in!  It's not just about keeping that boyish charm, it's about staying stronger, energetic, happier and yes, healthier.  June is dedicated to Men's Health and is also the month when we celebrate Father's from all over the world.
Medical Aesthetics is not just for the ladies anymore.
Many guys find it in their nature to just love technology.  It would be natural then for them to have come across the leaps and bounds that medical technologies have been making in recent years.  If you haven't this is a great time that you do.  It's in your best men's health interest!  We've heard about the Mom Bod but what about the Dad Bod?  Currently, the term, "dad bod" has been trending in media outlets.  It describes a healthy thirty-something to a middle-aged man who may not have a six pack but has what it takes to get attention.
Whether you are a father or not, it's time to focus on finding that right Healthy Bod that will help you look and feel better from the inside out.  We can help!
You are incredible and deserve to be happy and healthy.  As true beauty comes from within, Dr. Elahi will help you care from you from both a medical and aesthetic perspective.  Presenting, Revivify Medical Spa's Men's Health Specials.
HEY, GOOD LOOKING, HERE'S WHAT'S COOKING! MEN'S HEALTH MONTH SPECIALS EXCLUSIVELY AT REVIVIFY MEDICAL SPA
Enjoy from our lavish selection of Men's Aesthetic Specials. They also make a perfect gift of the man that you love!
---
At Revivify Medical Spa we offer innovative medical grade treatments that offer incredible results without the risk associated with surgery.
TAKE ADVANTAGE OF OUR NON SURGICAL MEN'S HEALTH SPECIALS!
SPACES ARE LIMITED. Book Your Appointment Today: 1 409-203-7482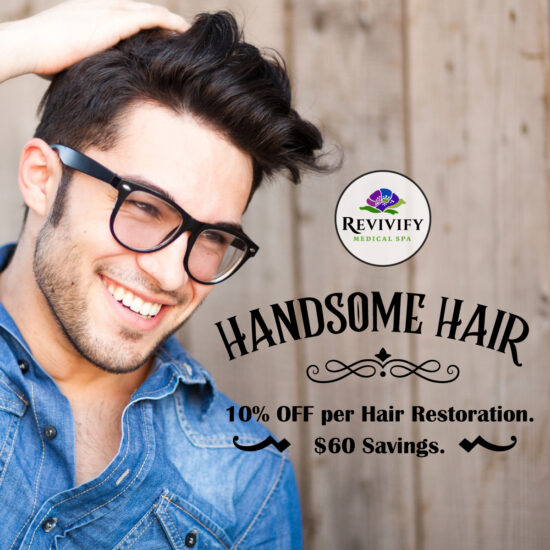 HANDSOME HAIR.
10% OFF per Hair Restoration. $60 Savings.
SAVE $60!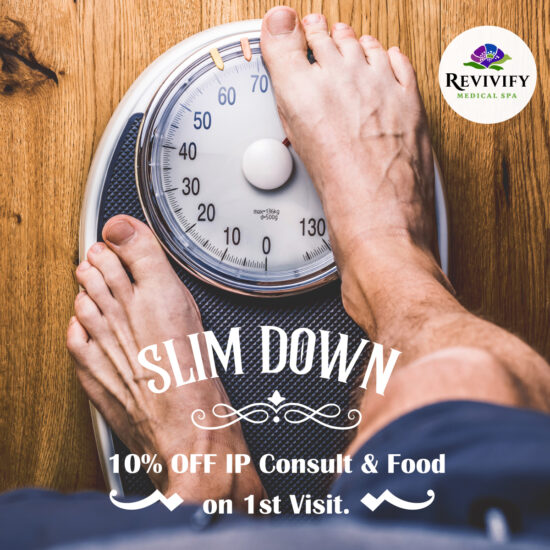 SLIM DOWN
10% OFF Ideal Protein Consultation & Food on 1st Visit. Find out more about Revivify Lean Clinic.
ONLY FOR $349!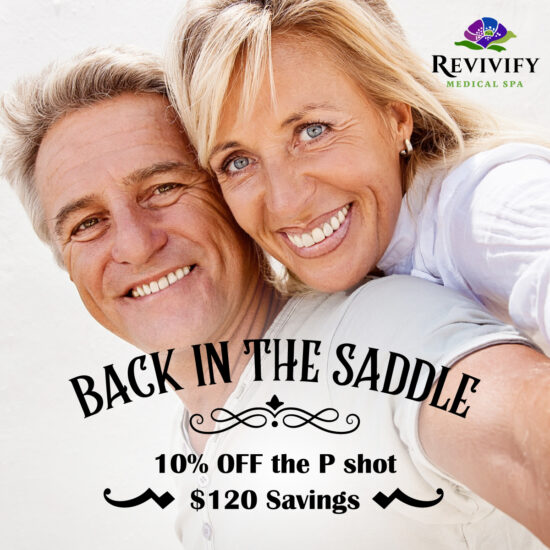 BACK IN THE SADDLE
10% OFF the Men's ED Treatment, P Shot! A $120 Savings.
SAVE $120.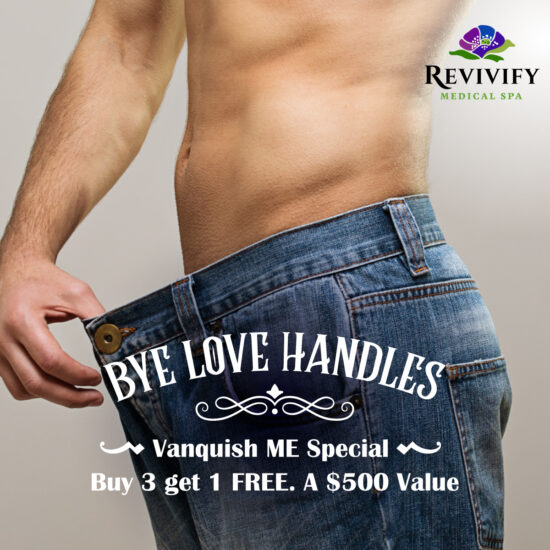 BYE LOVE HANDLES
Vanquish ME Special Buy 3 get 1 FREE. A $500 Value!
SAVE $500!
NEW TREATMENT: NEXT GENERATION LASER LIPO!
Non-Surgical Liposuction and Fat Transfer is Now Available!
NEW TREATMENT ALERT!
IT'S HERE! Non-Surgical Laser Liposuction & Fat Transfer are Finally Possible! Introducing: BeautiFill by LipoLife.
BeautiFill™ is the first laser-based system that combines liposuction, skin tightening, and fat grafting (cosmetic fat transfer) procedures in one convenient appointment.
This revolutionary technology combines three treatments:
It contours the body by effectively reducing fat deposits
Tightens skin by stimulating collagen production
Restores lost volume of the face and other body areas
Remove Volume from where you don't want it & Restore Volume to where you do!
Contact Us to schedule a Free Consultation to find out if BeautiFill is right for you
Browse Our Medical Grade Treatments
CALL: 1 409-203-7482
EMAIL: Hello@revivifymedicalspa.com or scroll below to submit your questions via our FREE Consultation Form.