ENTER OUR FREE DERMAL FILLER & $500 GIFT CERTIFICATE GIVEAWAY
Restore the Youthful Plumpness to Your Face!
What are Dermal Fillers?

Dermal filler are used in non-surgical esthetic treatments designed to restore youth and volume to the face. They resemble the natural protein present in our skin.
How do Dermal Fillers Work?
Fillers help restore lost volume to your face so that deep-set lines are smoothed in a single application. Dr. Elahi administers the fillers via tiny injections to the affected areas, and the results are instant with a minimal amount of discomfort and no downtime.  The results of a dermal filler treatment when performed by a trained board-certified physician are natural looking, this is because the changes they make are subtle, there is no drastic facial contouring.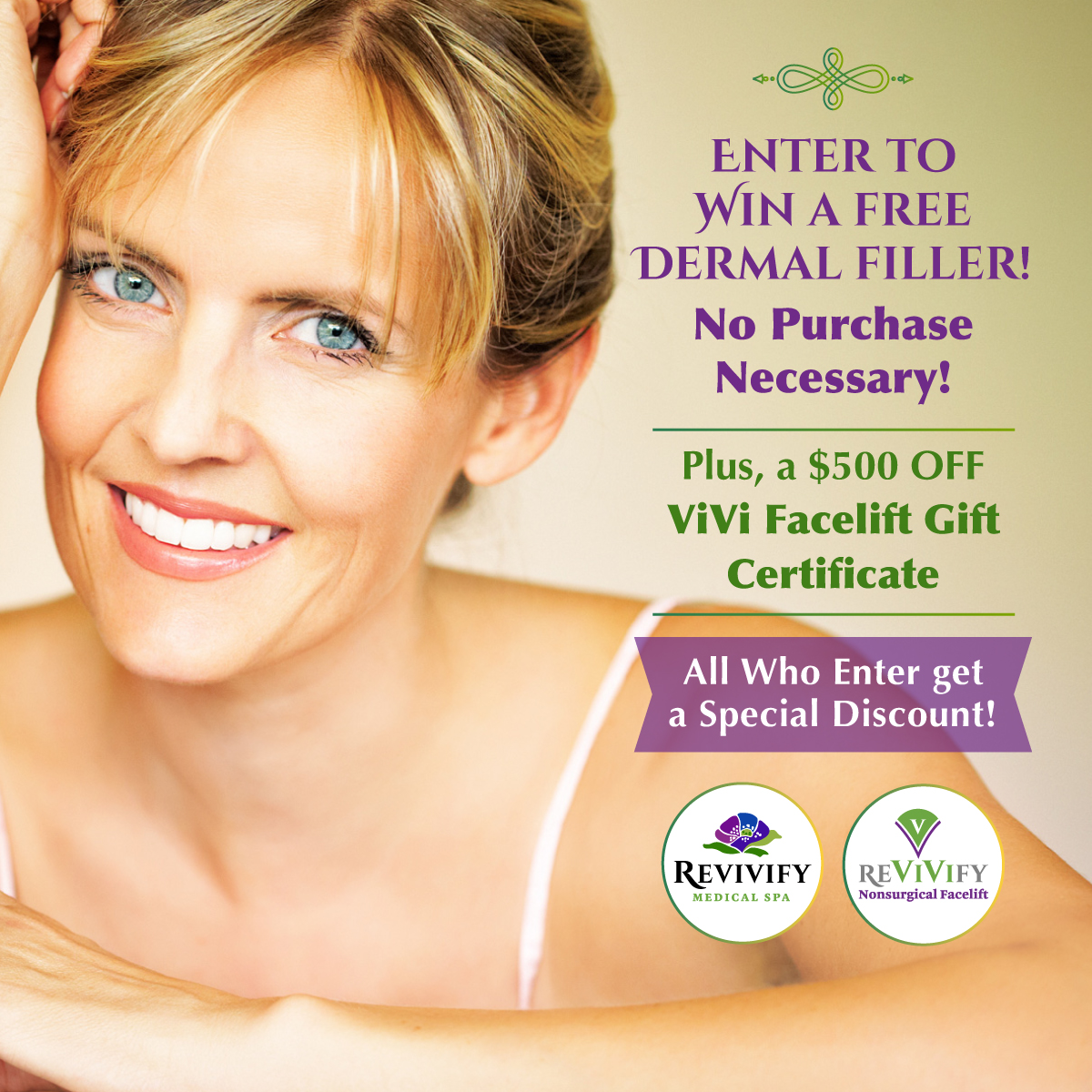 WIN A $500 GIFT CERTIFICATE FOR A VIVI FACELIFT!
Restore the Youthful V-Shape to Your Face
---
What is a ViVi Nonsurgical Facelift?
If you wish to go beyond the fillers and get the royal treatment, our ViVi Facelift is the star of the show.
The ViVi delivers subtle, natural results that you would expect from a very good aesthetic surgery without having to go under the knife.
The ViVi Facelift is an exclusive non-invasive facelift which is customized for each patient's needs.
This custom treatment is designed to rejuvenate the facial features by focusing on the organic structure of the face from the chin to the temples, this area is commonly referred as the "V" shape of the face.
What Does the ViVi Nonsurgical Facelift Consist In?
Every patient is different, for this reason, the treatment is customized to address the specific needs of each patient. After an initial evaluation Dr. Elahi will create a custom treatment which may include one or more of the following:
PDO Threads Lift

Dermal Fillers

PRP Injection

Neurotoxin like Botox
Benefits of the ViVi Nonsurgical Facelift
This procedure offers many benefits including:
Help with fine lines and deep wrinkles
Fill in facial grooves
Restore volume to the cheeks
Eliminate hollows and dark circles under the eyes
Define the jawline
SCROLL BELOW to Enter our FREE Dermal Filler & $500 Gift Certificate Giveaway!
PARTICIPATE IN THE FREE FREE DERMAL FILLER & $500 GIFT CERTIFICATE GIVEAWAY
Win a one (1) FREE Dermal Filler & a FREE $500 Gift Certificate Applicable Towards a ViVi Nonsurgical Facelift!

PLUS, all who enter get a Special Surprise Discount!
Submit your personal details through our signup form below.
Keep your eyes peeled!  We'll announce the winner after March 18th, 2019.
We encourage you to like our social media pages (scroll below to see) to find out real time when the winner is drawn.  You could be the winner!